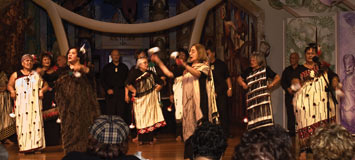 There was a rare opportunity for the public to see kaumātua performing original compositions from iconic Māori composers.
Eight kaumātua groups, with more than 200 performers from around the country, performed at Te Papa in Wellington to close Matariki celebrations during the weekend of 28-29 June 2008.
Each group performed items from an iconic Māori composer such as Kingi Tahiwi, Tuini Ngawai, Te Ari Pitama, Te Puea Herangi and Paraire Tomoana.
Coordinator Puti Mackey says Matariki is a perfect time to celebrate these icons and the contribution of kaumātua to kapa haka.
Puti Mackey says most of the performers are in their 70s but some are in their late 80s and 90s.
"Some of us have been taught by our 'iconic' composers, others of us have had 'a ball' travelling the world performing kapa haka in our younger days. It's a great chance for us to reminisce and to share with this generation how we were taught to perform these original compositions."
Kaumātua Kapa Haka was enjoyed by thousands of visitors, with Minister Parekura Horomia and Associate Minister Mahara Okeroa taking to the stages to tautoko.
Ngāi Tahu taua Ruahine Crofts says it was fantastic to see so many kaumātua gathered in one place.
"Ko te whakawhanaungatanga me ngā hoa o mua te kaupapa nui o tënei hui."