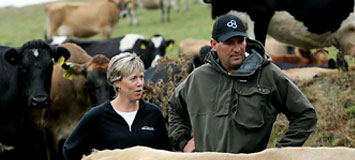 Nearly 20 years ago Dean and Kristen Nikora left their town jobs to go dairy farming. They worked their way up from farm labouring, through to share milking, working in a 50/50 partnership and owning their own farm.
Dean (Ngāti Maniapoto, Ngāti Tama) and Kristen (Ngāti Awa) Nikora are this year's winners of the prestigious Ahuwhenua Trophy – Bank of New Zealand Māori Excellence in Farming Award – after following a wealth creation strategy judges described as "nothing short of outstanding".
Dean and Kristen Nikora are the owners of Mangatewai, a 342-hectare dairy farm near Takapau and Mangatewai, which currently milks about 1,000 cows. It is one of five properties owned or leased by the company Cesped Lands Limited.
The Minister of Māori Affairs, Parekura Horomia, and the General Manager of Agribusiness Financial Services for the Bank of New Zealand, Will Purvis, presented the trophy to the couple at the Awards night dinner in Rotorua.
As well as being presented with the Ahuwhenua Trophy, Dean and Kristen Nikora also received up to $40,000 in cash, services and farm products including a King Quad Suzuki ATV.

Chief judge Doug Leeder said at times the Nikoras had "engaged in high-risk investment, but this had been accompanied by disciplined risk analysis strategies". "Basically, their simple vision that 'every day is a growing day' has pervaded all their activities," he said.
Doug Leeder said that, overall, Cesped was a business that had excelled in employing best practice principles across a whole range of farm activities, and results reflected this in both the farm and the business performance.
Dean and Kristen Nikora say they entered the competition to help benchmark their business against other successful organisations. They wanted to get feedback from the judges and look at ways to improve their farming operation. They also wanted to demonstrate to others in Māoridom that good planning and sound strategy can deliver desired goals.
Māori dairy farmers own an estimated 100 million shares in Fonterra, with some of the major players in the sector being large incorporations like the 2006 Dairy Competition winner, PKW Farms Ltd, which has an estimated $50 million farming interest in Taranaki.
The Bank of New Zealand is the Platinum Sponsor for the Award. Gold sponsors are AgResearch, DairyNZ, and Fonterra. Silver sponsors are Te Puni Kōkiri, PGG Wrightson, and Ballance AgriNutrients; and Bronze sponsors include the Ministry of Agriculture and Forestry, AgricultureITO and Suzuki. Other sponsors include LandCorp, Marae TVNZ, the Rotorua Charitable Trust/Rotorua District Council, DB Breweries, Poutama Trust, and Tohu Wines.