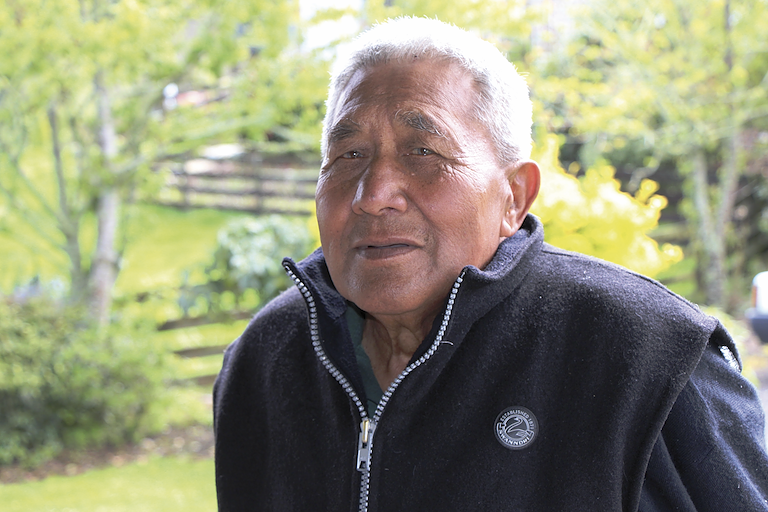 Kōkiri was privileged to spend some time with a veteran Māori Warden who first donned the familiar black uniform when Iriaka Ratana was his local Māori MP and All You Need Is Love was the number one song.
It's late at night outside a pub in a small North Island town. The young people circling one another should be at home but they've been drinking, the tension is growing. Into the middle of it all walks Ray Coffin.
"Kia ora!" he calls.
At first the young people ignore the diminutive koroua but he keeps talking, smiling, taking his time. He introduces himself, tells them where he's from and that he's a Māori Warden. Some of the rangatahi have been listening and turn to the 79-year-old.
"Ray Coffin? What's that koro? You any relation to that lady on Code … What's her name, Jenny something?"
He nods and smiles.
"Oh yes that's my moko, Jenny May."
The kōrero starts from there, after a while there's a few laughs. They talk about the show. They ask Ray if he's into sport and find out he was in the NZ Māori team and played for King Country, alongside the legendary Colin Meads. Soon the rangatahi head home. After 45-years Ray says it doesn't always go that way but there are a few golden rules that have worked for him.
"Don't get angry, ever. Introduce yourself, always keep talking and if they're upset or drunk even: distract them, especially the young ones."
Of Ngāti Wairoa, Ngāti Maniapoto whakapapa, Raymond Kopuraehana Coffin was born during the Great Depression. After his mother died he left school to work alongside his father and brothers on local farms. While the school lessons ended there, the rugby didn't as he was selected for representative honours from a young age. He's living in Pio Pio, just south of Te Kūiti. Ray says while lots has changed: some things have never changed.
"Rugby, farming and family. That's what's big around here."
Back in the late sixties in Mangakino the young ones were getting into trouble and Ray was at a hui at Pouākani Marae when he put his hand up to help and he's been helping out ever since. When Dame Te Atairangikaahu passed away Ray was there, but in a lot of pain. He says both hips had finally given in and he needed two walking sticks to get around but there was no way he was staying away from the queen's tangihanga. After a health scare earlier this year Ray was forced to end a 24-year career as a community supervisor with the Department of Corrections. With restrictions on how far he can drive as well as what mahi he can do, Ray admits he's finding it hard to accept.
"All I know is to work daylight till dark, seven days a week. I can't keep still. I'm a fullah that has to be doing something."
As he reflects on his work as a Māori Warden, Ray says "you need to talk to the people, listen to what they've got to say."
"You got to do that as a human being. Behave like people and those young ones will do the same."