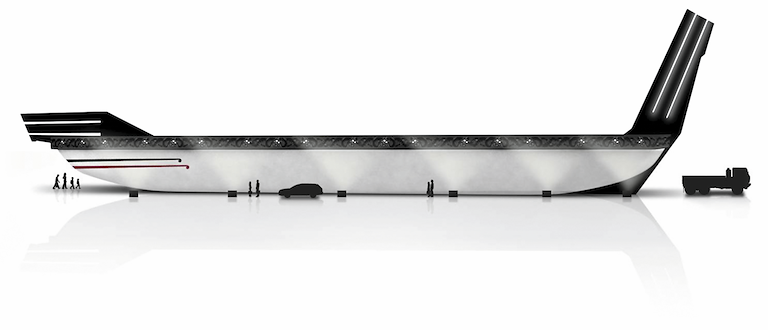 For 11 days in October the 'waka themed' events centre Waka Māori will carry the flag for Māori culture on the waterfront on Auckland.
It is a bold project and the 75-metre long – that's about three-quarters of the length of a rugby pitch – and 16-metre high tail structure – about five storeys high – will showcase Māori to the world.
Waka Māori is a joint venture between Ngāti Whātua O Ōrākei and the government, and when the detail of the project was launched at a function in Auckland on 25 July, the Minister of Māori Affairs – the Hon Dr Pita Sharples – described the project as a waka to carry Māori around the globe.
"This is a bold voyage of discovery unlike any other in our history. From the waterfront of the Waitematā, we will venture into homes and corporate boardrooms in every continent, seeking to make contact with local people and looking for cultural exchanges and trading opportunities.
"This virtual journey will be undertaken in a thoroughly modern waka, transcending physical horizons through broadcast and Internet technology.
"The programme we have assembled, together with Ngāti Whātua, represents a broad range of indigenous Aotearoa arts and music, food, fashion and design, creativity and enterprise, born out of tradition, innovation and cultural fusion.
"This is the centrepiece of a nationwide programme by Māori groups to meet and engage face-to-face with visiting teams and supporters, to demonstrate contemporary Māori culture and its place in Aotearoa, and to establish lasting relationships with people all round the world.
"Our view is that rugby, tourism and trade are good for Māori, and Māori are good for rugby, tourism and trade. What's good for Māori is good for New Zealand, and we look forward to all New Zealanders joining us to support this ambitious programme, to promote Aotearoa as a whole."
During the 11 days it'll be open, Waka Māori will feature an exhibition of Māori involvement in Rugby and people will get the chance to meet former and current Māori rugby greats.
Waka Māori will host corporate evenings, and nearby 'whare inspired' marquees will feature Māori artists – carvers weavers and tohunga ta moko – carrying out their work. Māori entertainers, traditional and contemporary, will strut their stuff and each day karanga, powhiri and haka will ring out from the site on Te Wero Island.
Our pacific cousins too, will be part of the performances in Waka Māori.
As he proudly outlined the Waka Māori programme on the night of the launch, Renata Blair from Ngāti Whātua had a slight chuckle in his voice as he speculated, "I would love to see a Scottish visitor leaving our shores with an indelible mark of 'moko' – not tattoo – but 'moko' from Tāmaki Makaurau".
Wouldn't we all?