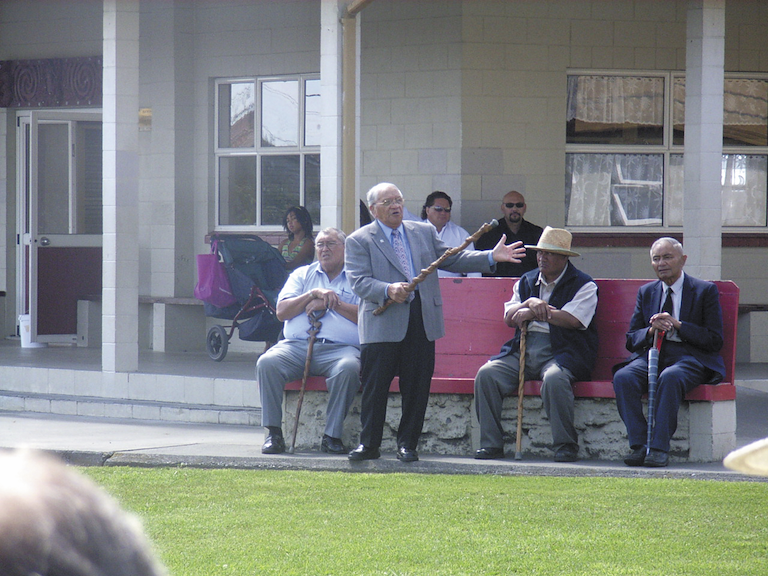 Ngāti Kahungunu's Te Rangi Huata has been busy organising a rohe wide festival of rugby activities for locals and visitors alike.
The iwi sees Rugby World Cup 2011 as a time to showcase their iwi, talents, and manaakitanga to the world.
Ngāti Kahungunu Iwi Incorporated was involved in the bid to secure games with the Hawke's Bay Rugby Union and have since worked together to ensure Māori will be showcased while hosting competing teams from Japan, Canada and France.
Visitors are expected to flock to Hawke's Bay, where an array of activities is planned for the tournament season. From visiting the George Nepia exhibition in Wairoa, playing in club-hosted rugby matches, and partaking in haka and hāngi festivals everywhere between Wairoa and Wairarapa where local players will teach manuhiri a haka, and show them how to prepare hāngi.
Jerseys created for the events will serve as a taonga to remind all of the experience. Other events include the Takitimu Festival, Hastings Blossom Festival, Art Deco events and the 'running with the rams' through Waipukurau. Rugby, Haka, Hangi details are on www.rugbyhaka.co.nz.
Leaders of Tomorrow – Hawke's Bay Magpies leading the way
Hawke's Bay Rugby Union (HBRU) knows the importance of looking at the next tier of kids coming through if they want them as future Magpies.
Several Hawke's Bay players received leadership training to support them to inspire whānau at marae and schools to achieve through sport. The training helped players to set goals as individuals and as a team, enhance self-belief, to stay strong and work hard within a team and community.
HBRU recognised that players are increasingly younger and needed support to help them understand their leadership role.
Tākitimu Regional Director Roger Aranui says: "I believe leadership at all levels is important and there is nothing like having your sporting role-models understand their own leadership potential and inspiring the leaders of tomorrow".
RWC goes off in the Wairarapa
Tākitimu Kaiwhakarite Richard Smith says: "Rugby World Cup is pulling the community together, making us look at what works well already, and how to add value and encourage visitors to this fantastic region".
Wairarapa iwi Rangitāne o Wairarapa and Ngāti Kahungunu will co-host a pōwhiri for the Georgia team at Te OreOre Marae, Masterton.
Wairarapa Rugby World Cup event organiser Catherine Rossiter-Stead has been busy organising activities for local residents and visitors, all of which are part of the region's annual Spring Festival.
Residents and visitors are encouraged to join in welcome celebrations for the Georgian team who will be training in Masterton, and attend Ngāti Kahungunu-led celebration Rugby, Haka, and Hāngi on 10 September, and the Big Parade on 22 September in Masterton.
Puawaitanga – growing our tamariki and rangatahi
Te Puni Kōkiri Tākitimu was pleased to support Puawaitanga Sports Academy, headed by former international and league star Kevin Tamati.
Kevin identified a gap, with the next tier of rangatahi, those who had the potential but for some reason were not being supported to consider a sporting career pathway. Rangatahi, graduates of the academy recently presented to Te Puni Kōkiri about their experiences, the training and endurance, and their opportunity to network with current star athletes.
Whanaungatanga and the tuakana/teina model were key components Kevin says, "Mental toughness is important, pushing and making rangatahi tougher, it is not always the size of the dog but the size of the dog within you".
Poroporoaki/OBITUARY – Joe (Tuahine) Northover,
5 March 1928 – 6 April 2011.
Born at Waipiro Bay, of Ngāti Porou, Ngāti Kahungunu and Ngāti Hine descent, 'Uncle Joe' has left a significant gap as he was a rangatira to many. Uncle Joe played a key role in upholding tikanga-a-iwi with a deep knowledge of te reo Māori, oratory, karakia, waiata and mōteatea. He was appointed to the Waitangi Tribunal, played kaumatua to EIT, Eastern Police, Hastings and Napier City Councils, the 28th Māori Battalion – D Company, New Zealand Māori Wardens Association, headed the Rōpū Pakeke, and was a trustee at Te Aute College. A Ringatū minister, he often provided support, guidance and training as well as translation assistance. Uncle Joe will be greatly missed by all as he played many professional and personal roles, dedicating his life to serving his people and community.