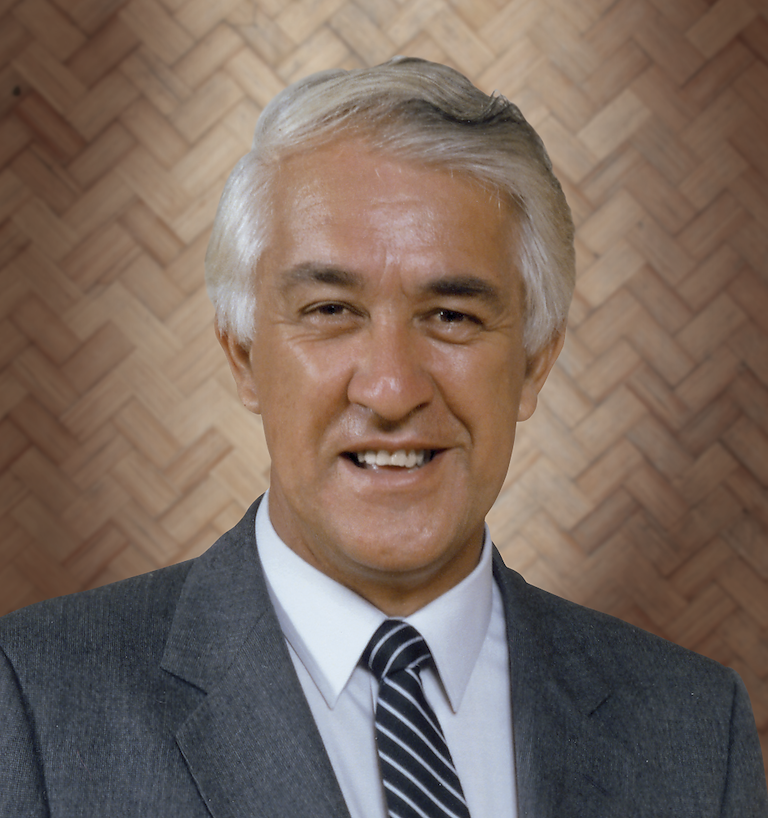 Kua hinga he tōtara i roto i te waonui a Tāne A tōtara has fallen in the great forest of Tāne
The above proverb is often quoted, but really does have meaning in describing the passing of Sir Paul Reeves ONZ, GCMG, GCVO, CF, QSO.
Paul Alfred Reeves was born in Newtown in 1932 during the great depression. His father was a tram driver. Growing up, he would have shared the difficulties common to most New Zealanders at that time but from those unprivileged beginnings he rose up to occupy the highest office in the land.
Tā Pāora had many 'firsts' in his life. In the thousands of words that have been written about him before and since his death, the 'first' most often quoted is that of being the first Māori to hold the office of Governor-General. Ironically, as Kōkiri 24 is about to go to print, the second Māori Lieutenant-General Sir Jeremiah Matepara, is about to take office.
But as Dr Hone Te Kauru Kaa, a fellow priest and long time friend and colleague of Sir Paul's comments, there were many others.
"Paul Reeves was the first Māori priest to study and graduate from Oxford University. He studied at St Peters College and gained a Masters degree with Honours. He was the first Māori appointed a lecturer in Church History at St John's Theological College in Auckland, where he had been a former student.
"In 1971 he became the first Māori to be elected and ordained a Bishop to the diocese of Waiapu. Prior to that all other Māori Bishops were suffragan – assistant – bishops to the Bishop of Waiapu."
In 1980 Sir Paul Reeves was the first Māori to be made Archbishop of the Anglican Church in New Zealand.
Hone Kaa recalls that, "His scholarship was evident in his preaching, though he was never dull or dogmatic. He tended to be unorthodox in his thinking, given the conservatism of the Church at the time. In his time as Archbishop women were ordained as priests. Only the second place in the Anglican Church internationally to do so after Hong Kong.
"In the Māori world he was at his most relaxed, and was treated as an Ariki by all iwi regardless of denomination. There are few marae where he did not stay a night. He was a great host and an easy conversationalist. He could also drop the occasional clanger.
"I recall being at a meeting with other clergy, and as often happens we were getting nowhere and someone in the room remarked how difficult it was to get everyone to follow a particular line of thinking. Someone else remarked that you could 'take a horse to water but you can't make it drink'. Paul when he spoke repeated the quote with a twist, 'you can take a horse to drink but you can't make it water'.
"There was an awkward silence, until someone laughed."
Sir Paul is remembered as having a very good sense of humour, and a willingness to make fun of sometimes quite silly things.
At a news conference, a reporter asked the then new Governor-General how much Māori blood he had. By way of answer Sir Paul explained that when filling in his re-entry immigration card on the way back into the country and faced with that same question, his usual answer was "about eight pints".
Sir Paul's service to this country and in the international arena was immense as has been written about elsewhere.
Sir Paul had a strong and unflagging sense of social justice and wasn't afraid over the course of his life to state his concerns publicly. In the mid-80s the then Archbishop Reeves and the Bishop of Aotearoa – Whakahuihui Vercoe – and others, led a hikoi at Waitangi. The aim was to march across the one-lane Waitangi bridge to protest social conditions of the time and the plight of poor people.
But the hikoi was held up by police at the bridge, and prevented from leaving the bridge until much later when activities on the Treaty grounds had finished.
Te Puni Kōkiri chief executive Leith Comer attended Sir Paul's funeral in Auckland and said, "It's been a privilege to be a small part of the government support to commemorate the life of Sir Paul, as it has been a privilege to have known and worked with Sir Paul over the years".
One of the Te Puni Kōkiri staff who has had a lot to do with Sir Paul both professionally and privately is Te Puni Kōkiri's Tāmaki Makaurau regional director, Pauline Kingi. She says, "It has been a rare privilege to walk in the shadow of Sir Paul Reeves, to watch, to listen and to learn from this great leader born of our Māori people and our treaty partner. Always aware of the social justice issues facing our nation, and the world, Sir Paul's life was one of bridge builder, Christian leadership and family man. He will be remembered as a close friend and colleague through our common mahi with the Auckland University of Technology, which has been a strong engagement and involvement since 2005. When he arrived at Holy Sepulchre, the Taranaki snow rested on our shoulders and we knew we were truly blessed.
"Go in peace Sir Paul and thank you for everything that you have given to us all."
Moe mai i roto i te Atua