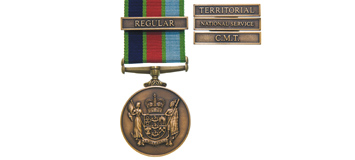 Sixty year olds can now apply for the New Zealand Defence Medal. Up until recently the New Zealand Defence Medal's Office was accepting applications for the medal only from ex-service personnel aged 70 and over.Since April when the first applications were called for, over 12,000 applications have been received and over 8,000 medals have been issued.
In mid-April the first New Zealand Defence Service Medals (NZDSM) were presented to 34 recipients, selected from various eligible category groups, at a ceremony at Parliament.
Te Puni Kōkiri's Doug Walker and Elizabeth Bridge are two of many Te Puni Kōkiri staff entitled to the medal and have already received them.
The NZDSM recognises attested military service since 3 September 1945. The medal is recognition for those who have served in the Regular and/or Territorial military forces for three years or more since the end of the Second World War, including those who did Compulsory Military Training (CMT) or Balloted National Service.
For more information on eligibility criteria, visit - http://medals.nzdf.mil.nz/nzdsm/faqs.html
Around 160,000 personnel qualify for the NZDSM, so this is the largest medal issue project since the Second World War medals were issued in the early 1950s. With such high numbers, a priority programme is necessary and the Minister of Defence has directed that the priority will be:
those living ex-service personnel over the age of 70
those living ex-service personnel over the age of 60
then all other living ex-service personnel.
Ex-Service personnel who are terminally ill and eligible for the medal will be given priority over all other applicants, but the family still need to submit an application form either online or in hard copy.
Families of deceased ex-Service personnel will be invited to apply for their late relations (husband/father/mother, etc.) medal entitlement after the processing of the initial applications from older living ex-Service personnel is well underway. This is likely to occur in early 2012.
Regional medal presentations are being arranged around the country by local Returned and Services' Association (RSA)branches, Community and Regimental Associations, whanau on local marae and family gatherings. Local Members of Parliament have been encouraged to support these events where possible. Who presents these medals is less important than the community and family recognition of the recipients' loyal attested service to New Zealand.