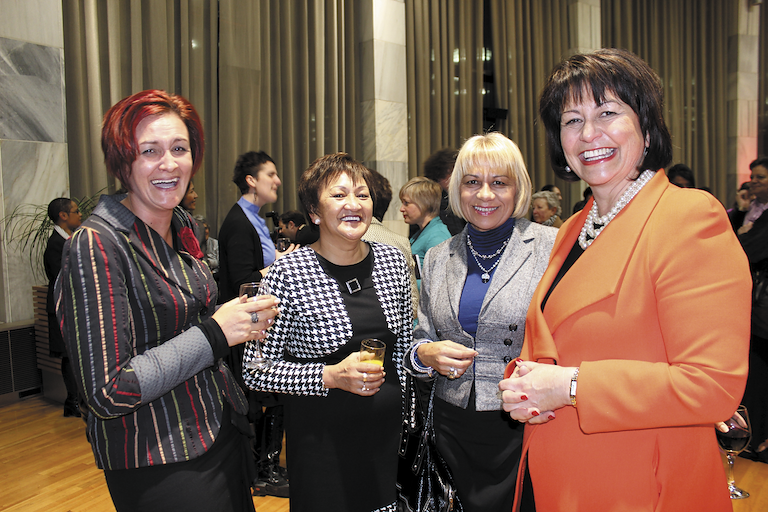 Wahine Māori from around the motu gathered in both Auckland and Wellington last month to celebrate Mana Wahine/He Wāhine Pūmanawa – an annual event on the Ministry of Women's Affairs calendar that recognises the important role and achievements of Māori women as tangata whenua.
At the Wellington celebration held at parliament and hosted by the Minister of Women's Affairs, Hon Hekia Parata, the focus was on the unique contribution Māori women make to Aotearoa New Zealand.
The event also coincided with the end of Matariki, the Māori New Year as indicated by the group of stars known as the Seven Sisters. The link between Mana Wahine's timing and the Seven Sisters is not coincidental. While Mana Wahine / He Wāhine Pūmanawa has been celebrated annually since 1993, events were traditionally held in April or May. However, in recent years this has changed with the Ministry of Women's Affairs now choosing to celebrate later in the year to coincide with Matariki.
Ms Parata said that the Seven Sisters are a reminder that we need to look back to look forward. "We are building on the foundations laid by those who went before us, and we need to provide that same solid base for the next generation of leaders,'' she said.
Three generations of women were at the parliament event. Margaret Hiha MNZ of Ngāti Rangitihi attended the event with her daughter Allanah, niece Yvonne Raureti-Carson and great-niece Janet Carson. Mrs Hiha, was a New Zealand hockey player in the 1960s, later working as a national hockey coach and in sports administration. At 78, Mrs Hiha still plays tennis, coaches school sports teams and works part-time, but today in the health sector.
Having traveled down from the Hawkes Bay to attend Mana Wahine, Mrs Hiha said she loved these events because the women were always so hospitable. "The Ministry of Women's Affairs people always make us feel welcome. They greet us with such warmth at the door, and when more guests turned up than they had seats for, the women made sure more chairs were brought in so no one had to stand," she said.
Mrs Hiha supported the focus of this year's event – working to ensure a society where women were safe, strong and free from violence, and a society where women are economically independent and able to practice personal rangatiratanga over all aspects of their futures.
It was a serious kaupapa, and Ms Parata inspired the audience with her closing remarks. "This country needs more women on boards and in leadership positions. We also need more Māori in these roles - and that is where you can all participate and leave your mark", Ms Parata said.