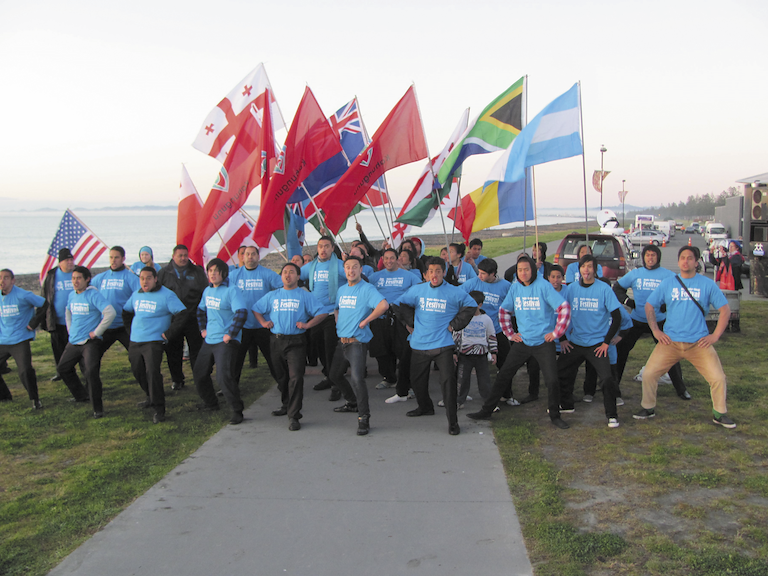 There are only days left to go, already most of the teams are here, and tens of thousands of fans who have come to watch the Rugby World Cup 2011 tournament have begun streaming into the country.
This is the second time we've hosted the Rugby World Cup (RWC). We hosted - and won - the first one in 1987, alas we have not won the tournament since.
We've held big events here in the past; the 1950 British Empire Games were held in Auckland, and our athletes were on fire that year winning 10 Gold, 22 Silver and 22 Bronze medals. Under their new name – The Commonwealth Games – Christchurch was the host city in 1974, and Auckland in 1990.
We've held the World Netball Champs here three times since they began in 1963 - in 1975, 1999 and 2007. We've had world rowing and waka ama champs, America's Cup yachting – but none of them will match what we're in for in September and October this year.
Rugby World Cup 2011 will be quite different. It'll be the biggest sporting event ever held here, it is reckoned to be the third biggest event in the world; and rugby is our national game.
But RWC 2011 will be different for other reasons too. It's not unusual for Māori to be involved in the opening and closing ceremonies of major fixtures held in Aotearoa, and of course there are usually Māori athletes taking part too; this time our involvement will be much wider.
Two years ago Te Puni Kōkiri chief executive, Leith Comer, set up a project to ensure wide Māori engagement in RWC 2011, and appointed Pāora Ammunson to manage the project.
"I was privileged to be asked by Leith in 2009. Not long into the job, the Minister of Māori Affairs, the Hon Dr Pita Sharples, instructed us to do whatever we could to ensure that Māori are fully engaged in RWC 2011. In his words we needed to grasp this opportunity, that the Māori cultural edge would contribute significantly to the nations success in hosting the world."
Pāora has Kahungunu Ki Wairarapa and Te Arawa whakapapa. "For most of my adult life I have worked for my Wairarapa marae and iwi in various leadership roles. The experience has convinced me that iwi and Māori advancement and indeed the advancement of communities generally, requires agreement on goals, open but focussed minds, and solid relationships.
"With respect to RWC 2011, there is nothing like a manuhiri standing at the gate of your marae to crystallise agreement on goals, focus minds and quickly solidify relationships.
"The job hasn't been easy, and there have been hard issues to work out over the course of the two years.
"But Māori communities love this shaped ball and there has been a lot of common ground at regional and national levels. One partnership has led to another, then another. Alliances have been formed with Rugby New Zealand 2011 Limited – the tournament organiser. The International Rugby Board and its subsidiaries, RWC regional co-ordination groups throughout the country, NZ2011 – the government umbrella office for RWC 2011, Auckland city, the New Zealand Rugby Union and many others."
Māori and iwi groups, companies and organisations around the country have taken up the challenge and in the process are rewriting Rugby World Cup history.
For the first time an indigenous people have been engaged at every level of the RWC structure and playing a full role in hosting the tournament. Māori are represented on every RWC regional co-ordination group.
For the first time an indigenous broadcaster - Māori Television – is a lead broadcaster for a global sporting event.
For the first time, authentic indigenous designs have been incorporated into the RWC tournament look and feel. All stadia and official tournament spaces will be decorated with the mango pare design; in the official retail memorabilia programme – commercial arrangements have been entered into with Māori designers.
As the estimated 85 to 100 thousand visiting rugby fans – let alone the local ones - travel around the country they will come across many Māori festivals and events showcasing our culture. Between $1-2 million of the RWC lotteries festival fund of $10 million is committed to events led by Māori.
For the very first time key partners in the tourism sector have come together to produce a travel guide specifically promoting Māori tourism and retail experiences. And possibly the biggest and most dramatic Māori statement will be 'Waka Māori' on the Auckland waterfront.
The 'waka themed' architecturally designed pavilion, will be a dominant feature on the Auckland waterfront. At 75-metres long and 12-metres wide, and with the taurapa (the stern structure) standing five storeys high, it will be pretty hard to miss. Elsewhere in this issue we'll talk about the 'Waka Māori' contribution to RWC 2011.
For now let's go back to Paora for some closing comments.
"A key question is what do we want our manuhiri to remember of us? I would like to share with you key words that Māori communities, iwi and businesses around the country told me. They want the world to see them as:
He iwi manaaki te iwi Māori – Māori people are welcoming and hospitable
He mea wehi ōna taonga toi – Māori culture is creatively awe-inspiring and
He hoa mata whānui, he hoa pai i roto I te ao kaipakihi – Māori are innovative business partners.
So what will Pāora be doing during the tournament? Well, early on in the piece he bought tickets which will see he and his wife - who is Samoan – following Manu Samoa in the early stages of the tournament. For the finals he'll be heading down to Waka Māori to watch the game on Māori TV on the big screen.