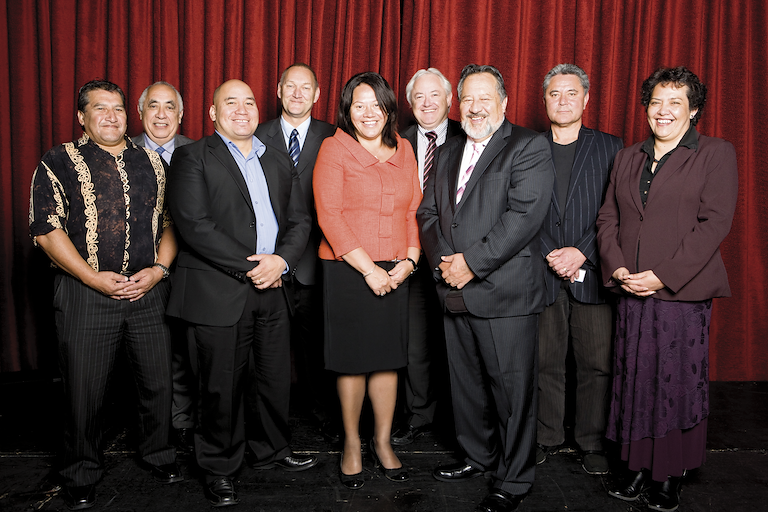 Chaired by the Minister of Māori Affairs, the Taskforce includes the Associate Minister of Māori Affairs, the Hon Georgina te Heuheu and Te Puni Kōkiri Chief Executive, Mr Leith Comer. The Māori Economic Taskforce members appointed for their expertise in a wide range of disciplines include:
Daphne Luke (Small and Medium Enterprises)
Bentham Ohia (Education, Training and Information Technology)
June McCabe (Investment Capital and Enterprise)
Hon John Tamihere (Social and Community) resigned February 2010
Mark Solomon (Tribal Assets)
Ngāhiwi Tomoana (Primary Sector)
Rob McLeod (Economic Growth & Infrastructure) resigned June 2010
The Taskforce had a budget of $4.5 million per annum for 2009/10 and 2010/11 to research and implement Māori economic development initiatives.
The Taskforce projects focussed on three key areas – making a difference in the community, gathering up to date information through research, and designing and testing models for innovative ways of working.
The community initiatives include Professional Group Training and Māra Kai. The Taskforce commissioned research that includes Māori innovation; and Māori investment and capital markets. To look at innovative ways of working the Taskforce tested models through the Koura Inc, co-investments/public-private partnerships, and exploring opportunities to develop a Māori brand.
COMMUNITY INITIATIVES
Māori Professional and Group Training
The Māori Economic Taskforce invested in projects to increase the number of Māori professionals in key industries. A snapshot of some of these projects include:
Architecture and Design - 10 Māori graduates were placed in employment.
Information Technology – 30 Māori were placed in business analysis training. More than 60% of trainees were then placed in employment.
Teaching - A total of 48 new Māori teacher trainees were recruited.
LENScience - This initiative introduced 850 Māori students in 77 classrooms from 25 South Auckland secondary schools to science mentors, enabling access to science based resources; and create pathways to study science at university.
Māra Kai – Community Gardens
The Māra Kai initiative assists Māori communities to establish small non-commercial māra kai (community vegetable gardens) on Marae and in Māori communities. To date for the 2010/2011 $168,945 has been allocated for 123 Māra Kai projects. Since the initiative began there has been more than 350 Māra Kai established throughout the country.
Māra Kai also encourages healthy outdoor activity, learning survival skills of planting, growing, harvesting and storing fruit and vegetables. Additionally there are the community and social benefits including strengthening communities; sharing of kai (food); passing on of knowledge and experience and bringing generations together to grow, harvest and enjoy their kai.
RESEARCH PROJECTS
Māori Asset Base and contribution to GDP
The Māori Economic Taskforce commissioned research to provide updated figures on the value of the Māori asset base and the Māori contribution to GDP (Gross Domestic Product). For the full research reports go to: www.tpk.govt.nz/en/in-print/our-publications/
Asset base
The asset base of enterprises in the 2010 Māori economy totals at least $36.9bn. A total of $5.7bn associated with real growth from 2006 to 2010 in size of the asset base of the Māori economy of 18 percent (or 4.3 percent per annum). Asset base of 2010 Māori economy compared to earlier estimates BERL calculations using data from various sources. Business and Economic Research Limited (March, 2011) report to Māori Economic Taskforce, p.4.
GDP contribution
In GDP terms, the operating surplus income of Māori enterprises totalled $3.3bn, while capital spending totalled $1.4bn. In GDP terms, the employment and capital income of Māori households totalled $10.0bn, while spending amounted to $16.6bn.
Science and Innovation Research
The Taskforce commissioned research to investigate the benefits for Māori in pursuing innovation, research and development (R&D), and technology activities—including the opportunity cost of not undertaking this work.
The research highlights that Māori hold a significant asset base of $39.6bn and demonstrated that getting investment decisions right could have significant quantum earning possibilities in the future. For the full research report go to: www.tpk.govt.nz/en/in-print/our-publications/
Māori Investment, Capital Market and Enterprise
A scoping study is underway to define the market in which Māori consumers of capital, and suppliers of capital operate. The study:
Draws out issues affecting the demand and supply of capital to Māori enterprises
provides a series of in-depth interviews with key stakeholders in the sector, in particular, those managing collectively owned assets and those operating in and advising on the capital markets identifies areas of subsequent work to assist Māori enterprises to access capital needed to reach their potential.
TESTING MODELS
Koura Inc
Between 85 to 90% of New Zealand lobster is now consumed by China. With China's recent growth in prosperity the profitability of New Zealand lobster has also grown rapidly over the last 3 years. However, despite lobster being a high value luxury item, it primarily remains a commodity traded product with the sales and price setting process essentially operating on a daily spot market. Inevitably this results in a high degree of volatility and uncertainty when assessed over the long term, as is the case with a number of other New Zealand primary sector products.
Both the lobster quota ownership and exporter profiles highlight the position that Māori have in the New Zealand lobster sector and the opportunity Māori lobster interests have to demonstrate leadership and drive sector improvements across the value chain. The first phase of this project involved a comprehensive report which recommended Māori lobster interests, which comprise circa 30% of lobster quota owners and account for circa 43% of total lobster exports, consolidate their interests into one full value chain entity. While supportive of this recommendation Māori lobster quota owners preferred to initially focus on one segment of the value chain and the project re-focused on marketing and sales of New Zealand lobster into China. A company, Koura Inc Limited, was formed by the various Māori lobster quota owners to drive the project.
"The Koura Inc project recognises that the true competition in the lobster export market is not between other players in the NZ lobster industry but comes in the form of alternative lobster species and other high value, luxury seafood products. As an industry our knowledge of the end consumer in China is limited. This project, now led by the Board of Koura Inc Limited, assesses how we can extract greater and/or more consistent value through the supply chain, grow the market profile of NZ lobster and more intimately understand the end Chinese consumer," says Koura Inc Limited Chair Craig Ellison.
Public/Private Partnerships
The Taskforce have investigated models for collaborative investment opportunities and also considered the best structures for big and small iwi to work collaboratively in the future. The public/private partnership model is becoming more well known in New Zealand and wānanga with iwi groups and their asset managers to workshop the opportunities and discuss various other co-investment issues have been well received.
The Taskforce also produced the Iwi Infrastructure and Investment Report providing an overview of the infrastructure landscape and identified areas of infrastructure spending where there may be opportunities for Crown-Iwi collaborations. This project has had 21 iwi, hapū, land corporations and other Māori groups represented in wānanga. Work is underway to design an appropriate structure for both big and small iwi using the afforestation partnership and the current Ministry of Education public private partnership tendering process as "live" models for collaboration to participate in large scale co-investment opportunities.
Māori Brand Strategy
This project has explored opportunities to develop a Māori global trading brand through engagement across key Māori stakeholders in tourism, fisheries, primary and creative sectors.
The project has affirmed support and needs for:
Brand Māori: The need for a high level brand that introduces 'New Zealand Māori & Māori New Zealand' to markets – to raise market awareness of who and where Māori are and what Māori have to offer global markets.
Māori Brands: The need for development of compelling high quality Māori brands with anchor companies or consortia that can act as sector exemplars demonstrating the value and potential of Māori branding.
A cross sector 'kaitiaki' group has been established to oversee and inform development and effort is now being invested into identifying pathways for sustainable development of 'Brand Māori' through a combination of leveraging existing global campaigns and proposing how they can be extended upon into each target sector. By June 2011, it is expected that this will result in a clear strategy.
For more information on the Māori Economic Taskforce and their work go to http://www.tpk.govt.nz/mi/mo-te-puni-kokiri/kokiri-magazine/kokiri-15-2009/the-maori-economic-taskforce/#.VoxpQFJZ7FJ