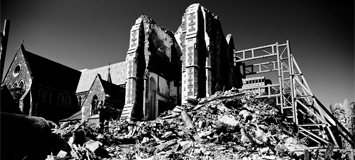 The earthquake that shook Christchurch at 12.51pm on Tuesday 22 February 2011 has become the biggest natural disaster to strike our country since the Napier or Hawke's Bay earthquake almost to the day, 80 years ago.
The Hawke's Bay quake struck at 10.47 in the morning on February 3 1931 it measured 7.8 and shook the district for nearly three minutes. Two hundred and fifty six people were killed – 161 in Napier, 93 in Hastings and two in Wairoa.
The crew of a tanker at sea off Napier felt a violent vibration and saw a huge dust cloud rising over the city. The weather had been fine and dry for several days, but after the shake fires broke out in three chemist shops and a wind blew up and spread the flames, which burned for 36 hours before dying out. The city's fire engines were crushed by falling debris in the fire station and were unable to help.
The Christchurch quake of February 22 measured 6.3 but was closer to the city and shallower than the earlier quake on September 4.
While no one was killed in September, 161 people have been confirmed dead in the February quake, a further 20 are missing presumed dead. It will be months if not years before reconstruction and repairs restore Christchurch to its former state.
Help and support has flowed into the badly damaged city from around the country and the world - and right in there helping too were more than 60 Te Puni Kōkiri staff; who were cycled in and out to relieve the pressure on, and assist local Te Puni Kōkiri staff, Ngāi Tahu and the whole of government relief effort.
In this issue of Kōkiri we feature stories from the relief effort and some of the Māori – Te Puni Kōkiri staff – and others who went in to help out.