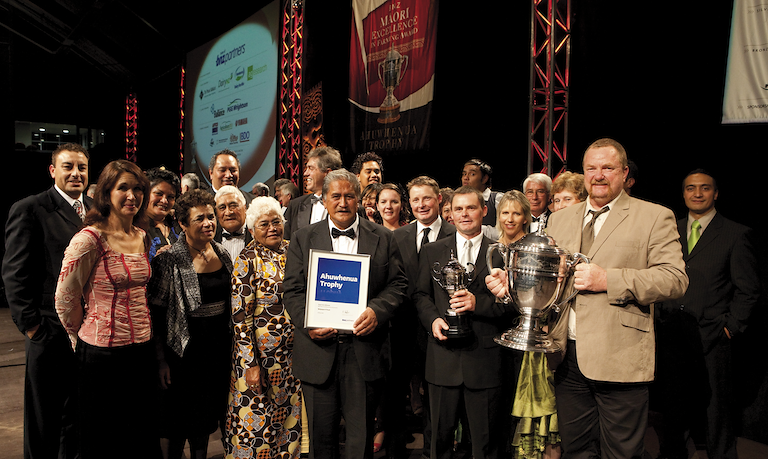 Waipapa 9 Trust, 2010 winner of the Ahuwhenua Trophy, Dairying Trophy is once again a finalist in this year's Ahuwhenua Trophy - BNZ Māori Excellence in Farming Awards, the premier award for Māori in agriculture.
The other finalists in the 2011 Sheep and Beef competition are: Pākihiroa Farms, on the East Coast, west of Ruatoria; and Ōtakanini Tōpu Incorporation, on the Kaipara Harbour near Helensville
Each year the competition, which was first established in 1932 by Sir Apirana Ngāta, alternates between sheep and beef farmers, and dairy farmers.
Waipapa 9 Trust administers a substantial, integrated agribusiness totaling 6500 hectares. The Trust's entrant in this competition, Waipapa Station, was formerly three separate sheep and beef stations and comprises 1,490 hectares of which 1,100 is the effective grazeable area. The property carries over 12,000 stock units. Between 2005 and 2010 the three stations were reorganised to consolidate management systems and capacity. As well as dairy the Trust also has land in forestry, 300 hectares of which was converted in 2010 as part of its Lake Taupō protection planning. It has systematically retired lands, protected wetlands and waterways, contributed to nitrogen reduction initiatives and invested in low impact effluent systems. Waipapa 9 operates a Cadet Training Unit under a separate Charitable Trust to help young Māori develop skills in agriculture and farming.
Pākihiroa Farms is a 3140 hectare property of medium to steep country which includes the Ngāti Porou ancestral mountain, Hikurangi, in its boundaries.
Owned by Te Rūnanga o Ngāti Porou which bought the property back from the Williams family in 1985, Pākihiroa is operated as a commercially independent limited liability company. It runs 10,700 stock units on 1,356 effective grazeable hectares which also includes 210 hectares of pine forest fenced and planted to protect waterways and 115 hectares of eucalyptus planted to sequester carbon. Both plantings are part of the farms erosion control strategy. The balance of the property includes Hikurangi maunga and part of the Raukūmara Range. Official access for trampers to Mount Hikurangi, internationally renowned as the first place to see the rising sun, is through Pākihiroa.
Ōtakanini Tōpu is a Māori Incorporation farm bordering North Auckland's west coast at Muriwai Beach on one end and the southern end of the Kaipara Harbour on another. The property totals 2,750 hectares of which 2,200 are effective grazeable land. It runs 16000 stock units on 1550 hectares and has 600 in forestry. The rest is unproductive land in mudflats and wetlands.
A farming regime emphasising sustainable farming within the constraints of the properties coastal environment and the systematic introduction of new genetics and initiatives is in place. Since its formation in 1951 from the amalgamation of local Māori whānau lands and the return of government administered land, Ōtakanini Tōpu staff have mapped and maintained the many cultural and historic sites on the property.
The supreme award winner and recipient of the Ahuwhenua Trophy will be announced at a Gala Awards dinner in Rotorua on Friday 3 June 2011.
As well as being presented with the historic Ahuwhenua Cup, this year's winner will receive a replica of the trophy, a prestigious medal based on a 1932 design and up to $40,000 in cash and farm-related products and services. Each finalist will receive a medal and $15,000 in cash and farm-related products and services.
Public field days will be held on the property of each finalist in late April through to early May. Details will be announced shortly: see www.ahuwhenuatrophy.maori.nz