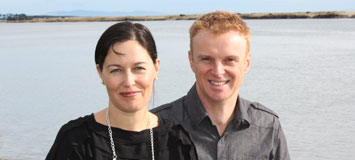 Tim and Bridgette Paton-Tapsell (Ngāti Whakaue) are in the business of public relations.
Tim and Bridgette's business, Village Public Relations, based in Tauranga started in Bridgette's home village of Maketu in the Bay of Plenty. "Maketu is very much a part of our business because the concept was born here and I have very strong family ties to the village," says Bridgette.
When Bridgette was living in Maketu, she worked in public relations (PR) from home while raising her children, as well as editing the local newsletter, The Maketu News. However, eight months ago a client from the past tracked her down and asked her to represent their multi-national company's publicity. It's from here Village PR was born.
"We are in the business of making clients' products, their brands and people famous in the media via editorials in magazines, newspapers, online sites, radio and TV," she says.
Tim says PR is a powerful marketing tool, as it gets important detail across about your business and its unique selling points through the power of story telling.
"Third party endorsement by the media gives your organisation a credibility that advertising cannot buy," says Tim.
Village Public Relations currently employs three full-time staff, with clients including Trinity Hill, Boulgaris Maguire Realty, Evolution Clothing and more.
Tim has a strong sales and marketing background having been runner-up in the Lion Nathan Sales Person of the Year Award and in his first year as a real estate agent he sold $35 million worth of property.
Bridgette has more than 10 years' experience as a public relations practitioner working across a broad range of industries including beauty, fashion, arts, IT, wine, property and more.
"I'm very keen to work with Māori organisations and iwi to add value to their public relations campaigns or to help develop practical media and communications strategies to meet their needs," says Bridgette.
In October last year Bridgette and Tim sought help for their business and approached Te Puni Kōkiri.
"Working with Te Puni Kōkiri was excellent, because they encouraged us to focus on building strong foundations of our business first, which included a detailed business and marketing plan (and PR!)," says Bridgette.
"We recommend the Te Puni Kōkiri business process to all new businesses. It isn't difficult, but it really does require effort. However, we think it's really worthwhile, as our business is growing really well and we've made some great new friends from within the organisation," she says.
For more information visit: http://www.villagenz.com/#!contact/c1vzd .