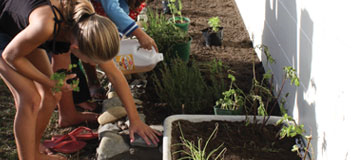 Promoting nutrition and physical activity in sustainable ways was the focus of the Agencies for Nutrition Action Conference. Physical activity and nutrition experts from all over the country, as well as overseas experts, gathered at the conference held in Wellington.
The conference highlighted that many sectors are well placed to influence nutrition and physical activity including conservation, education, transport, recreation, social development and local government.
Shane Ngatai, principal of Rhode Street School in Dinsdale, Hamilton, showed conference delegates how the education sector could inspire healthy and sustainable living.
The seeds of Rhode Street School's Sustainable Kids Programme were planted late in 2006 and have been flourishing ever since. What started off as a vegetable patch at Rhode Street School has grown into a whole-of-school project that keeps on expanding. Principal Shane Ngatai's vision was to create a sustainable school environment.
"The idea of the programme was always sustainable, healthy living and healthy attitudes. I wanted the school to become the basis for a sustainable community, and create resources to do that. Not an easy task in an inner-city school," says Shane Ngatai.
"As a community we felt this generation of children had missed out on growing things for themselves. Most children thought vegetables came from supermarkets and were eating too many processed foods. We knew it was part of our responsibility to teach them the life skills they need to stay healthy."
After receiving funding from the Ministry of Social Development's Extended Services Programme, in order to grow and process food at the school, the Sustainable Kids Programme came to life in 2008.
"We now grow huge amounts of fruit and vegetables. We have a kitchen vegetable garden, two orchards and we've also created a hydroponics tunnel house that allows us to grow vegetables like tomatoes and lettuce in winter. Our student cafe produces healthy breakfasts and lunches – and almost all the ingredients are grown at the school. Every child from the age of 5 to 13 works in the kitchen during the school week," says Shane Ngatai.
The Sustainable Kids Programme has been so successful that it has extended into the wider community. The school plans to extend the project even further and Mr Ngatai is helping other schools to adopt similar programmes.