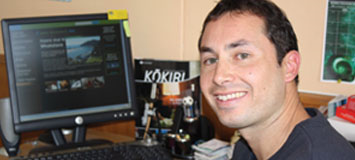 Carwyn Evans' (Ngāi Tūhoe) business is to promote the Whakatāne region, its businesses and services to the world.
In 2002 Carwyn identified a need for an online Whakatāne directory giving Whakatāne businesses a web presence.
"Because I come from here and am proud of Whakatāne, I thought what better business than to promote your own home town," says Carwyn. His business, Whakatāne.Info Limited has built up a client base of about 300 local Whakatāne businesses during the last seven years.
"Local businesses pay a annual fee to advertise with Whakatāne.info and for me it's about getting results for my clients," says Carwyn.
"If they already have their own website we incorporate that into their page and if they don't then we give them an online presence to help improve their business profile and generate sales," he says. Whakatāne.Info specialises in looking after locally owned New Zealand businesses, as well as providing useful local information including duty pharmacies, tide times, weather reports and more.
Carwyn says one of the advantages of advertising with Whakatāne.Info, regardless of whether a business has an already established website or not, is that he can help get better search results through google for his clients. Whakatāne.Info works with local designers and, where possible, its own client base to maintain the directory and is a real simple online advertising solution for Whakatāne businesses.
In 2006 Carwyn worked with the Te Puni Kōkiri Business Facilitation Service, who helped with sales tools, mentoring and equipment. "I definitely found Te Puni Kōkiri really helpful with my overall business direction," says Carwyn.
"I would recommend that anyone interested in business talk with Te Puni Kōkiri. Their support and networks have been very helpful to me and my business," he says. For more information visit: www.whakatane.info/.