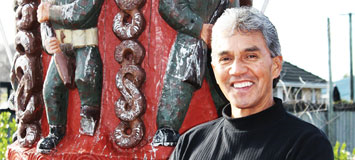 In 1959 the Department of Māori Affairs (Te Puni Kōkiri's predecessor) launched the first of a number of special training schemes, the Māori Trade Training Scheme, in a new drive to encourage more young Māori into skilled trades. From a modest start when 10 teenage Māori boys were recruited for carpentry training in Tāmaki Makaurau, the scheme grew rapidly and by 1966 had increased its intake to 144 boys each year. By 1970 the scheme had taken on 1,100 boys at training centres in Tāmaki Makaurau, Lower Hutt and Ōtautahi.
Initially carpentry was the only trade offered. Due to the scheme's success, plumbing, electrical wiring, mechanics, painting, panel beating, plastering, welding, engineering, boiler making, fitting and more were offered to encourage Māori into long-term skilled employment.
"The success of the scheme was due in no small measure to placing the trainees in hostels where they received the benefit of close, friendly supervision and helpful advice and guidance," says Barry Baker from the Department of Māori Affairs.
There were four hostels in Tāmaki Makaurau, one in Lower Hutt at the Trentham Immigration Hostel and two hostels, in Ōtautahi (Rehua and Te Kaihanga).
"The Department of Māori Affairs was well aware in the 60s and 70s of the large number of Māori in unskilled employment, and had taken positive steps to change the situation.
It was evident that these trade training schemes were making a significant and important contribution to the industrial development of the nation, and to the place of Māori in modern society," says Barry Baker.
In the middle of 1960, 15-year-old Don Tawhai of Ngāti Kahungunu left his home in Hastings to travel to Ōtautahi to take part in the Māori Trade Training Scheme.
Earlier that year Don's mum met with the Department's Māori Welfare Officer for Hawke's Bay, Boy Tomoana, who suggested to her that Don should enrol in the Māori Trade Training Scheme and go to Ōtautahi to get his "ticket".
"At first it was a bit daunting because I had never been out of Hastings and I was off to the big smoke to get my ticket," says Don.
"I was met at the train station by the head boys of the Rehua Hostel, Noel Huata and Ben Hawkins, and they assured me that I would be alright. I got to the hostel and they introduced me to the boys," he says.
"The next day I met my first boss and started my apprenticeship in carpentry and I never really looked back. Although I remember feeling alone at first, I realised that I wasn't the only one and that all the boys were in the same boat and they ended up being my whānau." Once Don had finished his 10,000 hours (about five years) in the scheme and got his ticket he became a whānau role model and consequently his three brothers followed in his footsteps by enrolling in the scheme and successfully completing it too. In the 1980s, armed with his ticket and more than 20 years' experience in the building industry, Don and one of his brothers started their own business, Multiple Construction, in Auckland, employing more than 30 workers including a couple of Māori Trade Trainees. In the late 80s the recession set in and forced Multiple Construction out of business.
"We shut up shop because developers had run out of money, but even though our business closed we found other work and business opportunities to ride out the recession," says Don.
Now 65 years old, Don is still living in Christchurch with his wife of more than 45 years. They have three children and six mokopuna.
Now with 50 years in the building industry and full of life experience running his own contracting business, Don has often wondered why the Māori Trade Training Scheme stopped. "The Māori Trade Training was the best thing I ever did. It saved my life because what would I have been doing otherwise – I might have been in jail and just another Māori statistic but I chose to help build this nation with my hands," says Don. In the beginning of 1961 a 15-year-old Norm Dewes (Ngāti Kahungunu) from Wairoa moved into the Rehua Hostel and quickly became mates with Don.
Norm's trade saw him in the foundry melting heavy metal including iron and steel. "It was a fantastic opportunity and like Don it also set me up for life. I didn't quite get the opportunity to melt gold but I did melt pennies," laughs Norm.
"I tell you, the key to the success of the scheme was the kaupapa-based pastoral care. When we finished our days at work we went back to the hostel, had a hot shower, plenty of good kai, a warm bed and spent quality whānau time with the other boys – we always left the hostel clean and with a full stomach," he says.
Norm spent a lot of his time working in his industry before making the move to union advocacy work on a local, regional and national level.
Norm is now the chief executive officer for Christchurch-based Te Rūnanga o Ngā Mātā Waka, an Urban Māori Authority providing education, health, social services and marae activities for urban Māori.
"I can't understand why they stopped Māori Trade Training. Māori Affairs provided us with a foundation of success and I know Te Puni Kōkiri are looking at bringing the successful elements of Māori Trade Training back. My only advice is that it needs to be marae based to build strong communities by nurturing closer kinship ties, with a sense of unified direction," says Norm.
If you were involved in the Māori Trade Training Scheme from 1959 to the 1980s, are an Industry Training Organisation, or are interested in trades training opportunities, please contact us at Te Puni Kōkiri email: tradetraining@tpk.govt.nz.