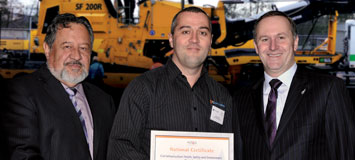 There is no doubt that Māori are feeling the effects of the current economic downturn. Jobs are being lost, whānau have lost their incomes and communities are feeling the strain.
One of the primary drivers of the Minister of Māori Affairs Māori Economic Summit and the Prime Minister's Job Summit was to provide real solutions for those going through these tough times and to position Māori to take advantage of the future economic upswing.
Improving the delivery of industry and trades training to Māori is one of the priorities that emerged from these Summits. On Thursday 23 July the Prime Minister Hon. John Key and the Minister of Māori Affairs Hon. Dr Pita Sharples launched "Māori in Industry and Trades Training" – with the specific focus of the launch on support for 250 Māori trainees through InfraTrain (the Infrastructure Industry Training Organisation) across the Waikato, Auckland/Northland and Hawke's Bay/East Coast regions. This includes support for Māori new to the industry and includes the purchase of training for some Māori through to diploma level study.
The agreement with InfraTrain is one initiative to provide support to at least 1,800 Māori in industry and trades training – most at level 4 and above on the National Qualifications Framework – and in industries with strong employment prospects.
"This new initiative will see more Māori gain skills and qualifications across a wide range of industries cannot come soon enough," says the Minister of Māori Affairs Hon Dr. Pita Sharples. "It will also increase the number of Māori moving to higher level qualifications and into more senior roles within their organisations," said Dr Sharples. "Most importantly the Māori workforce will become more resilient and better prepared for opportunities that lie ahead."
"While the Māori Economic Summit and Job Summit initiatives provided a clear focus and steer in relation to industry and trades training, Te Puni Kōkiri has been working in this field for some time" says Te Puni Kōkiri Chief Executive Leith Comer.
Over the past three years, Te Puni Kōkiri has invested in around a dozen programmes aimed at lifting the skills, qualifications and employment prospects for Māori through industry and trades training. These programmes provided training opportunities and support to around 500 rangatahi Māori, across a diverse range of skills and qualifications.
Te Puni Kōkiri worked closely with the Wellington Institute of Technology to increase Māori apprenticeships in the electrical trade.
In Northland Te Puni Kōkiri assisted Te Rūnanga o Te Rarawa to implement the Tai Tokerau Trade Training model to increase the employment and education outcomes for young Māori by allowing students to gain and then apply their classroom learning in an authentic trades setting.
Te Puni Kōkiri assisted Te Taiwhenua o Heretaunga in its Marae Trade Training programme. Te Puni Kōkiri also supported the Māori Workforce Development Trust to assist rangatahi to transition into work, supported Māori mothers to return to the workforce, encourages Māori participation in industry training and raises awareness among Māori employees of the value of workplace learning.
In responding to the current economic climate Te Puni Kōkiri has boosted its involvement in supporting Māori in Industry and Trades Training focusing on the wrap-around support through recruitment of Māori into specific industry training, mentoring, pathways and qualifications design specific to Māori learners, and other forms of pastoral support to improve the completion rate by Māori of these qualifications.
Te Puni Kōkiri has three priorities:
Growing the skills and qualifications of Māori;
Ensuring Māori would be in a stronger position long-term, by moving into higher level qualifications – Level 4 National Certificates or above – which is generally the level required to move into management and supervisor positions; and
Aligning training with real jobs in industries that had a real future for Māori.
"This recognises that trades training has historically been utilised by Māori to address skill shortages and build resilience within the Māori workforce," says Leith.
"While in the past Māori trades training focused on the traditional trades. The nature and scope of industry and trades training has evolved significantly and currently embraces a substantive cross-section of industries within the modern economy," he says.
According to the Industry Training Federation there were 23,380 Māori in industry training in March 2009. When considering those Industry Training Organisations and other models of delivery which have been successful in the delivery of Industry and Trades Training to Māori, six factors have been present - having programmes that:
are targeted specifically at Māori;
are tailored for Māori (with pastoral support mechanisms in place); have strong input (both directly and indirectly) from local Māori communities;
have a strong Māori presence within the ITO (or central body which brings the partners together);
have access to multiple funding sources; and
have strong links with local business and business groups.
The configuration of these criteria may vary from programme to programme – but each is present. Te Puni Kōkiri is continuing to work with industry and training providers to explore expanded Māori trade training in other industries.