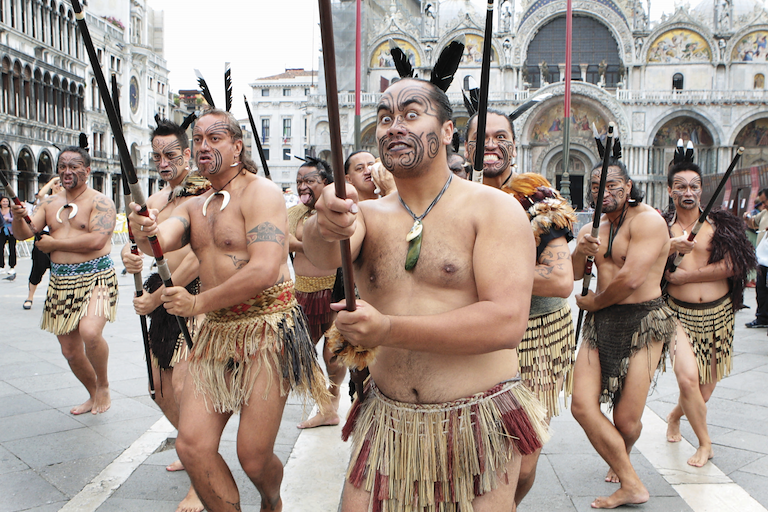 Current National Kapa Haka champions Te Waka Huia performed through the streets of Venice, Italy recently to launch New Zealand's official presence at the Venice Biennale 2009.
The launch included a traditional Māori blessing followed by a pōwhiri and breakfast at Piazza San Marco (St Mark's Square). "What better location than Venice to experience the transposition of the South Pacific with such a historical centre of Italian art. It is fantastic that New Zealand is here at the Venice Biennale," says New Zealand Ambassador to Italy Laurie Markes.
Artists Judy Millar and Francis Upritchard were selected to represent New Zealand at the 53rd Venice Biennale, the world's oldest and most prestigious visual arts event.
Manager of the International Team at Creative New Zealand Carla Van Zon says the Venice Biennale presents an occasion to capture an affluent and influential arts audience.
"The New Zealand presence at the Venice Biennale is an initiative of Creative New Zealand. As such we are interested in looking for ways to leverage off this prestigious event and to create opportunities for New Zealand's best artists," she says.
A "New Zealand Room" is housed in La Maddalena, the venue for Judy Millar's exhibition titled Giraffe-Bottle-Gun. The room features design from a selection of New Zealand's top designers and artists including the work of Māori artists Chris Bailey, George Nuku and Tracey Tawhiao. George Nuku has carved a polystyrene waharoa, while Chris Bailey has collaborated with designer Katie Lockhart to create furniture for the room.
With more than 70 countries represented in their own pavilions, Venice will be abuzz with VIPs, film and music celebrities, media and invited critics, curators and collectors.
Established in 1895, the Venice Biennale is now recognised as being the oldest, longest running cultural event of its kind, attracting hundreds of thousands of people to each event.