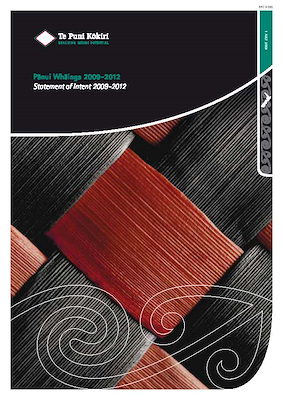 Statement of Intent 2009-2012
Table of contents
Managing in a Changeable Operating Environment
Significant changes
Since the previous Statement of Intent, there have been two significant events that have changed the environment in which the Ministry operates.
Firstly, and of greatest impact on Māori communities, is the significant change in economic conditions, and the associated risks that those conditions present. This has demanded a re-gearing of our priorities, to ensure that appropriate support is put in place to minimise the economic and social impacts on Māori of the recession, while balancing our view that those remedial actions should be future focused, to position Māori well for the economic recovery.
Secondly, the General Election has resulted in not only a change in Government, but a change in political arrangements for the Māori Affairs portfolio. These arrangements require close attention to understanding the shared priorities of the Minister and Associate Minister of Māori Affairs, and ensuring that we are well placed to deliver on these shared expectations.
On-going Environmental Scanning - Relationships focus
Success of our business is premised on understanding the expectations of, and having strong relationships with, both Government and Māori. In this we are the only agency of state that has this unique ability. We focus on strategic and purposeful relationships with Māori communities, to achieve mutual goals and our ultimate outcome of Whānau Ora. The relationships that we will engage in will be responsive to local needs and opportunities while also aligning with government priorities. In this way we will add value to our relationships with all stakeholders.
Of utmost importance is a need to ensure that we remain abreast of changing relationship expectations between the Crown and Māori, and are positioned to communicate those expectations to the respective parties. Over recent years these expectations have changed significantly, as Māori move from pre to post settlement phases. Currently, there is an emerging emphasis on the devolution of government funded services to Māori delivery mechanisms. On a day-to-day basis, our regional office network provides local level intelligence on emerging issues and expectations among Māori communities, and Ministers are regularly apprised of this information.
Operating excellence
We continually strive for excellence, thorough internal controls, policies, processes and systems that provide our stakeholders with confidence of an efficiently and effectively organised Ministry. Additionally, our commitment to stakeholders is best reflected in the breadth of our investments and work at the local level which has been recognised and acknowledged as being of public good.
It is our intention during the term of this Statement of Intent to gauge the appropriateness of our work, how it is valued by our stakeholders and to include initiatives to create enhanced public value in the communities.
In addition, Te Puni Kōkiri intends to keep aware of the changeable operating environment throughout the period of this Statement of Intent, by:
Periodically reviewing the effectiveness of its risk management activities and dealing with new strategic risks as they arise;
Ensuring the Ministry is responsive to key stakeholders such as state sector agencies, whānau, hapū, iwi, and Māori organisations and communities; and
Phasing the business planning processes throughout the year so that changes to priorities can occur.
Risk Management
Te Puni Kōkiri's risk management strategy is based on the following objectives:
To embed risk management practices as integral management functions into policy development, strategic and business planning, and project management functions to ensure that key risks are identified and managed throughout Te Puni Kōkiri on an ongoing basis; and
To ensure key internal governing bodies are being informed on a regular basis on the effectiveness and responsiveness of the risk management activities.
The risk management activities relevant to this Statement of Intent are:
STRATEGIC OBJECTIVE
RISK MANAGEMENT ACTIVITIES
Maintaining an overview of government policy initiatives pertaining to Māori and ensure they are responsive to their needs

Maintaining a broad oversight of Government's policy programme, but sharpening our focus for active involvement on the key outcomes described in this Statement of Intent
Ensuring that key interests of iwi, hapū, and whānau inform the Government policy agenda

Interventions and investments to be responsive to Tino Rangatiratanga and Whānau Ora

Applying investment criteria to rationalise resources
Learning from evaluation activities
Applying performance indicator sets to measure the achievement of desired outcomes
Ongoing information gathering at a national and regional level, on matters of relevance to stakeholders

Stakeholder relationships to be driven off outcomes, and messages and behaviours are consistent

Continuing development and upskilling of staff relevant to Te Puni Kōkiri's strategic direction