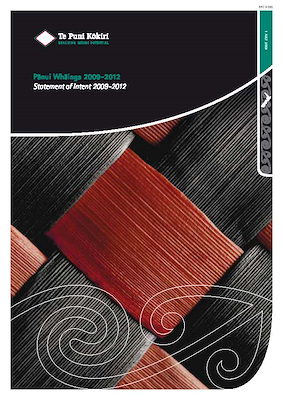 Statement of Intent 2009-2012
Table of contents
Foreword from Ministers
Tēnā tātou rangatira mā, i runga i ngā whāinga, me ngā wawata, a te Kāwanatanga mō ngai Māori.
As the Minister of Māori Affairs, I have been privileged to meet Māori across the breadth and length of the motu. I have been humbled too, by the deep commitment that Māori have to achieving whānau ora and Tino Rangatiratanga in accordance with the promise of partnership expressed in the Treaty of Waitangi; and their confidence in me as their Minister to assist.
Witnessing the determination and achievements of Māori in many sectors lifts my hopes too.
I concur with the Chief Executive of Te Puni Kōkiri, Leith Comer that Māori are poised; ready and willing to make a real contribution to job creation, especially.
The Māori Economic Workshop earlier this year was a challenge for Māori to consider how we can shape our destiny. What can we do to address unemployment? How do we protect our whānau, hapū and iwi from the inevitable negative impacts of this economic downturn.
Māori are in a very strong position to offer leadership; with a workforce whose skills are more diverse than two decades ago. We are also better represented in employment across all sectors and industries and our asset base has increased in value, thanks in part to the opportunities afforded from Treaty settlements, but mostly to the custodianship of the managers and governors of those assets.
Māori are resilient and flexible. We have an inherent and acquired trading capacity and a culture that is well suited to transactions in growing markets. We are curious and increasingly willing to diversify. We are unique/ fresh and have dual world skills. Of course, I'm talking about our "edge".
We see the expression of our comparative edge in many sectors and industries. As Māori, we know too that through whānaungatanga and manaakitanga, the positive application of our competitive edge benefits Māori and all New Zealanders too.
As the Minister responsible for Vote: Māori Affairs, I was recently reassured by the Office of the Auditor-General that Te Puni Kōkiri will continue to competently influence and invest in Māori in order to achieve whānau ora. This Statement of Intent gives all readers a good feel for how they intend to do this.
I am also pleased to enjoy a positive working relationship with the Associate Minister of Māori Affairs; the Hon Georgina te Heuheu and look forward to working together with Te Puni Kōkiri to ensure our collective success in achieving the priorities of Government.
Our strong base will see us moving forward positively.
Noho ora mai koutou katoa.
Hon Dr Pita R Sharples
Minister of Māori Affairs
Aku mihi nui ki a koutou mā kua whakapā mai ki ngā whāinga, me ngā kaupapa here a tēnei kawanatanga.
The Māori Affairs portfolio is a key component of delivering on the Government's goal of growing the New Zealand economy and delivering greater prosperity, security and well being to all New Zealanders.
The contribution of Māori in delivering that goal will be significant. Over the past 20 years, Māori have become a vibrant force in New Zealand society, buoyed by the renaissance of Māori culture and language. The transfer of assets following Treaty settlements has provided a strong platform for further development and growth along with:
The better use of those and other existing assets.
Improved education
Greater participation in the workforce
Increased numbers entering the professionsand the ranks of the self employed
The emergence of successful Māori enterprises
However there remain significant numbers of Māori whose ability to participate in the economy and New Zealand society has not enabled them to realise their aspirations. A lack of access to relevant quality education, learning and skills, to good health and to quality housing that is permanent and affordable means too many families and their whānau are being left behind.
It is to these families and whānau, and the communities they are a part of that the focus of Te Puni Kōkiri will be directed over the coming term. They represent a challenging but unique opportunity to contribute to New Zealand's growth and prosperity.
The principles that will guide the Government's approach in increasing Māori participation in the economy are the recognition of property rights and personal responsibility; economic independence and choice; less state involvement in Māori lives through community empowerment; the nurturing of strong families, whānau and community; and engagement in wealth creation, business and enterprise.
These principles are embodied in the concept of whānau ora which constitutes one of the key outcomes of this Statement of Intent.
Heoi anō, ko te tūmanako e whai ai ki te huarahi pai mō te iwi Māori mō ngā rā e heke mai nei.
Hon Georgina te Heuheu
Associate Minister of Māori Affairs