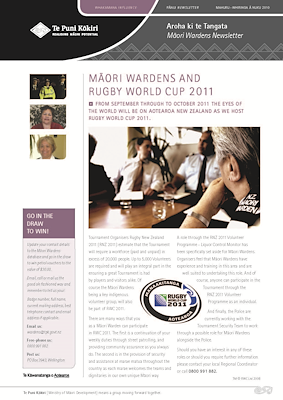 Māori Wardens Newsletter - October 2010
Table of contents
Meet the Māori Wardens
This edition's instalment of Meet the Māori Wardens profiles Hineipoua Grindlay from our Tāmaki Makaurau region.
Waea mai on the Māori Warden call-free number 0800 991 882 to nominate a Māori Warden you would like to see featured in this column.
Hineipoua Grindlay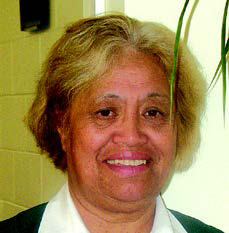 Region
Auckland and Ngā Wātene o te Raki Pae Whenua
Iwi
Te Whānau-ā-Apanui, Ngāti Porou, Ngāpuhi
Hapū
Te Whānau-ā-Apanui
Marae
Kauaetangohia
Age-ish
64
Years with Māori Wardens
27 years
Chairperson and Treasurer of the Tāmaki District Māori Council
Best part about the job
I enjoy the challenges and meeting different people
Worst part about the job
None! I love being a Māori Warden
What's the main mahi you do?
Community work and street patrols
Wātene Māori On-line
We are pleased to introduce our new website for Māori Wardens and others who may be interested in finding out what's happening with the Project.
The website includes information on:
Project Leadership and Administration;
Pānui and Publications;
Training and Development;
Uniforms, Equipment and Vehicles;
Regional Coordinators';
Māori Warden Funding; and
Frequently Asked Questions.
Check out the new site at:
http://www.tpk.govt.nz/en/whakamahia/maori-wardens/
Final Word - Message from the Team
The Māori Affairs Select Committee (MASC) has been conducting an inquiry into the Māori Community Development Act 1962 (MCDA, the Act) and this continues to generate interest. I have attended three oral hearings with strong representation from the both the New Zealand Māori Council, District Councils, Māori Warden groups and individuals and other interested parties and individuals.
In summary, the Māori Council focus has been on the retention of the Act and that the Māori Council needs 'strengthening and support' to allow this to happen. Māori Wardens on the other hand have asked for greater control and independence to make their own decisions. The decision by the MASC will take some time but it is encouraging to observe that people are having their say.
Over eight weeks the Project Team, along with the New Zealand Māori Council's Jim Nichols and Gloria Hughes for the New Zealand Māori Wardens Association, met with warden groups around the motu. During these visits the overall view from Māori Wardens across the country has been to "retain the Act but give Māori Wardens their own autonomy". Overwhelmingly Māori Wardens do not wish to be under the control of the NZ Māori Council.
This newsletter is the first for the new budget year. Keep an eye on the training available and when it hits a town close to you! There will also be accredited training opportunities for you on the way. Contact your Regional Coordinator for more information.
Te Rau Clarke
Māori Wardens Project Manager
Disclaimer
The information contained in this publication is for general information only. While every effort has been made to ensure the accuracy of the information, because the information is generalised, its accuracy cannot be guaranteed. Readers are advised to seek independent advice on particular matters and not rely on this publication. No liability is assumed by Te Puni Kōkiri for any losses suffered directly or indirectly by any person relying on the information contained in this publication.
For More Information
Check out our website www.tpk.govt.nz or contact us on +64 4 819 6000 or comms@tpk.govt.nz