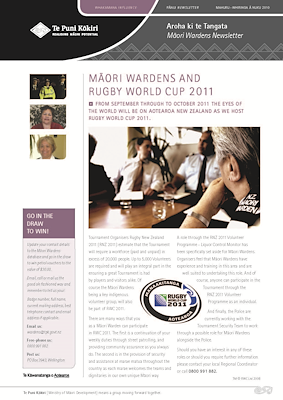 Māori Wardens Newsletter - October 2010
Table of contents
Te Kokonga
Just a reminder to contact Paddy and Wayne should you need any assistance or advice concerning the vans provided by the Police.
Remember, some of you have access to vans, and other resources such as portable radios, provided by the NZ Police. Others have access to vans provided by Te Puni Kökiri and leased for Māori Warden activities.
There are a range of situations where Wardens may require the use of the van but broadly fall under the following themes.
Hui Participation and Supportsuch as conferences, tangihanga, family group conferences and whānau support at Kaupapa Māori hui;
Warden Training such as Police Communications Training, Te Puni Kökiri National Training Courses and local training initiatives;
Event Management such as crowd control, traffic management, controlled entry and general duties; and
Community Programmes such as patrolling, property security and safety, and social and health service support initiatives.
If you have access to a van provided by the NZ Police then make sure you have read the Policy Guidelines. Ask your Regional Co-ordinator for a copy.
The main points include:
Car cleaning and grooming which is the responsibility of the Māori Wardens; All portable radios/chargers and related equipment shall be stored in a secure location within the Police stations but should be accessible to the Māori Wardens at all times;
All designated drivers shall have successfully completed the Police Non-Sworn driver training program before driving the vans;
All damage and accidents involving the van are to be reported immediately to the District Iwi Liaison Officer.
There will be no exceptions to these conditions.
If you have access to a van provided by Te Puni Kökiri make sure you are familiar with the Policy Guidelines as set out by Te Puni Kökiri. Ask your Regional Co-ordinator to provide you with a copy.
Only Te Puni Kökiri authorised drivers who have been approved by the Regional Co-ordinator may drive the Wardens Vans. Drivers are legally responsible for the condition of the vehicle they are driving and must report any accidents and damage to their Regional Co-ordinator.
Finally - look after your vans! Wayne says overall the vans are in very good condition, however there are a few examples where some vans could be cleaner, tidier or in better nick.
You can contact Paddy Whiu on 027 495 7500 and Wayne Panapa on 027 278 7280.
Aroha ki ngā waka – Mauriora!