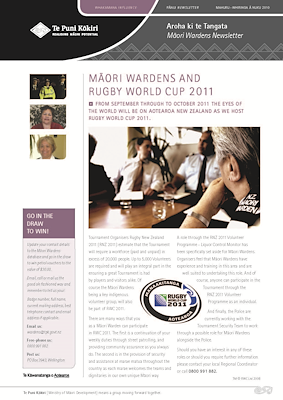 Māori Wardens Newsletter - October 2010
Table of contents
The Māori Wardens Funding Programme
The Māori Wardens Funding Programme is now into its fourth year of operation. Over time most Māori Warden groups around the country have benefited from the annual $1m fund.
There are now three funds available: Operational Assistance, National Event, and Capacity and Capability. Each was designed to support Māori Wardens in their mahi and to enable them to undertake their duties.
In this current financial year there is only one funding round left which closes on 29 October 2010. Approved groups will receive their funding before Christmas 2010. An information guide about the Māori Warden Funding Programme is available at www.tpk.govt.nz/en/in-focus/wardens/funding/ and outlines the criteria for each of the three funds. Read the guide on-line or ask your Māori Wardens Regional Coordinator for a copy.