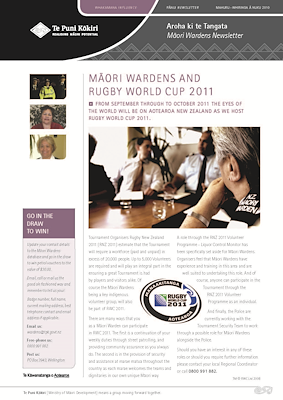 Māori Wardens Newsletter - October 2010
Table of contents
Māori Wardens and Rugby World Cup 2011
From September through to October 2011 the eyes of the world will be on Aotearoa New Zealand as we host Rugby World Cup 2011.
Tournament Organisers Rugby New Zealand 2011 (RNZ 2011) estimate that the Tournament will require a workforce (paid and unpaid) in excess of 20,000 people. Up to 5,000 Volunteers are required and will play an integral part in the ensuring a great Tournament is had by players and visitors alike. Of course the Māori Wardens being a key indigenous volunteer group, will also be part of RWC 2011.
There are many ways that you as a Māori Warden can participate in RWC 2011. The first is a continuation of your weekly duties through street patrolling, and providing community assurance as you always do. The second is in the provision of security and assistance at marae matua throughout the country as each marae welcomes the teams and dignitaries in our own unique Māori way.
A role through the RNZ 2011 Volunteer Programme - Liquor Control Monitor has been specifically set aside for Māori Wardens. Organisers feel that Māori Wardens have experience and training in this area and are well suited to undertaking this role. And of course, anyone can participate in the Tournament through the RNZ 2011 Volunteer Programme as an individual.
And finally, the Police are currently working with the Tournament Security Team to work through a possible role for Māori Wardens alongside the Police.
Should you have an interest in any of these roles or should you require further information please contact your local Regional Coordinator or call 0800 991 882.