Since the inaugural Ahuwhenua Trophy in 2012, this is only the second time the competition is recognising Young Māori Growers, and the first time all three finalists are wahine.
Published: Wednesday, 7 June 2023 | Rāapa, 07 Pipiri, 2023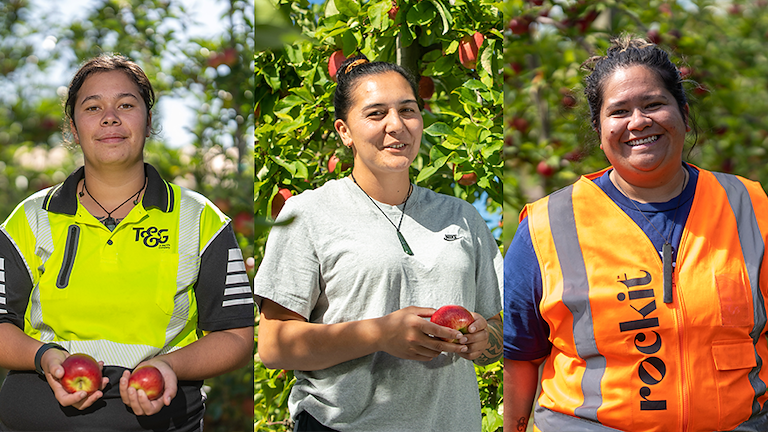 Ahuwhenua Young Māori Grower finalists:
Alix Te Kere, Ngati Kuhungunu, Ngati Tu, Ngati Maru, Ngati Maniapoto. Health and Safety Advisor, Rockit Management Services, Hastings.
Erica Henare, Ngati Kahungunu, Ngati Maniapoto. Pip Fruit and Kiwifruit Manager, Kono NZ LP, Motueka.
Grace Rehu, Rangitane, Taranaki. Leading Hand Turners and Growers, Puketapu, Hawke's Bay.
The Ahuwhenua Trophy showcases perseverance and achievement in the Māori farming sector. The Young Māori Farmer Award is designed to recognise up and coming young Māori working in the pastoral and horticulture sectors. It supports career development and growth of rangatahi Māori across the agribusiness sector enabling both to thrive alongside each other.
All finalists go through a rigorous application process, including judges going to their workplaces and talking with their boss. They are also questioned on their knowledge of horticulture, their whānau, and how tikanga Māori is playing a big role in horticulture.
The finals involve a three-day study course in Tauranga and further input on tikanga Māori before the winner is announced at the Ahuwhenua Trophy Awards night.
As a proud platinum sponsor we wish all finalists, young and senior, the very best on attaining the coveted Ahuwhenua trophy.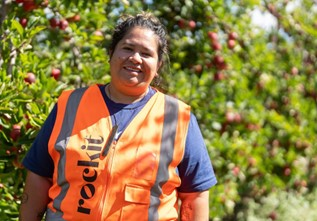 Alix Te Kere - Health and Safety Advisor, Rockit Management Services, Hastings (Ngāti Kuhungunu, Ngāti Tu, Ngāti Maru, Ngāti Maniapoto)
Alix is the Health and Safety Advisor for snack apple grower Rockit Management Services in Hastings. She says sometimes the role is tiring but she has an amazing connection with all the staff in the field and the job gives her a good work life balance.
The 30-year-old placed second in last year's Hawke's Bay Young Fruit Grower of the Year competition and was encouraged by a number of people to enter the Ahuwhenua Young Māori Grower Award.
Alix thought it would be good to just enter and see how she went. She was shocked when she found out she was a finalist because she knows it's a nationwide competition.
Alix told EIT Te Pūkenga, where she completed a horticulture apprenticeship programme, that "being Māori, we work with the land and we live with it, so, it's just something that comes natural to where my whānau is from (Ngāti Kuhungunu, Ngāti Tu, Ngāti Maru, Ngāti Maniapoto)."
When Alix was in her last year of high school she was pregnant with her first son. Once born she was on the benefit, but she knew she didn't want that life for her and her son.
Alix got a night shift job at Crasborns Fresh Harvest in the Hawkes Bay when she turned 18 and when the packing season ended, she started in the orchards. It was only meant to be temporary, but she fell in love with being outside and in the orchards where she learned orcharding basics.
She has been with Rockit for around five years. Previous roles included senior leading hand, health and safety representative, and welfare officer in the Havelock sector. She's been in her current health and safety advisor role for a year and a half and loves the work life balance as she can do the school run and attend her kids sports, which used to be impossible in previous jobs.
Alix has finished her Level 4 in Fruit Production and plans to continue onto Level 5 in Horticulture. She has also completed a hazard and risk identification course and intends to expand her knowledge in health and safety.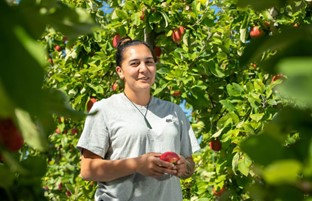 Erica Henare - Pip Fruit and Kiwifruit Manager, Kono NZ LP, Motueka (Ngāti Kahungunu, Ngāti Maniapoto)
Erica Henare is the Pipfruit and Kiwifruit Manager at Kono in Motueka, and located in a place that holds immense significance to local Māori.
When Erica first went to Motueka it was for a holiday but she decided to stay. She joined Kono as a casual thinner for the summer break and quickly fell in love with the job and the environment. Since then doors were opened for the 27 year old wahine from Ngāti Kahungunu and Ngāti Maniapoto, and her career accelerated.
Erica is responsible for the day-to-day operations for a large part of the orchard and the working teams on the 224 hectares of planted land, growing apples, kiwifruit, pears, and hops.
Kono is an iwi-owned organisation promoting rangatiratanga, whanaungatanga and kaitiakitanga and recognises people are the key to its success.
Erica has developed her people skills to create rapport with colleagues both older and more experienced. She has a caring and supportive nature demonstrated by helping her team set personal and professional goals as part of their development.
Erica has her Horticulture Level 3 and is currently working on achieving Level 4, with the goal to attain Level 5.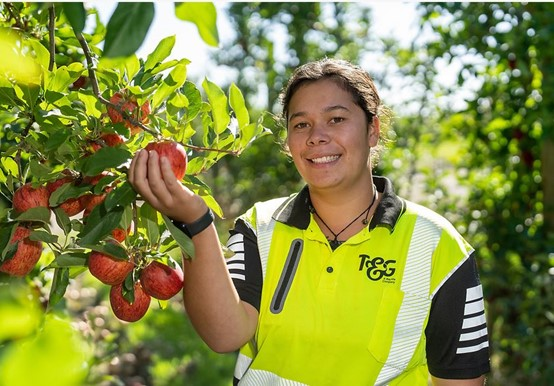 Grace Rehu – Leading Hand for Turners and Growers in Puketapu, Hawke's Bay (Rangitane, Taranaki)
Grace grew up in Foxton but moved to the Hawke's Bay when she was 10. Now she is the Leading Hand for Turners and Growers in Puketapu, Hawke's Bay. Her wish is to inspire rangatahi into horticulture as it is more than just picking apples. She says if she can do it, so can future wāhine and tāne.
Her first introduction to horticulture was working at a strawberry farm in Hastings in the summer school holidays as a young teenager. She says working there was an amazing experience and that all of her family worked at least one season, but her nan worked many. This is where Grace gained her passion for working outdoors and with the whenua.
In her last year of high school, she worked night shifts at Turners and Growers East site packhouse, and when she finished school stayed working in the packhouse as a Quality Control officer.
While it was great learning about markets the legal requirements, Grace wanted to experience working outdoors again, so she spent time in the development team planting and redeveloping blocks.
She is now in a team of 15 permanent staff working over approximately 100 hectares of apple orchards, and through the recognised seasonal employer (RSE) scheme, Grace supervises a team of 11 undertaking crop spraying, pruning and all tasks involved with fruit production.
The impact of Cyclone Gabrielle has made it particularly tough to hit seasonal targets however everyone remains stalwart.
During her four years with Turners and Growers, Grace has attained a range of learning and development achievements. She has taken part in the Emerging Leaders programme, completed a Vehicles, Machinery, and Infrastructure course through the Eastern Institute of Technology, and attended internal training days for Quality Controlling and machinery safety.