Swapping his Swanndri for a suit for the very first time, Hawke's Bay shepherd Jordan Biddle took a deep breath before crossing the stage in front of 700 people to claim the title of Ahuwhenua Young Māori Farmer for 2017.
Published: Tuesday, 4 July 2017 | Rātū, 04 Hōngongoi, 2017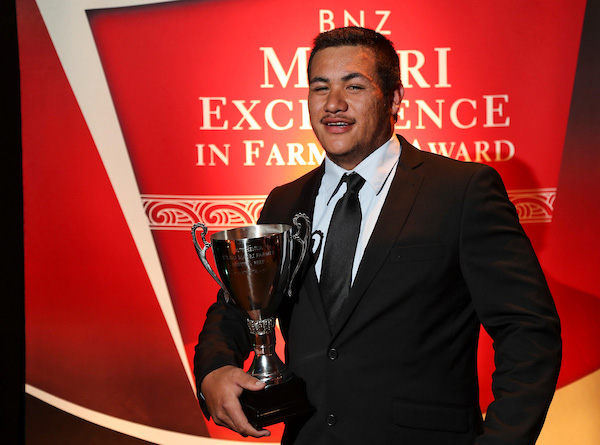 "The nerves were going alright," he said.
"I did not think I was going to win. I was quite rapt just to make the finals."
The 21 year-old said the awards dinner in Whangārei in May was a very different setting to Pihanui Station, south of Wairoa, where he had worked for four years.
On reflection, he said he was surprised by the win. He admits his schooling was not "too flash" and he did not come from a farming background.
In fact, Mr Biddle was the first person in his family to be a farmer. At 15 years-old, he was working three days a week on a farm and attending school the other two days.
Within the next two years, he had dropped out of school and become a father.
Mr Biddle said then it was time to pull his head in.
"It was sink or swim moment and we started swimming."
And swim, he did. As well as the prestigious new title only four years later, Mr Biddle was awarded $3,500 cash and a scholarship of $1,500.
Upon returning home from the event, the young man was also offered a new job running Rāwhiti Station – which, like Pihanui, is owned by his iwi Ngāti Pāhauwera.
"I got pretty lucky so now I'm fattening bulls," he said.
Lead judge Peter Little said Mr Biddle has shown great commitment to his work, excellent leadership and will do a great job as a role model for other young Māori contemplating a career in the agribusiness sector.
Mr Biddle said many rangatahi do not engage with school and he has seen some friends go down paths that have lead them to prison.
But he puts his success down to hard work, saying some days were "pretty massive", but it is all about setting small goals and ticking them off one-by-one.
He is now a father to two children, and said the Ahuwhenua trophy is a safeguard for his whanau.
"It has got to be a good look … it gives you a bit more power."
Te Puni Kōkiri is a gold sponsor of the Ahuwhenua Trophy, with the premier Māori Excellence in Sheep and Beef Farming Award going to Omāpere Rangihāmama Trust in the Far North.
Bordering on Lake Omāpere, the 902 hectare sheep and beef property is doing its bit for the next generation by offering scholarships and taking a proactive approach to improving the environment.
Te Ahuwhenua Trophy Management Committee chair Kingi Smiler said Māori agribusiness is in very good shape.
He said it is in the DNA of Māori as kaitiaki to manage the fragile environment and invest for future generations.