Wi Pere Trust took home the 2022 Ahuwhenua Trophy for the top Māori sheep and beef farm at the Ahuwhenua Trophy awards dinner on October 21st.
Published: Thursday, 27 October 2022 | Rāpare, 27 Whiringa ā-nuku, 2022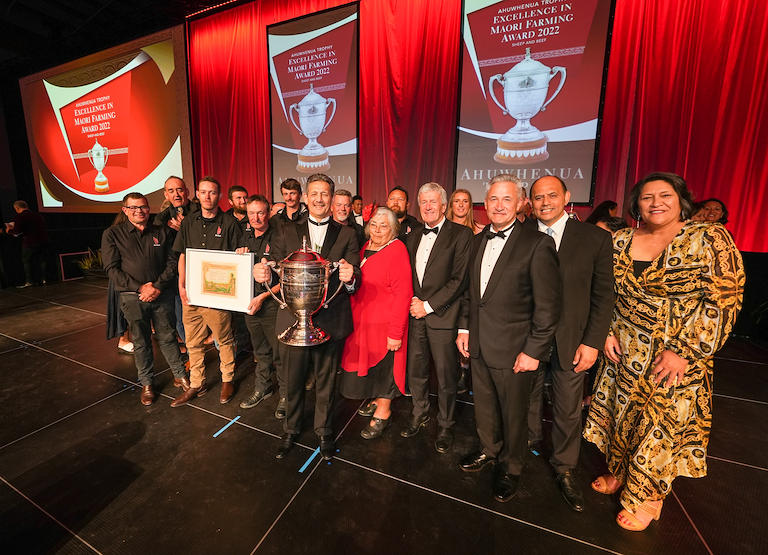 Located in Gisborne, Wi Pere Farms consists of 6,770ha with 4,900 effective ha, which consists of two blocks, Otara at Whatatutu and Tangihanga at Waituhi. The land blocks carry 51,000 stock units comprising of 32,400 sheep and 4,600 cattle. The farm is managed by General Manager Tim Rhodes, with fifteen full-time staff. Wi Pere Farms are classified as North Island steep hard hill country.
The awards dinner was the biggest in Ahuwhenua history and was attended by over 800 people in Taradale, Hawke's Bay.
"It was awesome seeing our Te Puni Kōkiri kaimahi out in force at the awards," says Cedric Nepia, Te Puni Kōkiri Regional Advisor and Ahuwhenua Trophy Kaitiaki.
"Of course, we missed the late Peter Little this year. He was the one who handed over the Trophy to me in 2005 and did all the technical mahi like insuring the Cup etc.," added Cedric.
Ikaroa-Rāwhiti Regional Director Mere Pohatu reflects on the history of Wi Pere Trust and their long-standing relationship with Te Puni Kōkiri.
"The story of Wi Pere is known to many as he was an astute politician," said Mere.
"In 1899 by an Act of Parliament, he established the Wi Pere Trust to protect what remained of whānau lands. This was at a time when the Poverty Bay flats was falling out of Māori hands, hand over fist."
"123 years later, the Wi Pere Trust stands as an icon for Māori and whānau excellence," added Mere.
Wi Pere Trust also worked alongside the Māori Affairs Department to update policy for Māori landowners.
"In the old legislation, you couldn't even use a spade without having to report back to the Minister of Māori affairs," said Mere.
"The trustees of Wi Pere worked alongside Hon Te Ururoa Flavell and the late Hon Parekura Horomia, to modernise this legislation."
Trudy Meredith of Wi Pere Trust says winning the Ahuwhenua Trophy as first-time entrants was 'amazing', as it recognises the high standard of their operation.
"We're not all about profit – and although it does help, it's not the be all. This has also set the bar for the next lot of trustees," said Trudy.
Chloe Butcher-Herries (Ngāti Mahanga, Waikato-Tainui) was also announced as the winner of the 2022 Ahuwhenua Trophy Young Māori Farmer Award for sheep and beef.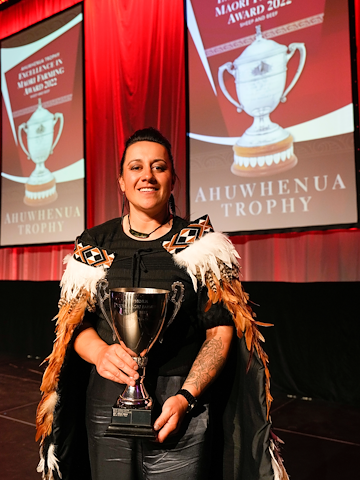 The 30-year-old is the Assistant Farm Manager for Newstead Farm near Napier, with hopes to one day manage her own farm.
"Such a beautiful kaupapa to be a part of, thank you for your tautoko," Chloe wrote on Facebook.
The Ahuwhenua Trophy is the most prestigious award for excellence in Māori farming and was inaugurated 89 years ago by the great Māori leader, Sir Apirana Ngata and the Governor General at the time, Lord Bledisloe.
Caption: Wi Pere Trust onstage at the Ahuwhenua Trophy awards alongside Hon Damien O'Connor, Dave Samuels, Hon Willie Jackson and Hon Meka Whaitiri. Source: Alphapix