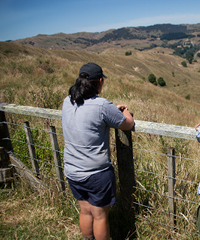 Most Māori freehold land is used to benefit whānau through farming, forestry or other business. In some cases owners want to get more from their whenua.
Owners who want to improve the returns from their land may need to diversify their land use, or do something different altogether on their whenua.
The Whenua Māori Fund provides funding for owners or trustees to get expert advice to help them explore new ideas.
What Whenua Māori Fund can support
The Whenua Māori Fund supports initiatives that lay the groundwork for future productivity improvements or commercial development of land, for example:
developing skills and knowledge about better or new uses of land;
helping owners to confirm their vision/aspirations for their land;
looking at what uses are suitable for what land;
identifying options;
business planning; and
addressing constraints on Māori land development.
Interested in finding out more or applying?
The application form can be found online at www.tpk.govt.nz/whenuamaori.
Te Puni Kōkiri staff are available to help potential applicants decide whether the Whenua Māori Fund can support their specific aspirations.
Contact us at Te Puni Kōkiri
Phone 0800 200 410
Fax 04 819 6299
Email whenuamaorifund@tpk.govt.nz
Post Te Puni Kōkiri
PO Box 3943
Wellington 6140