Driving along the scenic coastal road through Eastbourne in Lower Hutt, the furthest point south sees you stop at the carpark at Burdan's Gate.
Published: Friday, 10 November 2023 | Rāmere, 10 Whiringa ā-rangi, 2023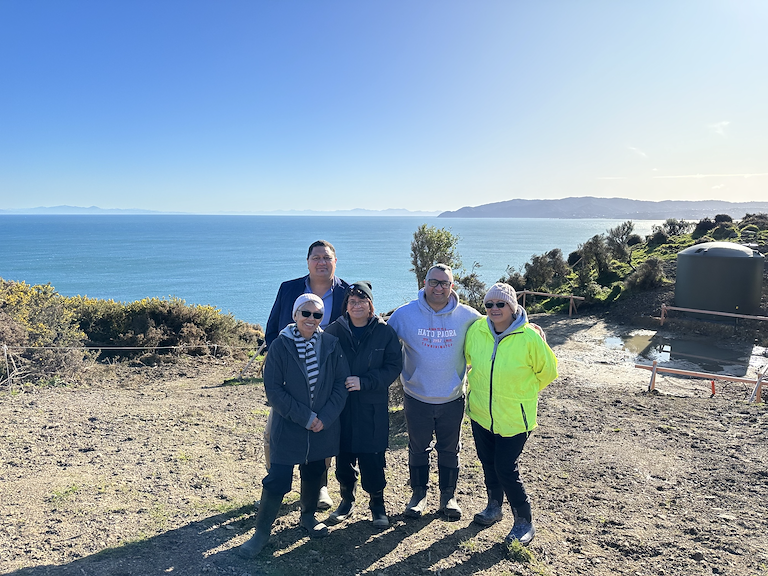 It's possible to continue the journey by walking or cycling, a popular attraction for locals or visitors to the area, especially to see the Pencarrow lighthouse.
But vehicle access past this point is restricted to private landowners and local and regional council staff.
Visiting the whenua
In the ute are sisters Karena Efaraimos and Marama Butler-Monu, Debbie Okeroa–Garner and Chad Hunter. Chad's brother Lee Hunter is in the car ahead.
All of these cousins are trustees of the Tupoki Takarangi Trust. The Trust is named after tūpuna, Tupoki Takarangi, and the owners are direct descendants of prominent rangatira Honiana Te Puni of Te Āti Awa. Ngāti Tupoki Takarangi hapū hold ahi kā for the eastern part of the Te Āti Awa takiwā.
The two blocks of whenua belonging to the Trust are among only four blocks of freehold whenua Māori situated along this southern east coast.
"This whenua has always been in our whānau, since the early 1830s," Debbie says.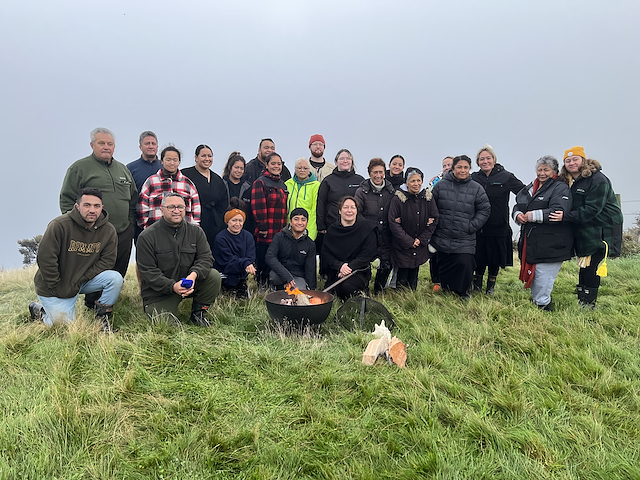 Driving along the coast it's hard to imagine earlier times when this whenua was once an active area.   
"What we've been told is that our tūpuna, Tūpoki, used to come through here as a shepherd, bringing cattle from Taranaki.
"This was a working place, there was a seasonal fishing village here at Parangarahu and our tūpuna frequented this area from our pā at Te Tatau o te Po and Pito-One," Marama says.
Developing the whenua
Over the years the family's whenua has mostly been leased for farming, but in 2014, the whānau developed a 25-year strategic plan. This was to unlock the full potential and the maximum utilisation of their most precious whenua, while providing a sustainable work stream to provide for a mokopuna-focused future.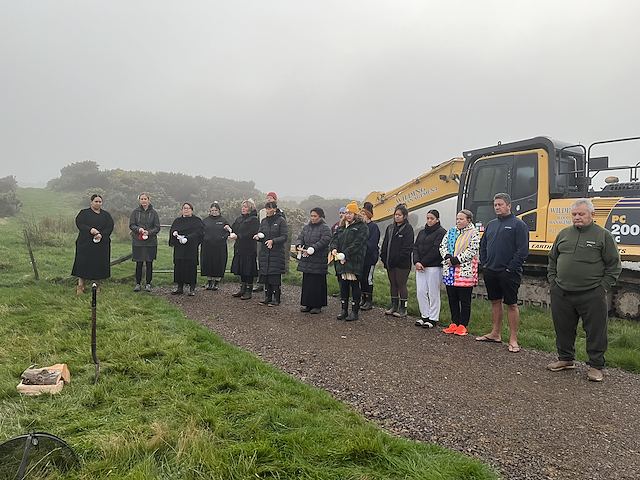 The Trust first engaged with Te Puni Kōkiri in 2016 and has been successful in receiving several rounds of funding through two funds – the Whenua Māori Fund and Te Ringa Hāpai Whenua Fund.  
A number of activities including feasibility investigations, business case studies and strategic planning led owners, with 100 percent whānau support, to look at possible tourism opportunities.
This included being involved in an extension of the Remutaka Cycle Trail back in 2018 and building sustainable accommodation for tourists who visit the area.
Today, the Trust is continuing the development of their unique, high-end accommodation units, called Pourewa, on the eastern side of Te Ātiawa iwi boundary.
Pourewa

Beginning with two, the Trust plans to build eight luxury self-contained units, each with a unique view of the Cook Strait and the Kaikōura Ranges.
"What's become apparent is that this will be a fantastic long weekend, or a couple of day get away from the city," says Sera Price from Te Hono, the company helping the Trust deliver the project.  
"From the city you can jump on the ferry, rent a bike and ride to Parangarahu. So, it's really accessible," Sera says.
Each secluded unit will be fitted for comfort, amazing views, an outside bath, as short get-aways from the city to unwind and unplug.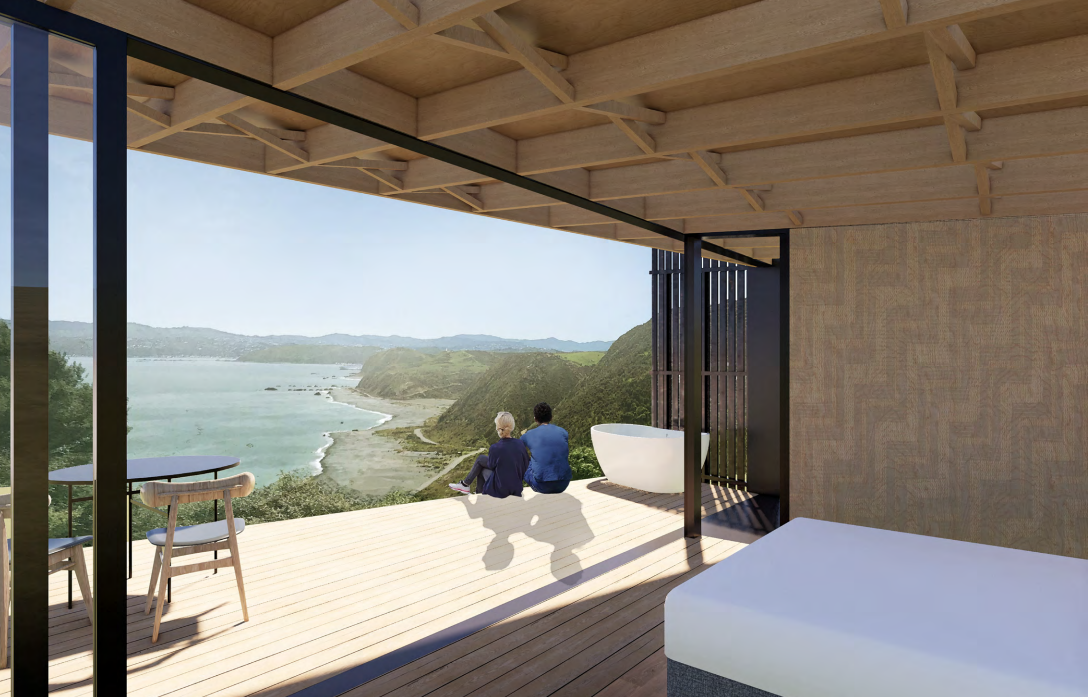 Critical infrastructure
In October last year, the Trust received a further $827,000 investment through the Te Ringa Hāpai Whenua Fund which supports the infrastructure of whenua development.
The Trust's whenua is accessible from both Wainuiomata and Eastbourne but is landlocked between private owners and land owned by the Greater Wellington Regional Council.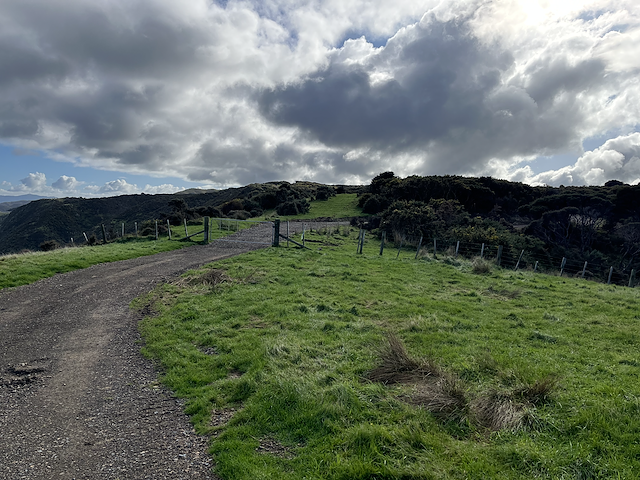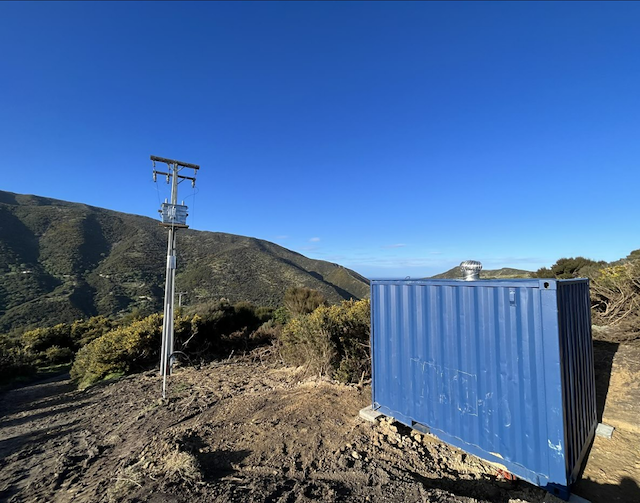 Building lasting relationships
Having a good relationship with the Greater Wellington Regional Council has been a big part of the Trust's success in developing their whenua.
Both parties need access to each other's land to have full access to their own. 
"That relationship is important because they [council staff] know the logistics of the land and it's important we're on the same page in terms of access," Marama says.
"Greater Wellington Regional staff are very good to deal with and at a strategic level we are very much aligned."
In developing their whenua, other opportunities and partnerships have come up, like working alongside Jobs for Nature.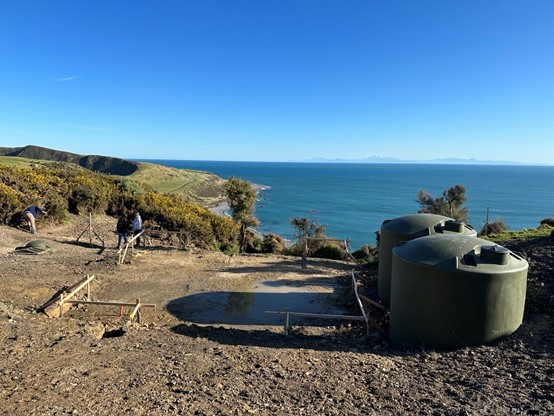 The Trust has its own Jobs for Nature contract with the Department of Conservation and will employ and partner with the Hem of Remutaka to improve the local environment with pest control management, noxious weeds, and native planting of trees.
"Jobs for Nature is giving rangatahi a chance to educate themselves on the positive impact that caring for our taiao can have on our whenua and our people," Chad says.
"We call that kaitiakitanga, ora taiao, ora tāngata. There really is a lot of opportunity."
Te Puni Kōkiri will continue to support the Trust through their landowner journey by navigating the whānau through other investment pathways and/or providing key information to fulfil the Trust's aspirations.
The journey continues
The path to developing their whenua hasn't been easy or straightforward, but it's been a "good journey".
"You get going and then you'll hit a roadblock, and then another opportunity will appear, and you get going again," Chad says.
"For us it's been about leaning into the 'what if' and into the opportunities. We're seeing really good results now so we will keep going.
"In the end, this development is about our kids' future and supporting our whānau as a whole."