The importance of whānau could not be more evident than at a new papakāinga in Hastings.
The Tawhai whānau have traversed a significant journey to realise the aspirations of their parents, Te Hore and Ngaikiha Tawhai, by developing a legacy for future generations including more than 100 tamariki and mokopuna.
Published: Tuesday, 2 October 2018 | Rātū, 02 Whiringa ā-nuku, 2018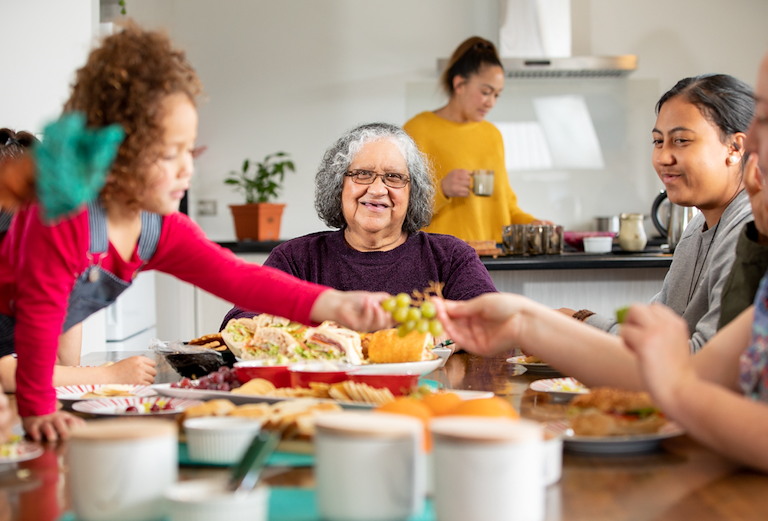 Their focus on the wellbeing of mokopuna and generations to come is perhaps best captured through their guiding vision 'manaaki whenua, manaaki tangata, haere whakamua – utilise the whenua for the wellbeing of whānau'.
"We've always talked about what mum and dad's dreams and what they wanted for us," said Ruruhira Tawhai, whānau member and papakāinga resident.
"In mum's latter years she used to sit here and say 'you need to do something to the property to help and support the family'. When we heard about this idea about papakāinga it came at the right time for us."
It's now been four months since the Tawhai whānau opened the doors to their new homes. Through their hard work and determination the Trustees and whānau have honoured their parents dream, developing a legacy for future generations with the successful completion of one 3-bedroom and two 4-bedroom homes.
Sustaining our connection to the whenua
In the early 1940s, Te Hore Tawhai, Company Quartermaster Sergeant, 28 Maori Battalion, returned from service. Not long after his return his wife, Ngaikiha Tawhai, would give birth to their first child.
In 1949, the couple and their three children moved into their newly purchased and built three-bedroom home in Hastings. Like many homes at the time, it was built under the Māori Affairs housing scheme.
The original home remained within their whānau for almost 70 years before new papakāinga housing was built on the property.
Ruruhira fondly remembers growing up there with her 13 siblings.
"The whole quarter acre section next door we used to plant maara kai. We used to go there after school and garden with dad. He ensured we had everything that we needed," Ruruhira said.
Papakāinga hui
In 2015, an invitation to George Tawhai to attend a papakāinga hui hosted by Hastings District Council triggered discussions for the whānau as to what they could do with their property.
"Our brother George mentioned the idea of building papakāinga housing. We knew little about it but were keen to learn more. And that's how we started," said Bill Tawhai, whanau member and project manager for the papakāinga development.
The first step was to agree what was to happen to the existing home on the property, and whether or not they wanted to build more housing.
Planning for this papakāinga began in 2015. During the early stages of the development, the Trustees and whānau organised numerous wānanga and hui to discuss their priorities from which many decisions were made for the papakāinga.
"The original home was a little 3-bedroom when we were little, and when George came out of trades training school, renovated and turned it into a 2-bedroom home. It was an awesome house for us but in the latter years it was getting old and serious renovations needed to be done" said Ruruhira.
After a lot of planning and discussion the Trustees and whānau agreed to approach Te Puni Kōkiri to learn more about papakāinga funding available through its Māori Housing Network.
"We showed up to their Hastings office and were welcomed with these lovely smiles which told us we were in the right place," Ruruhira said.
Establishing the Trust and feasibility
An early decision was to change the status of their housing section to Māori land and establish the Te Hore & Ngaikiha Ahu Whenua Trust to govern the whenua.
To kickstart the development the Trustees had undertaken a significant project feasibility and needs analysis for the proposed papakāinga.
In addition to working with Te Puni Kōkiri the Trust had engaged with a number of organisations and rōpū in the development of their papakāinga including Hastings District Council, Hastings Regional Council and sought the advice of an expert papakāinga consultant.
They also met and spoke with rōpū who had completed similar papakāinga housing projects in the wider Hawkes Bay region to seek their advice.
Providing healthy, affordable rental accommodation for whānau members has remained an enduring goal for the whānau in the pursuit and completion of this papakāinga project.
The Trust manages the properties and the rent is set at no more 80 percent of the current market rates making it easier for the whānau residents to save towards home ownership.
The homes are for whānau members who do not own their own home, are currently renting or boarding, eligible for a Housing New Zealand home, or in need of urgent accommodation.
"A good majority of our whānau are renting so we wanted to make good use of our land to provide affordable rentals and help get whānau into their own homes," said Bill.
This papakāinga highlights one of the key outcomes of the Te Puni Kōkiri Māori Housing Network, that is, to provide affordable housing for whānau.
Financing
The Trust secured Te Puni Kōkiri Maori Housing Network funding of $69,000 towards the development of papakāinga plans and towards undertaking the feasibility of the housing project.
In addition, the Trust received $457,603 from the Te Puni Kōkiri Māori Housing Network to use towards housing construction and infrastructure costs. The Trust also made a significant contribution with cash and securing a Kāinga Whenua loan.
Moving in
Construction and infrastructure works commenced in March 2017 with building completed in June 2018.
At the opening in June 2018, Bill shared his reflections on the significant journey the whānau has navigated to finally complete the build of the new houses.
"At the start we had a humble little two 2-bedroom home to raise 14 of us siblings and now we have 11 bedrooms, three bathrooms and five wharepaku," Bill said.
"Even though there are three buildings it still feels like one big whare."
Ruruhira shares that part of leaving a legacy for the entire whānau meant whānau living overseas could also look at this papakāinga and say 'this is ours'.
"We've been meeting on a monthly basis and having whānau potlucks. It has been really wonderful having whānau come back all the time."
"Mum and dad have left their footprints on the whenua with over 100 descendants continuing to return to their kāinga to stand, share and listen," said Ruruhira.