A whānau home that has housed 22 tamariki over two generations has taken on a healthier life following critical repairs inside and out.
Published: Friday, 13 November 2020 | Rāmere, 13 Whiringa ā-rangi, 2020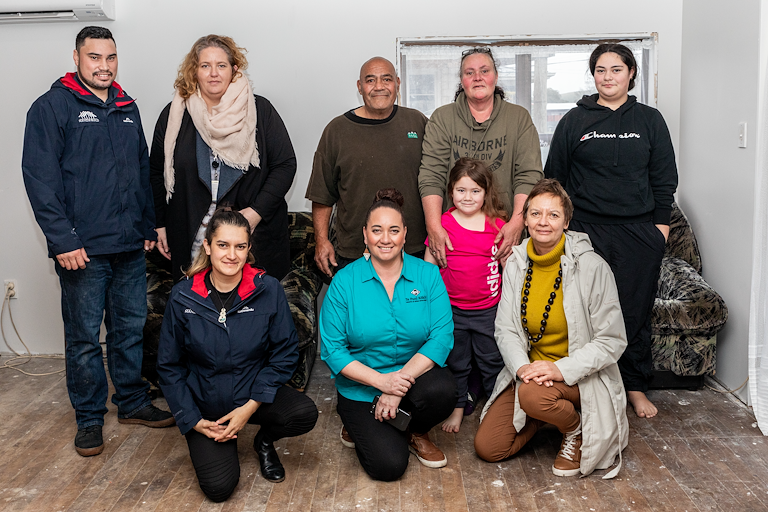 "Like paradise", is how Stuart Morrell describes showering in the newly refurbished bathroom in the whānau home in Bridge Pā, Hawke's Bay.
Built in 1960 by Stuart's parents, and purchased by Stuart in 1970, the house has been home to more than 22 members of the whānau (there were 11 tamariki in each generation).
Though the home has served the whānau well, in recent years Stuart and his partner Kerry Jones have struggled with the upkeep of the aging building and its deteriorating utilities.
Having one bathroom for a large family caused overflow from the septic tank which, as Stuart says, "is a yucky job to fix that no-one likes doing. It was disgusting".
The whānau dreaded using their bathroom. It was mould-ridden, and the floor was rotting. The smell made the family worry they were inhaling contaminated air. The kitchen was damp, making it difficult to cook healthy food.
The cumulative effect was worsening health issues – strep throat, diabetes, heart problems and back issues.
However, as for many whānau, paying for the repairs was out of Stuart and Kerry's reach.
"Over the moon" about repairs
Melissa West, kaiāwhina for the Child Healthy Housing Programme, has worked with the whānau for over eight years, and has seen the detrimental effects first-hand, especially on the rangatahi and tamariki.
Theirs was one of the first families she referred to Te Puni Kōkiri when the Housing Repairs Programme started a year ago. Already she has seen changes in their wellbeing.
"You can see they are just so proud of what they've got."
The bathroom has a new shower, new flooring and all the mould has been removed.
From wanting to get out of the old bathroom as quickly as possible Stuart says the new warm space is "like standing under the sun. We love it."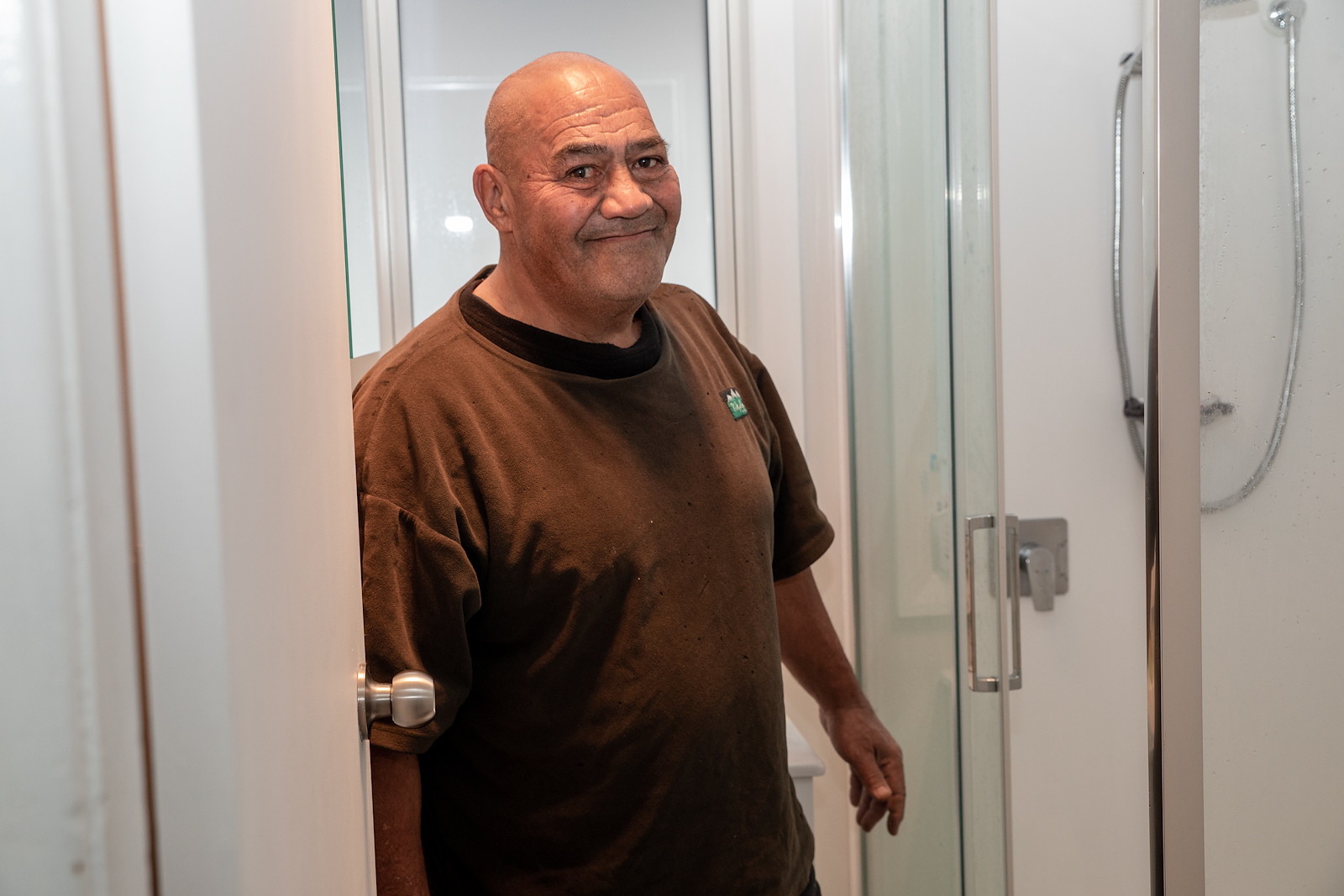 Cooking for her large whānau has become a pleasure for Kerry who struggled with the lack of cupboard space, an ancient stove, mould and damp.
She is "over the moon" with her transformed kitchen. New benches, cupboards, pantry and stove have given her a dream kitchen for cooking healthy meals for her whānau.
"Everything's going to be awesome. Everyone will be hounding me 'can you cook this, can you make that'. I'm rapt," she says with a big smile. "We are just so thankful for the opportunity to get all this."
Building for change
An integral part of the repairs process is encouraging whānau to continue with small maintenance jobs they can complete themselves once the critical jobs have been done.
An essential part of the programme is the choice of builders. Because whānau can feel whakamā about the way they've been living it's important to build confidence and a good level of comfort.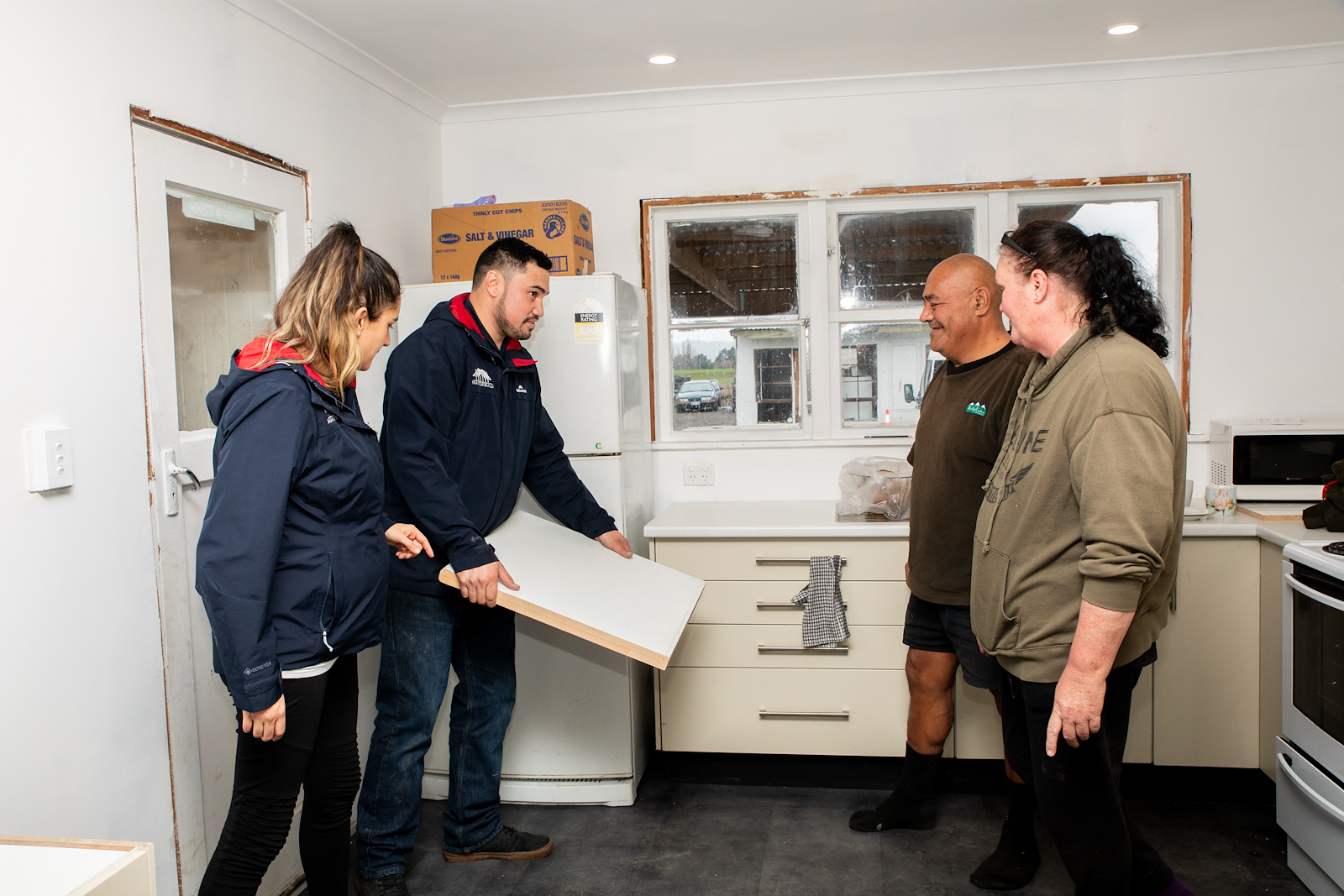 Owners Arana and Henare Waapu of Manzis Build Limited left a lasting impression on Stuart and Kerry who says she would "recommend them to anybody."
"They are just like part of the family…they're respectful, lovely to get on with."
It is unsurprising they felt so supported by the building team who put time into establishing a relationship of trust with whānau and keep in touch with them along the way.
Henare says the job "to change their house so they can live in a house that is safe, so their health is improved" is rewarding. It's what gets him up in the morning.
When the pair relocated from Auckland to Hawke's Bay it was to work within kaupapa Māori values on Māori-led initiatives at a community level.
"We can educate whānau about a few things while we're working. Some of it is financial, some is about looking after your whare. If there's something they want to do themselves, we can help with subcontractors," says Arana, adding that when they've gone back to some of the houses whānau have made other improvements like decluttering.
Kerry and Stuart are overwhelmed with the results for their whare. Without the programme they say the repairs never would have happened.
"We just cannot thank everyone enough for their help. We wouldn't have known anything, we wouldn't have known where to go for help.
"It's healthy for our family, for our kids and mokopuna. It makes me and Kerry feel really good."
Photography: Josie McClutchie
Videography: Te Amokura Productions