Four generations of the same whānau live in Karen and Moke's two-bedroom whare.
Published: Wednesday, 5 June 2019 | Rāapa, 05 Pipiri, 2019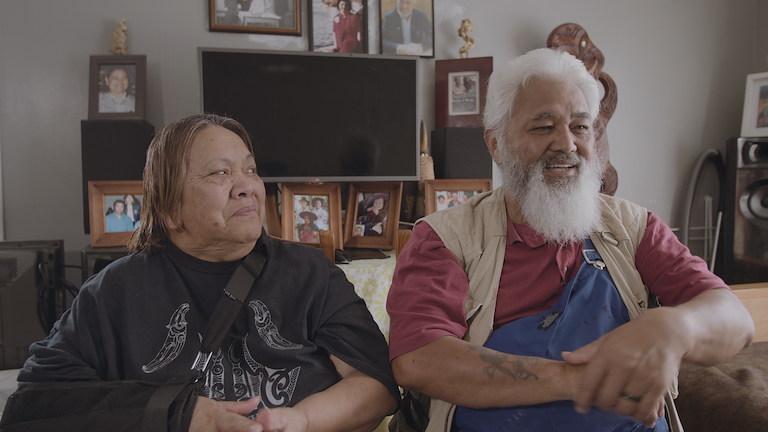 It has been the whānau home for several decades, but it needed urgent improvement when Te Whare Oranga – Housing Repairs Pilot, a programme funded through the Te Puni Kōkiri Māori Housing Network within Te Whānau o Waipareira, arrived to assess the building.
Only two power points powered the whole whare, including an outside cabin, so cables were running through the house. Some of the rooms didn't have lights in them, and the bathroom and kitchen were also in need of work.
Windows were broken throughout, affecting the temperature of the house. "Yeah, it was cold but [we] seemed to manage it," says Moke. "Get blankets and get into bed and once you're in bed, that's it. Get up in the morning and away you go again."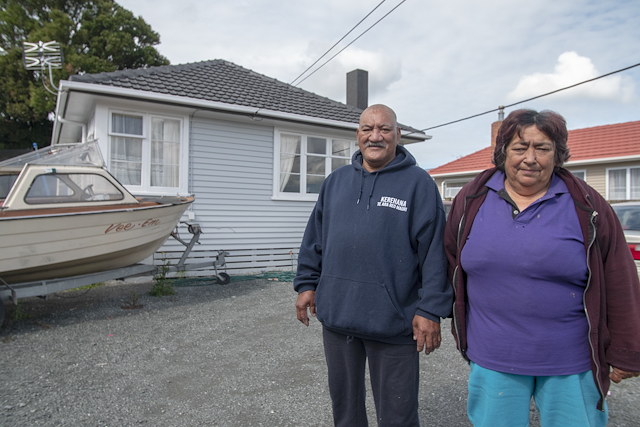 The project workers set to work fixing the issues. Moke says that when workers went to the roof, they found a wire had burnt out. "We were lucky the house didn't catch fire because that's all old timber up the top there."
Moke was left the house by his mum, who was not in a position to be able to fix issues around the home when they happened. "There was a lot of things that happened right back in the time and Mum never had the money. She was working hard as and then she retired – that was it."
Now Karen and Moke hope to do some additional smaller work around the house and wash house and are happy that their home is in a better condition for future generations.  
"To have a home, a real home when your grandkids grow up, they have a home to come to. If they want to do renovations, sweet as – do it!" says Moke. "This [whare] is my grandkids' future."
In this year's Budget  the Government is investing a further $1.98 million with Te Whānau o Waipareira's so the Te Whare Oranga programme can complete 49 urgent housing repairs and 20 DIY workshops in the West Auckland / Kaipara areas.
The community-led, whānau-centred approach across the motu recognises that better housing has real intergenerational impacts on the health and wellbeing of whānau, particularly tamariki.
Mere and Ngaro
Mere and Ngaro have first-hand experience of the programme's benefits for their whānau. They had been saving for years to tackle the dry rot on the outside of their home.
Saving was slow a process, and the couple had other issues to manage: Ngaro was off work for two years receiving treatment for cancer and then had to retire, while Mere was looking after her disabled sister from 1996 until she passed away last year.
"Every time we seem to have enough to get our repairs done, something happens in the family, the children are having problems, our grandchildren are having problems [connected to] their schooling or their own accommodation," Ngaro says.
So Mere and Ngaro poured time and money into their children's health and wellbeing and tackling the dry rot would be continually put aside. They finally decided to start making repairs themselves, with the help of Ngaro's brother, replacing one rotten board at a time.
They estimate that they had replaced half a dozen boards when they received a call from Te Whanau o Waipareira's Te Whare Oranga team.
Representatives from the project came to assess the house. They decided to not only replace all of the rotten boards around the outside of the house but also to replace the electrical wiring and windows, do some plumbing work and to paint the outside of the house, to ensure Mere and Ngaro had a secure and healthy home.
"For years we never had a light in the bathroom because it kept shorting out, so they made sure [the fittings were safe. When it rained my children used to get a shock turning the switch on in the passage if the dampness came from outside," says Ngaro.
The couple is really pleased with the result; their only sadness is that Mere's sister didn't live to enjoy the positive changes to the house, which is now warmer and more comfortable.
"The process we went through we couldn't fault," says Ngaro. "We were overwhelmed and grateful."
Laurel
Laurel describes herself as "a very independent lady" who brought up her four children as a solo parent and worked hard to maintain her whānau home.
But 12 months ago Laurel had a severe downturn in her health that limited her mobility and affected her quality of life.
Te Whare Oranga stepped in. The team built a ramp to her home and upgraded her bathroom, replacing her bath with a shower, to improve Laurel's personal safety.
"It means that I am able to continue with some of my lost independence and furthermore retain some dignity by being able to shower myself in my own home," Laurel says of the upgrade.
"The ramp helps me to be more mobile, get outside, keep my leg muscles working and enjoy walking round the house that I worked so hard at making a home, not only for my four children but for my 15 moko, 27 great moko and three great, great moko…my little legacy."
Laurel says that she couldn't imagine having to ask her family to fund such work and that even thinking about how they would manage to pay for it would cause her stress and anxiety.
Her message for the project?
"It is a wonderful thing that you have done for me, and I thank you for acknowledging us kuia and kaumātua by choosing us to be part of the programme first. I know there are so many more deserving and in need who will benefit from your support. [Poor quality] housing has become a huge epidemic.
Keep up the good work!"