150 participants from Te Whare Wānanga o Awanuiārangi and the Whakatāne community took up a healthier lifestyle challenge - Hikoi ki te Hauora – and won.
Published: Thursday, 10 August 2017 | Rāpare, 10 Hereturikōkā, 2017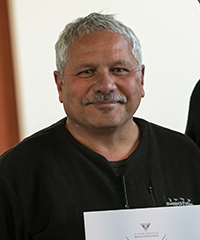 Fifteen teams of ten including students and staff from Te Whare Wānanga o Awanuiārangi, Housing NZ, Te Puni Kōkiri, Environment Bay of Plenty, Te Runanga o Ngāti Awa and whānau participated in a step challenge over 10 weeks to improve their health and wellbeing. 
Historically, Māori were a physically commanding people who thrived from what the land and sea provided them.  Early explorers observed Māori as strong, brave and active but through the years' Māori have succumbed to ill health from introduced diseases and more recently through lifestyle illnesses such as heart disease, obesity and diabetes.
"Before Hikoi ki te Hauora I was a couch potato", says Mitchell Jaram, Te Roopu Maire team member and Presbyterian Minister. 
"I would come home from work and I would not have much energy or motivation to do anything."
But with each step he says that soon changed.
"This friendly challenge with my colleagues got me off the couch and out walking after work, pushing my moko in his pram.  I do not eat the way I used to and I feel so much better.  My doctor told me I had high cholesterol but I have gone for more tests since completing the 10 weeks and I am sure that these changes will have made a difference."
At the end of the 10-week challenge, the participants collectively lost approximately 363 kilogrammes or 121 bags of potatoes.
Tracey Ransfield (Whakatohea) from Operations and Facilities at Awanuiārangi says she wanted to lose weight.
"I started watching what I was eating and I was using my car less and although they were only little changes to my routine they helped me achieve my goal," she says.
"The more I did the challenge the more I enjoyed challenging myself.  Others were stepping 10,000 a day but I found myself achieving 25,000 steps on some days.
"I feel so much better," says Ms Ransfield, whose next goal is to encourage her teenage daughters to be more active.
Those who took part ranged between 12 - 66 years. Some individuals did not stay the duration however all 15 teams completed the 10 weeks to the best of their ability.
The challenge was one of a range of initiatives supported by Te Puni Kōkiri through Matika - Moving the Māori Nation.