Digging deeper into mātauranga Māori seeded leadership growth for Billie Steedman of Ngāti Porou.
Published: Thursday, 15 December 2022 | Rāpare, 15 Hakihea, 2022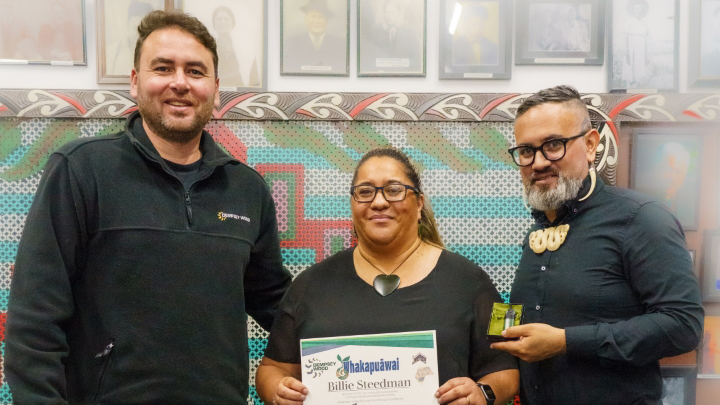 "Tikanga Māori is a good tool for learning different behaviours and mindsets," said Billie, who also hails from Ngāti Rongomai, Whakatōhea and Te Whānau-ā-Apanui.
"It's also about using the tools of tikanga to learn leadership."
A long-standing traffic department team member at Dempsey Wood in Tāmaki Makaurau, Billie and seven of her hoamahi were the latest graduates of the civil construction company's leadership development course called Whakapuāwai.
In partnership with the Te Puni Kōkiri Cadetships programme and supported by Upskills workplace training, Whakapuāwai grows kaimahi Māori to take on more senior roles through regular wānanga, self-guided study, and online interaction steeped in Te Ao Māori values. Graduates receive an NZQA Level 3 certificate in Business (Introduction to Team Leadership).
The first session on whakapapa and identity, inspired Billie to be self-reflective.
"Whakapuāwai was a good programme and a reminder to myself of my identity - that I'm proud to be Māori.
"It was a good way of reconnecting with people. We learnt whakawhanaungātanga to find out who's who in the programme."
Established in 2010, the Te Puni Kōkiri Cadetships programme supports organisations to develop, mentor and train their permanent Māori staff at all career stages into higher-skilled roles, and it aligns with the Government's new overarching Māori Employment Action Plan – Te Mahere Whai Mahi Māori.
In the last financial year, 49 per cent of cadets were wāhine Māori.
"You don't have to be a manager to be a leader," Billie said. "You are a leader within your own right, within your own area, just by leading by example.
"Being the mentor and showing your peers that you do things for a reason, and you do them with grace, finesse and a lot of tenacity."
Meaning to blossom or thrive, Whakapuāwai can relate to a famous whakatauki that speaks to the importance of nurturing people to realise their potential: Poipoia te kākano kia puāwai.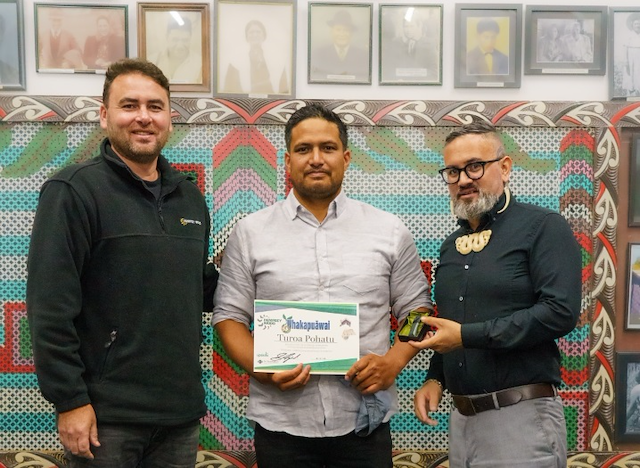 Fellow Whakapuāwai graduate, Waikato-based surveyor Turoa Pohatu of Ngāti Porou, said the course grew his ability to support others at mahi and with whānau.
"I've become more confident; I've learnt the many styles of leadership.
"It's awesome conversing with my kids in te reo, which hasn't been done before. Whakapuāwai has done that for me: speaking te reo in my house."
When whānau thrive, so do their communities and Aotearoa New Zealand.
Earlier this year, the Government announced a Budget 22 investment into the Cadetship programme of an additional $25 million over the next four years.
Over 1,300 cadets will be supported in total over this financial year, building on the more than 5,000 cadets and 400 employers who have already participated in the Te Puni Kōkiri Cadetships programme.
For more information about Dempsey Wood's Whakapuāwai programme visit their website. For further information about Te Puni Kōkiri's Cadetships programme visit the TPK Cadetships webpage.
Lead image caption: Whakapuāwai course graduate Billie Steedman, centre, receives a certificate and a pounamu toki at Makaurau Marae in Ihumaatao, Mangere. On her left is Dempsey Wood Operations Director Simon Lunjevich, and on her right is Te Puni Kōkiri Senior Advisor Rāwiri Te Hurinui-Haumaha.