She's proudly worn the Māori Warden uniform for over 40 years, clocked up thousands of hours of community service and driven three of her own cars into the ground: Peggy Hughes, Waikato has seen it all. Even catching up with her for an interview wasn't easy because she's still putting in more hours than most fulltime, paid workers and she's not easing up. Not yet anyway.
Published: Thursday, 28 November 2019 | Rāpare, 28 Whiringa ā-rangi, 2019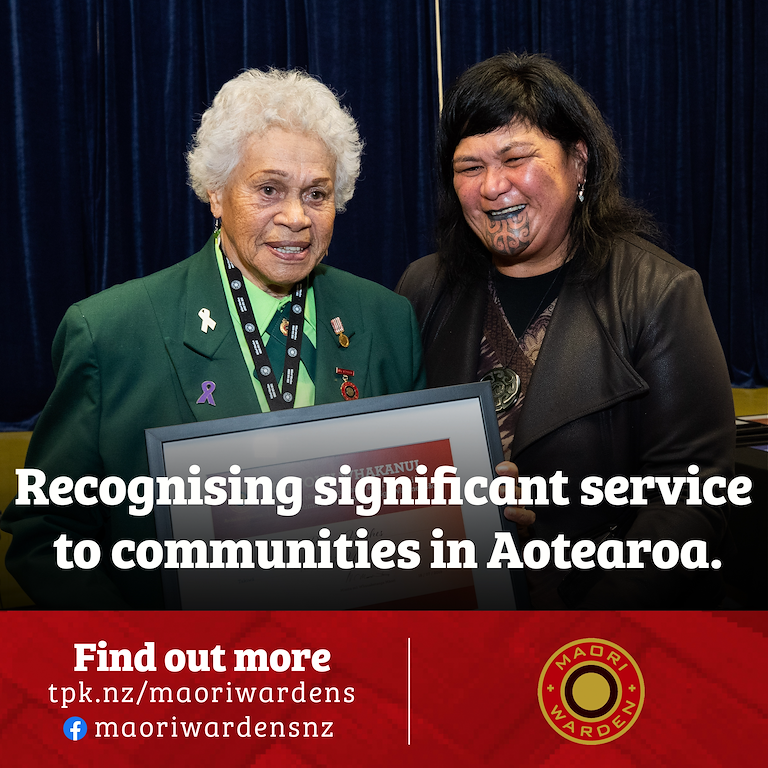 Peggy's a bit of an icon on the North Shore – the Tainui descendent says her whānau moved north and settled in Devonport because her husband Michael was in the Navy. As well as the Māori Wardens she helped set up the Māori Women's Welfare League on the shore and has been described as a "driving force" behind Awataha Marae.
Looking back to the early seventies, Peggy says through her eyes so many things have changed and yet, sadly many things have stayed the same.
She remembers the shock at finding rangatahi Māori crouching down behind parked cars and sniffing petrol caps. Next came glue sniffing – all you had to do was follow the smell it wasn't hard to find it and then we'd get rid of it she says. The worry was that kids would go on to the "big stuff" but now they're often starting there, often with Methamphetamine.
"Now the thing that's getting worse is this blinking P drug: that's the killer now. We've had training on it through the Police."
Back in the early days' things weren't as full on for Māori Wardens. Peggy says making sure kids weren't roaming the streets, finding out who their parents were and taking them home was the focus. But now the problems are often deeper and intergenerational. Some of the young ones she's meeting on the street are the children of teens she used to take home all those years ago.
"I tell them, now you know what I was on about when you were growing up."
Peggy says while things are harder now, the extra support from agencies like the Police and Te Puni Kōkiri has been crucial. Having vans provided has made a world of difference; she's just bought a car and hopes it will last longer than her previous ones.
"I've run three of my own vehicles into the ground; we had no other cars to use so we used to always use mine."
Being a Warden is hard on whānau and sometimes Peggy wonders how her husband Michael puts up with her. However, few people know the battles the Hughes whānau have been facing on the home front. Michael was a stoker in the New Zealand Navy when he and others witnessed the detonation of nine British hydrogen bombs in the northern Pacific.
"The hospital can't believe he's still alive. His body's just been contaminated by those bombs."
Peggy says the family are continuing to fight for compensation for Michael's suffering. But time is marching on and Peggy politely interrupts. She's already on duty – Wardens on the shore have contracts to manage many sporting events as well – and itching to get out. As well as cars she's no doubt worn out many pairs of shoes on the streets of the Shore, so we ask her how far she'll be walking today.
"I've walked for miles my dear and I've got many more miles ahead of me. I suppose my body will tell me when I've had enough, but it hasn't told me yet, so I've still got mahi to do!"
Peggy was recognised at the National Māori Wardens Conference 2019 at Tūrangawaewae Marae for her 40 years plus continuous service to the kaupapa of the Māori Wardens.