Many whānau remain displaced and their everyday lives turned upside down with 33 of their whare and the Rongomaraeroa marae damaged by Cyclone Gabrielle back in February. 
Published: Tuesday, 4 April 2023 | Rātū, 04 Paengawhāwhā, 2023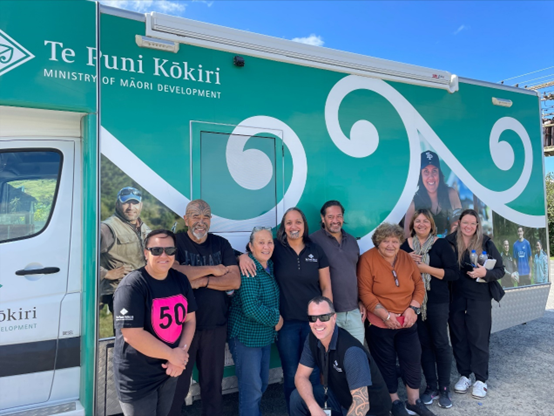 The community is pulling together to help manage their sense of isolation, and they have been fortunate to be able to use some empty beach houses for temporary accommodation.
With the marae out of action, Pōrangahau rugby clubrooms was designated as the community response centre. Hard working volunteers continue to provide three meals a day and there's plenty of spiritual and emotional connection for anyone in the community seeking a kai, kōrero and kindness.
When the Waka Kōkiri arrived in the isolated community of Pōrangahau on Friday 24 March, a sense of excitement stirred among the community.  Pōrangahau is 100km south of the Hastings based cyclone regional distribution hub and is 45 km south of Waipukurau township. This third visit in as many weeks was very welcomed.
The Waka Kōkiri travelling contingent included Te Puni Kōkiri kaimahi from Ikaroa Rāwhiti and Te Tai Hauāuru, along with kaimahi from Te Tari Taiwhenua (DIA) and Eastern & Central Community Trust (ECCT). They met with Pōrangahau community leaders and whānau to better understand their situation and see how collectively, government and non-government agencies could assist with their cyclone recovery and capacity building. 
"We're working with funders to identify which agency might be able to support different projects. We've visited Pōrangahau before with the Ministry of Social Development (MSD), and we're working with whānau to identify the best opportunities to meet their response needs," said Juliana Bennett, Senior Advisor from the Te Puni Kōkiri Regional Investment Advisor Team.
Te Puni Kōkiri kaimahi have also supporting whānau with cups of tea and supplies when taking the Waka Kōkiri to Petane marae urupā, Ngāi Tukairangi Trust kiwifruit orchards and Mataweka marae in Waipawa. A big thanks to Tihei Mauri Ora, the emergency response team from Ngāti Kahungunu Iwi Incorporated, who have assisted with stocking up the waka with supplies to provide to these communities.
Thriving whānau is at the core of everything we do at Te Puni Kōkiri, and this important mahi aligns with our strategic objectives.
Research tells us that Māori recover at a slower rate than non-Māori from the impacts of economic shocks, and the effects of Cyclone Gabrielle will contribute to this disparity.
Our investment through Te Puni Kōkiri Cyclone Gabrielle Māori Communities Response Fund, along with other agencies funding and partner support, provides vital assistance into communities. It is helping affected marae and whānau to not only respond to the destruction of the cyclone but to help them assess, plan and prepare for recovery.
Our multi-agency visit in the Waka Kōkiri to Pōrangahau was a very tangible example of how our collective efforts are enhancing community capacity to literally weather storms ahead.


Photo caption: Kaimahi from Te Puni Kōkiri and Te Tari Taiwhenua with Pōrangahau community leaders beside the Waka Kōkiri on 24 February 2023.  Photo credit: Nadja Hardie, Communications & Relationships Manager, ECCT