Warmer, dryer, more efficient homes enable better life outcomes for ten whānau across the Waikato. We feature two of the whānau here.
Published: Tuesday, 16 July 2019 | Rātū, 16 Hōngongoi, 2019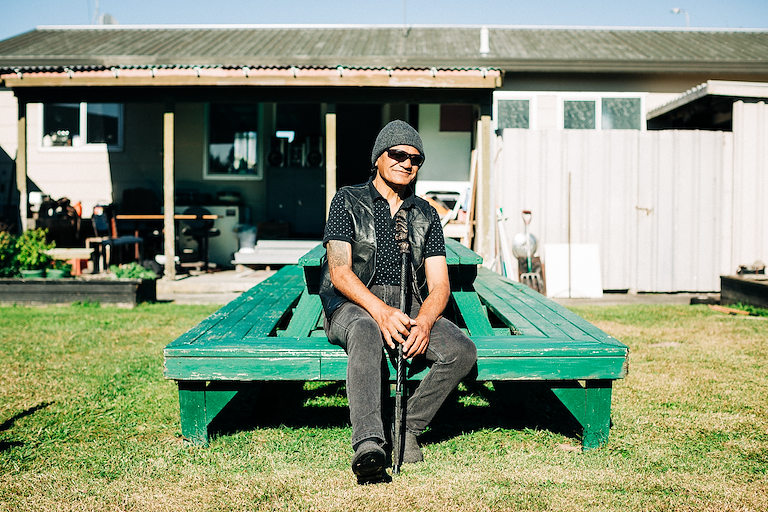 Tainui Tamati: creating a legacy for future tamariki
Tainui Tamati's neighbourhood in Ngāruawāhia is an established one. Developed at a time when high density housing was probably only considered in city contexts, the flat section is generous and Tainui's home is single level and cosy.
His lawns are immaculately manicured and when you walk around to the back you see his careful attention and diligence on a bigger scale. There are raised boxed gardens – one with herbs and another with different varieties of lettuce. There are more extensive maara too just behind the carport, getting prepped for upcoming planting and right in the middle of the back lawn is the biggest whānau picnic table ever! Tainui made it for his wife's 50th birthday ten years ago.
He reckons, "I wanted to make sure all the moko and our kids could sit together."
Ngāruawāhia High School field is on one side and Bernard Ferguson Intermediate field is on the other. It is here that Tainui plants his community gardens which support local marae, local homes and whānau, community events, and tangi across the year.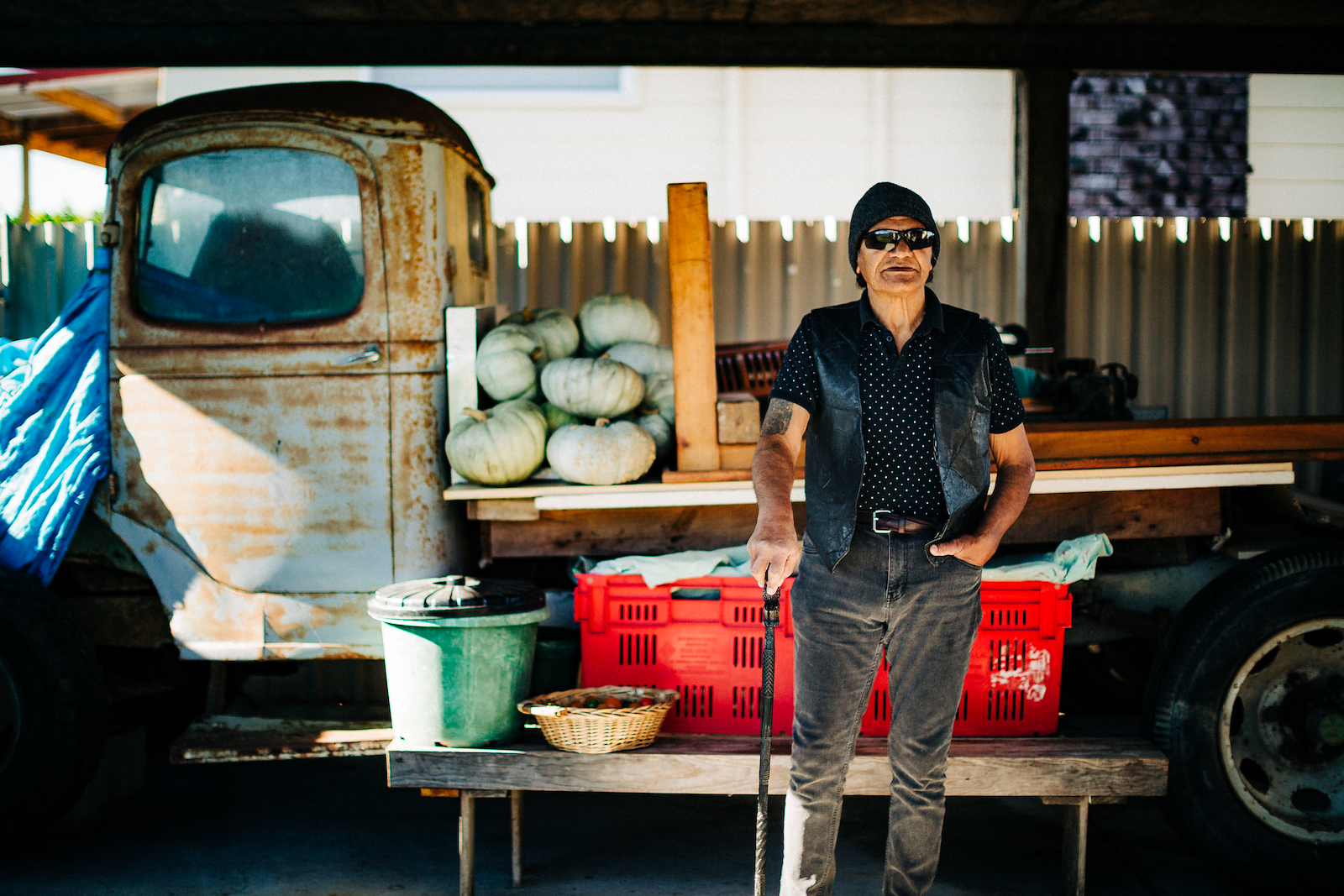 "I'm safe-keeping it for our next whānau orator," says Tainui.
This is a man who, like his Koro before him, has dedicated his life to the Kiingitanga, his iwi and his community. 
But his home, which he shared with his wife, was in a pretty sad state. 
A routine doctor's visit earlier this year to Ngā Miro Health to get a kaumātua grant for new glasses led to a more extended conversation about the house repairs he had started undertaking.
"Yes this house has endured 33 years of us and it had sustained quite a lot of damage.  The flooring was just bare chipboard – no actual floor coverings and well that got hammered over time so there were holes.  The vinyl in the bathroom was worn and the walls and windows were leaking."  
Māori Housing Network funding for housing repairs
Ngā Miro Charitable Trust received funding from the Māori Housing Network at Te Puni Kōkiri to undertake repairs on ten homes across Ngāruawāhia, Taupiri, Horotiu and Whatawhata in 2018.
Tainui's home is one those homes.
This is the second year that Ngā Miro Charitable Trust have worked with Te Puni Kōkiri to identify owner occupied homes for repair.  Last year they repaired five homes.   
Glenda Raumati, Manager at Ngā Miro Charitable Trust says, "We see a lot of whānau and tamariki who come in here with medical conditions that are directly related to their damp and cold homes.  If we address those issues, we know whānau well-being and ora will improve and that'll mean less visits here to the clinic and better life outcomes for them overall."
Initially Glenda, and her Whānau Ora Navigator, Wynae Tukere, were doing what they could with Whānau Direct funding from Te Pou Matakana, the Whānau Ora Commissioning Agency for the North Island.  They were also able to access some funding from MSD.  But that was a patchy approach to an exigent problem.
Wynae says, "This funding was a godsend."
Māori Housing Network funding for housing repairs has a very focussed purpose - restoring and fixing the "envelope" of the home.  This includes roofing, insulation, leaking windows and doors.
Ngā Miro Charitable Trust received $243,500 and allocated just over $20,000 to each of the homes they identified for repair.
"Our main priority was to get the moisture and draft out of the homes, fix damage – holes in walls and floors, water damage and leaky fixtures – and then insulate and make the homes more energy efficient."
"These aren't renovations.  People aren't getting new kitchens or anything.  Although, some of the whānau have continued to fix other aspects of their home that aren't covered by this funding," says Wynae.
As a condition of receiving the funding, whānau are required to attend maintenance workshops with the builders who are fixing their homes.  They learn how to safely erect scaffolding, how to plaster and paint.
"Fixing holes in walls is a biggie. Because our experience is that if you leave the hole, over time, kids just go to town on it. Our whānau need to be able to look after this investment."
Tainui had already started little fix-ups on his home, but with the Māori Housing Network funding taking care of the major repairs, he could then re-focus his efforts in to bathroom and kitchen renovations.  His eyes light up as reveals that he was able to buy himself a new stove!  Our meticulous gardener and kai gatherer, also loves to cook!
Tainui's house repairs take on even more significance when he tells us of his wife's recent cancer diagnosis.
"Without the support of this kaupapa I probably would have given up."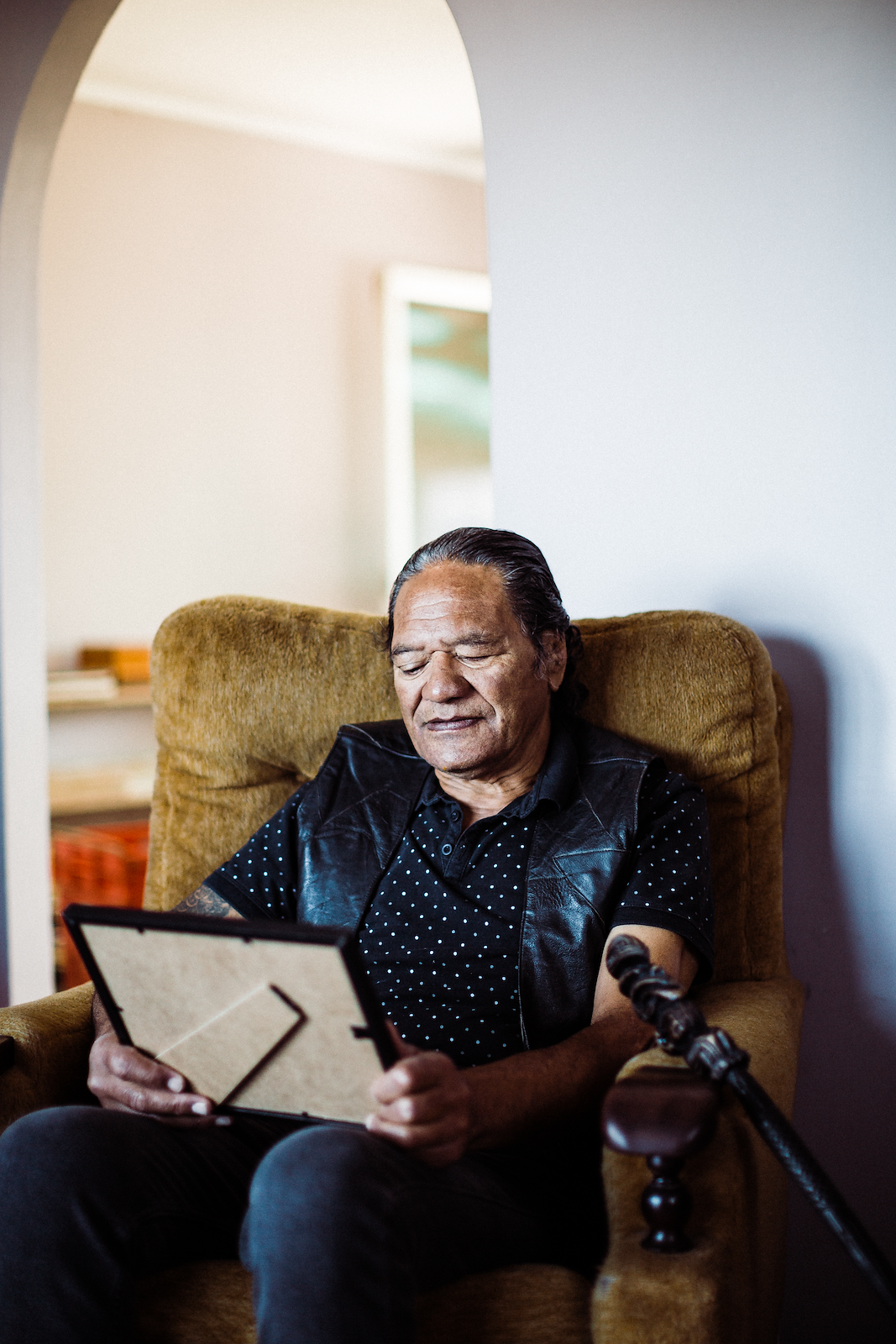 He then turns to Wynae saying, "Thank-you bub – if you hadn't come here and kicked my tou, I wouldn't have this taonga, this legacy for our tamariki and mokopuna, and I wouldn't be able to care for my wife as good as what I can now."
Our careful gardener, and loving husband, is now also a house proud Koro with a home that matches his immaculate surrounds, and a whānau living their best life.
 The Simon whānau homestead
All the locals know the Simon whānau homestead in Horotiu. It's been occupied by successive generations of Simon's for the last 50 years. 
But in the last 10 years, Te Rengarenga Simon, present owner of the home, had fallen on some tough times, and the house was in a state of disrepair.
His daughter Kerry Simon, who was brought up in Wellington, moved back three years ago with her three kids to support her Dad and help fix the house. But the task was a daunting one. Nine years earlier the interior of the home had been gutted for renovation. But a change in whānau circumstances prevented the project from progressing, and the state of the house remained in limbo.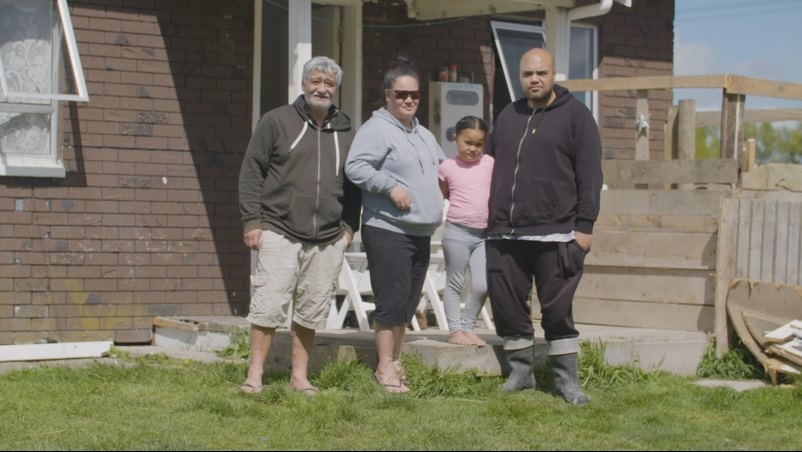 The homestead came to the attention of regional Te Puni Kōkiri staff in 2016.  Erena Simon, a niece to Te Rengarenga, sent a very concerned housing enquiry in to the office, outlining the family's distressing living conditions.
Pat Nathan, Housing Advisor at Te Puni Kōkiri regional office in Hamilton, remembers it well, "Kerry and the kids were in a bach at the back of the house.  One room for all of them, no heating, no insulation. Te Rengarenga was in the only room in the house that still had walls, floors and a door."
Te Rengarenga says, "Because the house had been completely gutted, there was no bathroom or kitchen."
The kids used the hose and a tub outside for bathing, and a slow cooker and stove top for meals. Electricity was limited and the wiring to the bach was dodgy. Kerry's asthma was exacerbated by the living conditions and the kids were constantly sick."
The whānau were definitely not living their best life at this point.
Pat worked with Wynae and Glenda at Ngā Miro to broker Whānau Ora wrap around support services for the whānau.  This included discussing the whānau situation with Habitat for Humanity, Raukura Hauora o Tainui, and Nest Homeloans. 
The whānau also received funding from the Māori Housing Network through Ngā Miro Charitable Trust for their desperately needed repairs.
"The electrical wiring was upgraded; a new hot water cylinder installed; interior lining for the ceiling and walls completed as well as insulation; the leaking roof was repaired, and because this was an exceptional whānau circumstance, kitchen and bathroom facilities were also installed," says Pat.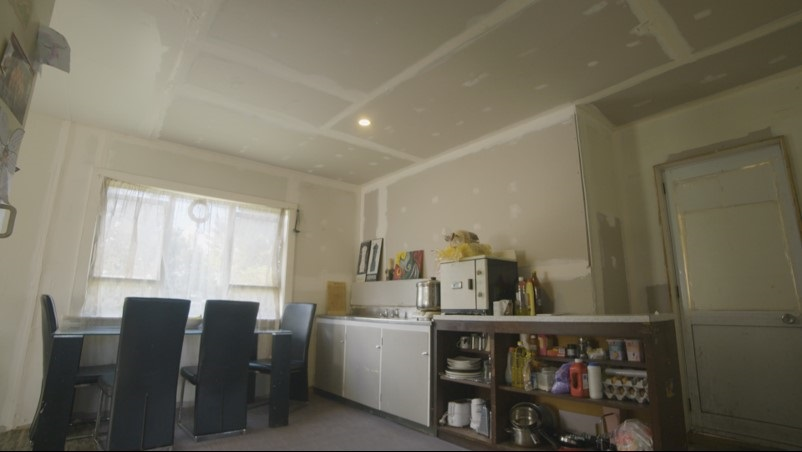 Te Rengarenga and Kerry are also receiving other support through Whānau Ora services delivered by Ngā Miro. 
When the repairs were completed and the bathroom was ready to be used, Kerry says her kids were ecstatic.
"You should have seen their faces, they love the shower!  For a whole week they had a shower every night!"
Both Kerry and Te Rengarenga, are very humbled and grateful for all the support they have received.
"We just want to say thank-you, and for any other whānau out there who might be struggling – don't think you're alone.  It's okay to ask for help."
Now, the Simon whānau, are most definitely on a pathway to living their best life.
 NB: Since this article was written, Tainui Tamati's wife has since passed away.