Published: Tuesday, 16 May 2017 | Rātū, 16 Haratua, 2017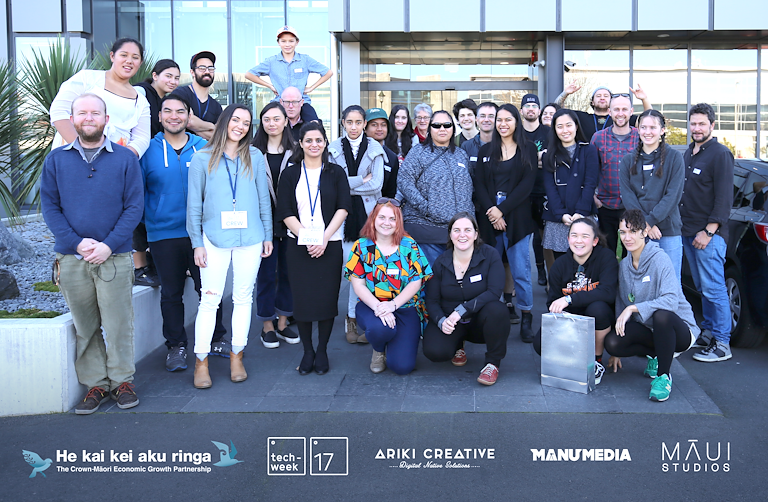 Te Pūtahitanga o Te Waipounamu is inspired by the energy of digital-savvy rangatahi Māori who in the weekend took on the world of global technology with passion and panache.
"On Saturday, over 25 rangatahi came into connect with Te Ao Hangarau, a kaupapa Māori creative digital space" said Chief Executive, Helen Leahy. 
The initiative was part of a nationwide event, Techweek '17 which has been set up to provide opportunities for Māori in the technology sector. 
"We were really proud to be able to host this inaugural event in our hub which is home to the largest collective of digital Māori creatives in Aotearoa" said Ms Leahy.  "The combined forces of Ariki Creative, Manu Media and Māui Studios were able to mobilise their talents to inspire rangatahi in the world of global technology".
"It was an awesome opportunity for these rangatahi to hear from our young talented leaders in the indigenous digital space about how traditional stories can be retold in a contemporary way.   The rangatahi all gravitated to the technology of virtual and augmented reality.  They also got a taste for design, illustration, animation, film, web, mobile and digital connection.
"The event was also a wonderful celebration of the first decade of Ariki Creative, which has championed Digital Māori Solutions in digital and print media since 2007. 
"Their leadership in graphic design, illustration, animation and creative technologies for whānau, hapū and iwi is well established.  Te Pūtahitanga is proud to pay tribute to their first ten years of Ariki Creative and to know that through the impact of Waihiko, a new generation of thought leadership is primed and ready to hit 'send'".
Hori Te Ariki Mataki, founder of Ariki Creative added "We would like to thank all the attendees for joining us and our key sponsors He Kai Kei Aku Ringa, Tech Week NZ and Te Pūtahitanga o Te Waipounamu for the support".
 Story courtesy of Te Pūtahitanga o Te Waipounamu.