Rangatahi insights and knowledge have been key to the success of the Vax Vegas campaign.
Published: Thursday, 9 December 2021 | Rāpare, 09 Hakihea, 2021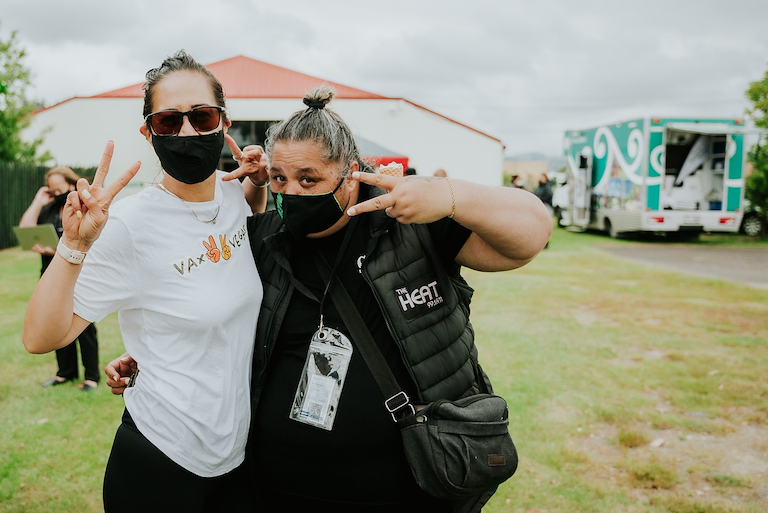 The rangatahi campaign was the brainchild of Rotorua Economic Development's corporate communications manager Marisa Balle, and marketing manager Haydn Marriner.
Marisa, a former senior Māori media journalist and iwi engagement specialist said it was difficult to see Rotorua consistently feature as one of the lowest vaccinated areas in the country, so she decided it was time to rally the troops.
A brainstorm with fellow Te Arawa marketing, comms and content creators ensued, followed by a focus group with rangatahi - and Vax Vegas was born.
"Vax Vegas is essentially a marketing and communications campaign that is intended to create FOMO and encourage rangatahi to embrace the vaccination and have some fun along the way. We've engaged local rangatahi influencers and content creators to lead out our social media strategy and gave them the creative license to create content that would resonate and induce a sense of fun and excitement," Marisa says.
 "We also purposefully led out with a campaign name that we knew would resonate with all rangatahi Māori who live here, acknowledging that not all rangatahi who live in Rotorua whakapapa to Te Arawa waka. 
 Success was swift – within three days they had over 1000 follows on their Instagram page and the hashtag #vaxvegas gathered 262.4k views within the first 5 days. The local DHB has had to surge resources at Vax Vegas supported events.
 Marisa says rangatahi input and a great team to execute has been key to the success of the campaign, which received funding through the Māori Communities COVID-19 Fund.
 "As professionals who have been working in this space for most of our working lives, we tend to roll out our traditional comms and marketing suite of tools. The content and channel environment changes dramatically and often, so it's easy for our techniques to become outdated. Our rangatahi are key to understanding the trends in these spaces that they are most familiar with."
 The team are looking forward to their upcoming event at the Rotorua Stadium on 18th December with Kings, Ria Hall, Annie Crummer, Anika Moa, Che Fu and The Crates. "And what's special is that we will be hosting our koeke in the VIP section of the stadium as a mihi to them for their leadership in this space," Marisa says.