Local Tāmaki Māori Wardens recently came to the rescue for a young south Auckland whānau in need.
Published: Thursday, 28 November 2019 | Rāpare, 28 Whiringa ā-rangi, 2019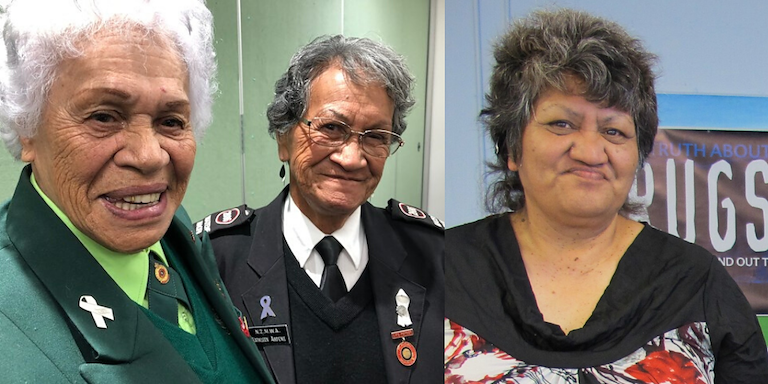 The whānau of four, with one more baby on the way, were declined assistance by WINZ when they sought a food grant.
The growing family, who live in a one-bedroom unit paid by WINZ, took to social media to ask for assistance to help feed their whānau.
Te Puni Kōkiri Senior Advisor Oriana Rarere-Wilton shared this plea amongst her colleagues in the Tāmaki office to see what they could do.
"I initially met the whānau through the haahi. I knew there were two tamariki, and all of them were living in a one-bedroom unit. When I learned of their struggle, I wanted to see how we could help them," Oriana says.
"I knew a bit of their history and learned that it had been hard for them to be able to call on their wider whānau for support. I knew they were trying to make a better life for themselves, but the struggle is real especially in Auckland where prices for accommodation are expensive."
Māori Wardens regional co-ordinator Hoana Leef happened to read the email while she was doing Tuia 250 duties in Waitangi over the weekend and liaised with Turehou Māori Wardens who are based in Ōtara to arrange support for the whānau.
Mereana Peka says that she was compelled to help.
"It's all about us working together doing the mahi and helping our people. Ka aroha – what do you do when a whānau on a Friday doesn't have a kai to be able to feed their whānau over the weekend," she says.
"Foodbanks are closed over the weekend and our people are starving so we can't just not help them, that's why our tamariki are not being fed," Mereana adds.
So, both Mereana and fellow warden Kathy Ahpene put the call out to find kai for the whānau.
"We put the tono out, rallied together and went to a couple of the foodbanks who were closing," says Mereana. "The nearest food bank to Ōtara is the Manukau Salvation Army that has a long line of people waiting from as early as 5am. The other food bank at Ngā Whare Waatea, Māngere can only help two whānau per day despite having five whānau who were seeking help that day."
Eventually however Te Kura Kaupapa Māori Piripono ki Ōtara came to the rescue.
"Our local kura asked us to come and collect kai that the local Kura Kaupapa Māori had collected, it was a lot of kai that would see the whānau through the whole week," says the Māori Warden veteran.
Oriana says that it was truly a godsend.
"We delivered the kai to that whānau," says Oriana. "Their eldest daughter's face lit up when she saw all the food.  She asked if it was 'all of it'."
"After helping to unload the boot full of kai, she quickly dug into the milk, commenting she has that milk at school too."
"The whānau were most grateful for the support," Oriana says.
Kathy and Mereana, who are based at Te Kuputahitanga in Ōtara, take no credit for this act of kindness, they say the need is growing in our communities, but they were just doing their mahi.
"You know we receive these tono every week now. The need has been apparent for quite some time now and I'm not talking about the beggars, it's just whānau who are not able to cope, they're having to choose between paying for kai and paying for their rent," says Kathy.
"Every week we are being asked for help. There are no foodbanks open over the weekend, so the Māori Wardens fish in their freezer and kai from their cupboards to see what little they can give.
"We've sent out tono to whānau who have fruit trees in their backyard, to see if we can collect the fruit that's dropping on the ground and we give the fruit to our kaumātua, tamariki and those who need it.
Mereana adds that despite this we're just grateful that we have whānau out there who are willing to give.
"We have local vege shops, local bakeries, and shops around the community who say come and collect some kai and take it to those who need," she says.
"We had a message yesterday that a local supermarket asked if we could take this whānau to one of their shopping centres and they would fill their cupboards up at no cost.
"We have people out there that have huge hearts when it comes to supporting whānau – its lucky because we are here to just manaaki, to do it for the love of our people regardless of race, we do it for the aroha ki te tangata."