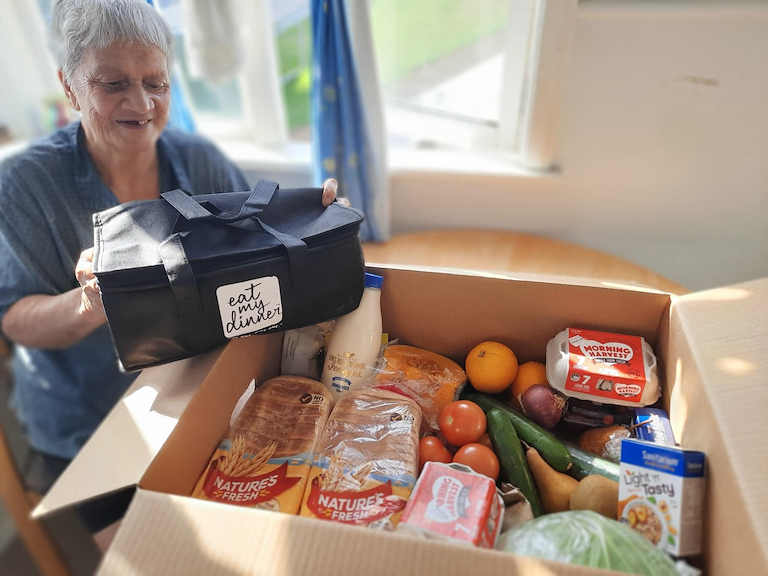 "In two weeks we supplied more than 230 kai packs to vulnerable whānau, deployed almost 100 volunteers and made 600 phone calls to 130 Ngāpuhi homes in Tāmaki. We've never been so busy but we wouldn't have it any other way" says Māhera Maihi of Ngāpuhi ki Tāmaki.
Māhera, Tasha Hōhaia and Carrie Stoddart-Smith are the three young wāhine behind community rōpū Ngāpuhi ki Tāmaki. Over the past year they built up a network of Ngāpuhi who live in Auckland and have a following of 4000 people on Facebook.
Locking down the kai
Before alert Level 4 was announced, Māhera teamed up with Te Puni Kōkiri to prepare support for whānau. That support enabled free, safely packaged and delivered food for kaumātua in lockdown through Eat My Lunch and Hello Fresh.
Word went out on Facebook for people to register for kaumātua and kuia kai packs. The response rate quickly outstripped the 100 available packs. When it ticked over to 500+ registrations Māhera and Tasha refined their criteria and identified the 100 most vulnerable. But slowly they noticed an area of need they could not ignore.
"These were māmā with newborns, or multiple kids under the age of five. Pregnant māmā and all those under-55 with medical conditions or who were immune compromised. I thought, actually these ones are even more vulnerable because there is no support out there for them".
Funding for another 32 kai packs arrived just in time and Ngāpuhi ki Tāmaki was able to cast its net a little wider. The youngest person they are now supporting is a pregnant 21-year-old with asthma.
"So now it's 132 kai boxes that will last one week for two people. We're doing that for three weeks. We wanted something sustainable so our kaumātua, kuia and other vulnerable relations, would never have to leave their house during this time".
Gloria Marsh, 62yrs (Ngāti Toki, Ngāti Whakaeke, Ngāti Tautahi, Ngāti Hine) is very thankful, "I am so overwhelmed and very grateful. People are actually caring. I won't have to go out and put myself at risk to get groceries from the supermarket".
A helping hand
While plenty of interest for kai packs came in, so did offers of help. Nearly 100 people, many rangatahi, registered as volunteers. Each person was quickly trained and assigned to someone who was asking for support.  
"Whether that person qualified for kai packs or not. Whether they were Ngāpuhi or not. We didn't just leave them. We included them in our pastoral care programme –providing information, keeping in touch twice a week, emotionally connecting. And if they needed anything we'd find the help and refer them on".
Volunteers field all sorts of queries and concerns and each one needs a thoughtful, individualised response. This is one of the trickiest parts of the job says Māhera, as she has to slow down from all the other things she's managing and pay attention.  
"Our volunteers have given their time to care about this kaumātua, and this kaupapa is important to them. So to reciprocate that I make sure it's important to me too".
Margaret Reti, 72yrs (Te Kapotai) is a stroke survivor, living alone. She does not have a smartphone or experience using digital devices so online shopping was not an option for her. The kai packs ensure Margaret stays safe and the kaitiaki are helping her to develop digital skills so that she can video call her whānau while tucked up safely at home.  
An agile and flexible response
Through strong local connections at Manurewa marae, the rōpū has also distributed 200 hygiene packs, supplied by Whānau Ora. These went to 200 Ngāpuhi homes in Manurewa, Clendon, Takanini, Māngere, Papatoetoe, Ōtara, Pakuranga, Ōtāhuhu and more.
"We have mobilised quickly as we don't have the obligations of a formal iwi structure to work under. So it's a community led response but it's an iwi response too because maybe we're not the mandated iwi but that's still our whakapapa" says Māhera.
She explains the rōpū is advocating for Ngāpuhi in Tāmaki because of the number of uri living in New Zealand's biggest city.
"Over 65 per cent of our population lives outside the rohe and is here in Tāmaki. That's 50,000 people."
"We are equipping and mobilising Ngāpuhi whānau to be resilient for the long run, by supporting one another" adds Tasha Hōhaia.
Proud to serve
Real life changes like this are what make the hard work, forever ringing phone and long hours while also working full time - all worth it for Māhera.
"Just knowing that we're providing a service, so they can stay safe. Seeing the positive, life changing impact that we've been able to have on our kaumātua and kuia in Tāmaki. That's my biggest drive. Saving lives."