Inspiring wāhine Māori business owners are paving the way in their respective fields – from roading in Ruatōria, to creative design solutions in Ōtautahi, to a virtual contact centre run from Taranaki.
Published: Tuesday, 6 June 2023 | Rātū, 06 Pipiri, 2023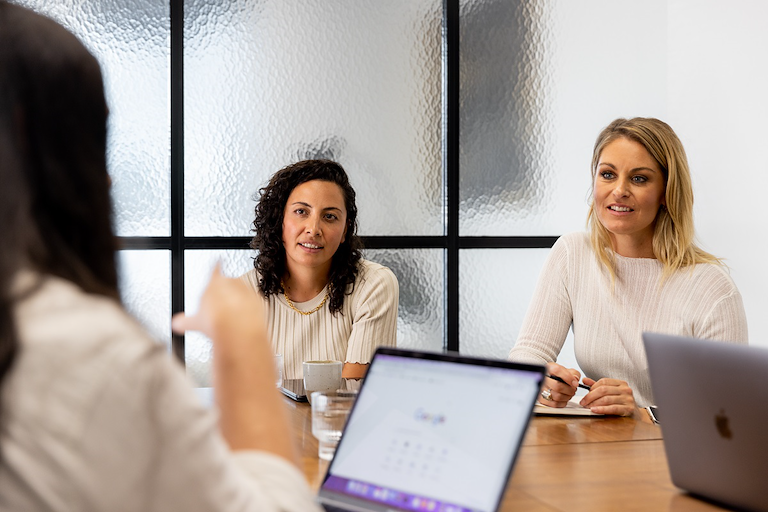 Kat Kaiwai (Ngāti Porou me Rongomaiwahine) of Tairāwhiti Contractors, Tania McCoy (Ngāpuhi) of Attraction Studios and Rohario Rangihaeata (Te Aupōuri, Te Rarawa) of Wairua Pai feature in a new video showcasing how the Te Puni Kōkiri Progressive Procurement Capability Uplift Programme has helped them upskill to be successful in government contract tendering.
Te Puni Kōkiri and Ministry of Business, Innovation and Employment's joint Progressive Procurement kaupapa aims to use the Government's annual $51.5 billion buying power to help accelerate the growth of Māori businesses and the flow-on benefit that can bring for whānau and their communities.
The three diverse wāhine businesses are part of the 100 Māori businesses the programme plans to help this year with targeted wrap-around support.
Katereina (Hubba) Kaiwai started Tairāwhiti Contractors, when she moved home to Ruatoria and there were no jobs – becoming the only wāhine Māori owned civil construction roading business.
She's become used to mobilising quickly during weather emergencies on the East Coast to provide access to whānau. Through the Capability Uplift Programme, she was able to help secure a contract with road repairs on State Highway 35, along side another contractor.
"Securing the Hikurangi maintenance contract has definitely given whānau a sense of security and they get to look after the roads for the next five years," Hubba says.
Tania McCoy co-founded Attraction Studios in Ōtautahi, with the aim of bringing a te ao Māori lens into the creative design space.
"What the programme gave us was a government lens to write our tenders. We have a staff of 10 with seven of us are female. I guess it has pushed us more to prove ourselves."
Published in 2022, the Te Puni Kōkiri Report on Māori business data, Te Matapaeroa 2020, revealed wāhine Māori are increasingly holding leadership positions in Māori business. Almost 40 per cent of Māori-owned businesses had a wāhine Māori owner.
Rohario Rangihaeata is based in Taranaki and has set up Aotearoa's first Māori-owned virtual contact centre, Wairua Pai. Te Puni Kōkiri kaimahi are supporting her to win her first government contract and achieve her goal of providing flexible, home-based mahi to 100 māmā Māori.
"Working alongside Te Puni Kōkiri has really allowed us to articulate our service, what we offer, who we want to work with, who we want to bring on board, and how we get across those procurement lines," she says. Learn more about their stories here.