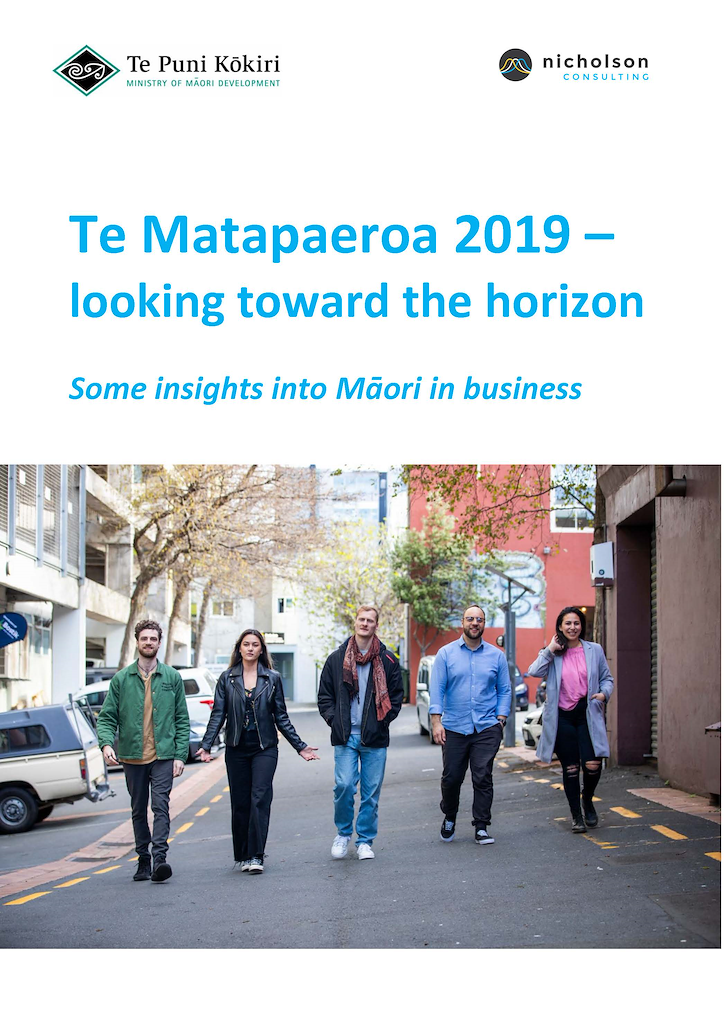 In June 2020, as part of the COVID-19 Manaaki project, Te Puni Kōkiri commissioned research on the number and breadth of Māori-owned businesses to get a better picture of the contribution of Māori to the wider economy. It is part of the Ministry's focus on improving Māori wellbeing data, insights and information.
The research expanded the view of Māori businesses by linking businesses to Māori individuals.  A total of 1,300 businesses were already identified as Māori based on Statistics NZ identifiers, with another 8,800 newly identified businesses having Māori as majority shareholders.  A further 14,700 were identified as Māori sole traders and 10,200 businesses were classified as significant employers of Māori.
Deputy Secretary Strategy, Governance and Public Sector Performance, Hamiora Bowkett said getting a clearer picture of the nature and extent of Māori businesses will help government determine how to best support them through the post-COVID rebuild and recovery phase.
"The information can be of immense benefit to Māori in achieving better outcomes. There is still much more to learn. Information is vital for Te Puni Kōkiri to lead the policy development needed for that work across the government sector."
"We expect the numbers of Māori businesses in view to further increase over time as more research is completed. Numbers should also rise through the New Zealand Business Number register, which will soon have the option to record data identifying a business as a Māori business, alongside details such as its trading name, email address and phone number.
"We knew earlier data understated the number of Māori businesses, but we're pleasantly surprised at the numbers in some regions. The data also confirms the common view that Māori businesses employ more Māori. It underlines the potential for what Māori can do in their local economies to lift participation and employment."
The data defines a Māori business as either identified as Māori by Statistics New Zealand, or where more than half of wages are paid to directors, partners or shareholders of Māori ethnicity or descent.  It includes regional, sector, size and profitability information as well as the proportion of Māori employed.
There may be more Māori-owned businesses as majority ownership (Māori vs. non-Māori could only be confirmed for 162,200 of the total identified pool of 618,000  - another 455,000 businesses have no shareholder data to which we can link the ethnicity of the owners.
The data was gathered by Nicholson Consulting using Statistics NZ's Integrated Data Infrastructure (IDI), Longitudinal Business Database (LBD), and Linked Employer-Employee Data (LEED).  It is the first time these data sets have been combined to construct a more comprehensive view of Māori business and compare Māori and non-Maori business.
Access to the anonymised data used was provided under the security and confidentiality provisions of the Statistics Act, which protects groups from identification and keeps their data safe.   Key findings include:
Size and scope:
Of the more than 10,000 economically-significant Māori businesses identified – 8,800 were found through majority Māori shareholding.
Māori-owned businesses represent 6% of the identified dataset. The total proportion may be higher.
Construction and professional services are the most common industry types for businesses with Māori owners.
Turnover and employee size of Māori businesses is comparable to non-Māori.
Māori owned businesses employ 43% Maori on average, three times the rate as for non-Māori businesses.
Margins:
Māori in most sectors appear to have much lower operating margins than non-Māori businesses in similar sectors, with one exception:
Operating margins in the accommodation and food services and rental hiring and real estate services sectors are higher for Māori than for non-Māori owned businesses.
Of all the sectors, the manufacturing sector generates the most margin amongst Māori-owned businesses, however at an individual enterprise level, margins in Māori-owned manufacturing businesses are approximately 40% of those of non-Māori owned businesses.
Further research is needed to understand these differences more fully.
Sole traders:
The proportion of Māori sole traders compared to non-Māori sole traders is 7%.
8000 of the 14,700 Māori sole traders have rental income.
The regions with the highest proportion of sole traders with rental income are Gisborne, Northland and Bay of Plenty.
Regions:
There are 1363 Māori businesses in Tāmaki Makaurau (27 previously identified).
One in five businesses (in the identified dataset) in the Gisborne region are Māori owned.
The percentage of Māori employed in Māori tourism businesses is highest in the Bay of Plenty with 26%, followed by Waikato with 15%, and Auckland with 11%.
One in four Gisborne region businesses are significant employers of Māori.
Construction is the dominant industry in Māori businesses across regions apart from Southland where there are more Agriculture, Forestry and Fishing Māori-owned businesses.
The full Te Matapaeroa 2019 report can be found here.
Check out this Story-Map visual presentation of the key points of the research insights.