It has been all go for the Te Puni Kōkiri 'For Future's Sake Vote' street team, which has been on the road for the past three months encouraging young Māori to vote in last weekend's election.
Published: Monday, 25 September 2017 | Rāhina, 25 Mahuru, 2017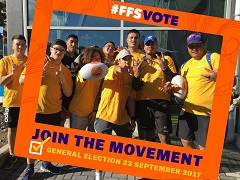 The #FFSvote – For Future's Sake Vote campaign directly targeted young Māori voters by being where they were, using social media and having Māori social media influencer William Waiirua front the campaign.
Project manager Shannon Lomax says a team of rangatahi who went to 30 events as part of the campaign encouraged more than a thousand people to enrol to vote.
"Our team alone has enrolled at least a thousand people and has engaged with over 5000 people on their travels," she says.
"We have been at the events that young Māori go to, we have used their language to engage with them and we have been pleased with the response."
The strong social media campaign included creating a Facebook page, Twitter account, Snapchat and Instagram and posting quirky messages, memes and images encouraging people to enrol and vote. The Facebook page has over 11,000 followers.
Shannon says the online interactions between rangatahi changed over time.
"At the start, people were just tagging their friends in our posts, so mostly just observing them," she says.
"But over the last few weeks we have seen a shift in the online conversations, there was a lot more comments encouraging others to vote. They weren't just tagging their friends, they were telling them to vote. They were participating."
The theme for #FFSvote derived from a slightly controversial common phrase that young people use, in order to invoke attention and discussion. Shannon says this approach to engaging rangatahi is new, and the team were not sure what to expect.
However, with the Māori vote for ages 18-29 remaining stubbornly low at 55 percent, the team had to think outside the box about how to ramp up their participation. 
"We had to steer clear of the status quo approach to getting rangatahi to vote because it has not been working."
The team put a lot of the success of the campaign down to its front man, comedic social media star William Waiirua, who is well known in rangatahi circles.
"William has been instrumental in this. Rangatahi love him, when we were on the road they would just run over to him, talk to him, and want to get selfies with him," Shannon says.
"He was the right person for the job and seeing him engage with our people has been so rewarding."
The team released innovative technology such as augmented reality and humorous and informative videos of William Waiirua, one of which received over 100 thousand views overnight. They also organised two small concerts at Manakau Mall featuring Maimoa Music, William Waiirua and DJ 09 to promote advance voting at the mall.
Shannon says they have learnt a lot to help them with the upcoming Māori Electoral Option promotion in 2018.
"The challenge has been identifying what does and doesn't work and coming up with and testing innovative and creative ways to engage the disengaged.''
Ends.