Our thoughts are with those who have passed away, and all whānau, hapū, and iwi impacted by the flooding in Tāmaki Makaurau and Cyclone Gabrielle.
The aroha of the people of Aotearoa is evident with an outpouring of koha, support, resources and assistance to help those impacted navigate the devastation and destruction it has caused.
Published: Friday, 24 February 2023 | Rāmere, 24 Huitanguru, 2023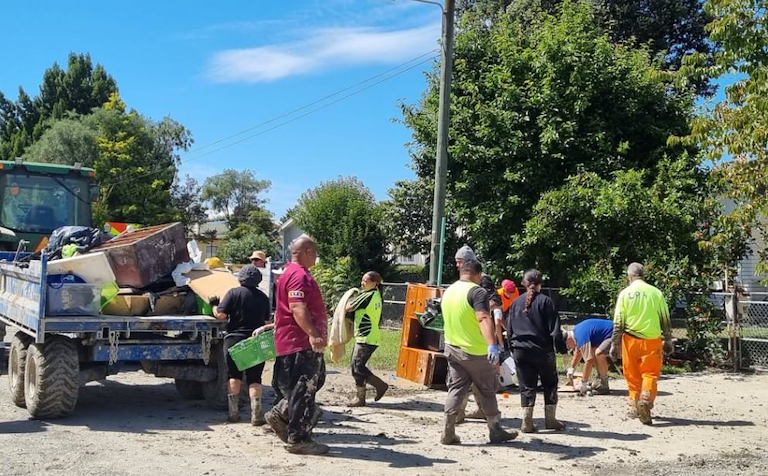 The New Zealand Government declared a State of National Emergency on 14 February to assist in the response to Cyclone Gabrielle. On 20 February this was extended for a further seven days. The State of National Emergency covers Northland, Auckland, Waikato, Tairāwhiti, Bay of Plenty, Waikato, Hawke's Bay and the Tararua District.
Te Puni Kōkiri is working with local and national agencies to support the collective emergency response. 
The best place to find correct, credible, and timely information is on the National Emergency Management website. Visit Civildefence.govt.nz for both national and local information.
Here is other information to help with whānau resilience and recovery.
Te Huarere - weather warning
Stay up to date with the latest weather information from MetService, Te Ratonga Tirorangi. Visit MetService.com website for the latest weather information and weather warnings, their mobile app and on social media from @MetService on Facebook and Twitter.
Tautoko ā-pūtea - Initiatives and funding to support whānau impacted
Civil Defence payments - Whānau based in Te Tai Tokerau, Tāmaki, Waikato, Hauraki, Matamata, Te Tairāwhiti, Takitimu, Manawatu, Wairarapa and Horowhenua may be able to get a Civil Defence Payment to get help to pay for food, bedding, clothing, or temporary accommodation. Visit WorkandIncome.govt.nz to apply for funding.
Temporary Accommodation Service is working with whanau across all flood and cyclone affected areas. Visit Temporary Accommodation Service to register your details and a temporary accommodation coordinator will call you in a few days to discuss helping you find temporary housing. 
Farmer and grower recovery funding – is available to whenua Māori owners and other farmers significantly affected by Cyclone Gabrielle. This is to help kick-start recovery efforts including undertaking urgent work such as fencing, clearing silt to save trees and vines and repairing water infrastructure for livestock. Visit MPI.govt.nz to apply for funding.
Community Support Packages are available to help supplement the existing work of community groups and social sector providers of food and other services to whānau in effected areas. For eligibility information and to apply for funding, visit the Ministry of Social Development website.
Whānau Ora support
The following Whānau Ora providers are supporting whānau with things like kai, temporary shelter or accommodation, and wellness checks:
Te Whānau o Waipareira (West Auckland) – 0800 924 942 (open 8am to 8pm)
Ruapōtaka Marae – Glen Innes, Orākei, Panmure – 027 2908771
Manukau Urban Māori Authority – Mangere and Papatoetoe – 0800 686 232
Manurewa Marae – Manurewa and Manukau – 029 2005540
Papakura Marae – Papakura – (09) 297-2036 (0800 82627454)
Huakina Trust – Pukekohe – (09) 238-0250
Check with your local Civil Defence Group if you are outside Auckland for the locations of Civil Defence Centres that can provide immediate support.
Pasifika Futures is supporting whānau to access food, support packages, accommodation, relocation, healthcare, mental health, translation services, pastoral care support, insurance and social service support. You can find more information at Pasifikafutures.co.nz by calling 0800 388 7373.
Other support is also available at:
The Fono Feleoko Food Hub - 0800 366 648
The Village Community Services Trust 021 845 535 – it includes a food parcel request link
CIDANZ – 027 303 1832 and 027 310 3675  
South Seas Healthcare 080 31 13 31 
He kupu āwhina - Guidance and support
Hauora - with an increased risk of whānau getting gastro from contaminated water, please be safe around contaminated wai and discard contaminated kai. COVID-19 is still in the community too. Take precautions to look after your hauora and that of your whānau.
If you or whānau are unwell, call Healthline 0800 611 116 for advice and support. The other avenue is to contact your local health provider or visit health.govt.nz to read about water and kai safety, including cleaning and restoring your whare after a flood.
Road closures - There are many roads closed due to slips and washed-out bridges. Visit journeys.nzta.govt.nz/traffic for detailed road and traffic information.
Stress and anxiety - Te Whatu Ora|Health New Zealand, alongside Te Aka Whai Ora|Māori Health Authority, are expanding wellbeing initiatives to support impacted residents in flood and cyclone-affected areas. 
A team of counsellors, mental health professionals and support workers is being stood up to support and boost existing help on the ground.  
It's important that people look after their mental health and wellbeing and that of those around them. Those who are able should reach out to loved ones, neighbours and colleagues to check in and ask how they're doing and help where they can. These simple things can make a big difference to our wellbeing.  
Where to get help: 
Need to talk? – Call or text 1737 any time for support from a trained counsellor
The Depression Helpline – Call 0800 111 757 or text 4202 to talk to a trained counsellor about how you are feeling or to ask any questions
Youthline – Call 0800 376 633, text 234, email talk@youthline.co.nz, or go to co.nz for an online chat
The Lowdown – Text 5626 for support to help young people recognise and understand depression or anxiety
Healthline – Call 0800 611 116 for health advice and information
Alcohol Drug Helpline – Call 0800 787 797 to speak with a trained counsellor
Call 0800 787 254 (0800 RURAL HELP) to arrange a free and confidential chat at a place that suits you. rural-support.org.nz
Tips and support, go to org.nz. 
farmstrong.co.nzis a nationwide wellbeing programme for the rural community. Their aim is to help you live well to farm well. On their website you can find a range of resources to help you manage your wellbeing. 
You can download the Groov and Headstrong wellbeing apps free for android and Apple phones. Just go to Google Play or the Apple app store.
Image source: RNZ / Jonty Dine. Clean up begins in Wairoa.