Te Kapa Haka o Te Whānau a Apanui from the Mataatua – Eastern Bay of Plenty region were judged outright winners of Te Matatini National Kapa Haka Festival in Christchurch this afternoon.
Published: Monday, 9 March 2015 | Rāhina, 09 Poutūterangi, 2015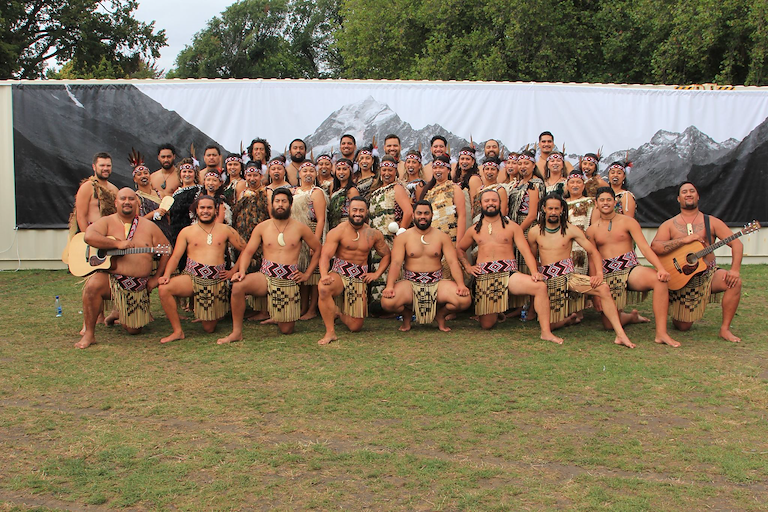 In front of a packed out crowd of 8000, Te Kapa Haka o te Whānau a Apanui wowed the audience with their stunning performance, and execution of Māori performing arts. Their overall aggregate points (Te Toa Whakaihuwaka) earned Te Kapa Haka o Te Whānau a Apanui the Duncan McIntyre Trophy.
Two groups received second place Te Mātārae i Ōrehu from Te Arawa, Rotorua and Ōpōtiki Mai Tawhiti region from Mataatua – Eastern Bay of Plenty region.
Of the 45 groups that performed at the Festival, nine teams made it to today's finals.
They competed in seven compulsory disciplines including Whakeke (entry); Mōteatea (traditional chant); Waiata-a-ringa (action song); Poi; Haka; Whakawātea (exit) and Te Reo (language).
Politics, the media, child abuse, beneficiaries, poverty, mining and oil exploration, environmental and cultural issues were topical subjects aired on stage.
Over four days, despite spells of rain, the Festival was sold out with a capacity audience between 6000 and 8000 each day.
Many of the crowd were daily gate sales of more than 3000 locals and visitors to Christchurch from countries including the United States, United Kingdom, Germany, China, Malaysia, Pacific Islands, Holland, Belgium and French Polynesia.
More than 1800 performers, 1200 workers and 400 volunteers supported the Festival which was hosted by Waitaha Cultural Council, Te Rūnanga o Ngāi Tahu and the Christchurch City Council.
He Ngākau Aroha – A Loving Heart was the theme of the Festival expressing the appreciation of all those involved in the Festival who have supported Christchurch and its recovery after the earthquake.
Dignitaries included Kīngi Tūheitia KCLJ; and Pā Tepaeru Terito Ariki (Queen of Rarotonga).
Visiting MPs included the Minister for Māori Development Hon Te Ururoa Flavell, Minister of Culture and Heritage Hon Maggie Barry; Minister of Education Hon Hekia Parata; Deputy Prime Minister Hon Bill English, Nanaia Mahuta, Meka Whaitiri, Rino Tirikatene, and former Minister of Māori Affairs Hon Pita Sharples.
Hakarongo Mai 103.3FM broadcast live English language translations of each performance to Christchurch listeners throughout the Festival, with Māori Television providing television broadcasts of each performance over four days.
Joining the official hosts were core funder Ministry of Culture and Heritage; Strategic Partners - NZ Māori Arts and Crafts Institute; Te Whare Wānanga o Waikato; Kiwibank/NZ Post; Te Puni Kōkiri; and the Ministry of Education.
The next Festival host will be the Tākitumu – Hawkes Bay region this will be held in 2017.