Thirty years ago, the Māori language was made an official language of New Zealand and the Māori Language Commission was created. To celebrate, Te Taura Whiri i te Reo Māori opened its doors to the public.
Published: Thursday, 10 August 2017 | Rāpare, 10 Hereturikōkā, 2017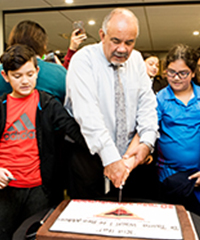 Hundreds of people attended the anniversary celebrations at their office in Wellington. The programme included live performances, displays on the history of te reo Māori and the Commission's current work as well as an interactive space for tamariki.
 Commission Chief Executive Ngahiwi Apanui says it has grown over the years.
 "Thirty years ago there were no Māori radio stations, no Māori Television and Kōhanga Reo were still emerging, there were also few opportunities to learn the language," he says.
 "A new report released this month recommends making te reo Māori a core subject in schools so we've come a long way. None of this would have happened without the advocacy of Māori language leaders, communities and the work done in the public sector.
 The Māori Development Minister closed off the day's celebrations with the cutting of a cake and the awarding of Te Toi Reo Māori to four new Māori translators.
 Te Puni Kōkiri kaimahi Mahinarangi Maika went to see the awards being received.
 "It was awesome – there were lots of kids there," she says.
 "They turned it into quite a community celebration."
 With the passing of Te Ture mō Te Reo Māori 2016 and the establishment of Te Mātāwai, the focus of Te Taura Whiri has shifted to the Crown's effort to support Māori language revitalisation. Te Mātāwai is focused on iwi, hapū and community revitalisation.