Justin Roberts (Ngāpuhi) of Te Putahi Projects features in a new video showcasing his success with the Te Puni Kōkiri Progressive Procurement Capability Uplift Programme,  through localised support from Te Hiringa Trust in Whangārei.
Published: Wednesday, 28 June 2023 | Rāapa, 28 Pipiri, 2023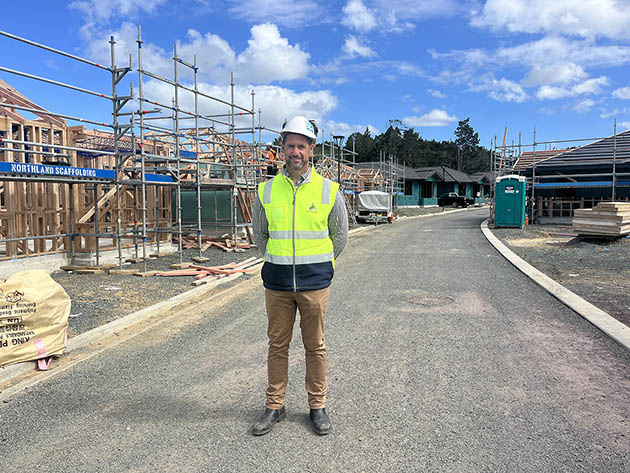 After moving around the country and overseas, Justin returned home to Whangārei to reconnect with his whānau, hapū and iwi, and to establish Te Putahi Projects – a company specialising in construction and consultancy.
"We'd been away, my family and I, for around 14-15 years. We'd always wanted to come home but could never answer the 'when' and the 'why'," says Justin.
Justin had worked on projects with Ngāi Tahu when based in Christchurch, but he couldn't turn down the opportunity to support the rebuild of one of his marae in Kaikohe.
"I think that was a driver, to be closer to the marae, closer to our people, closer to help with my skill set," he says.
Through Capability Uplift Programme, Justin was able to receive support from local intermediary Te Hiringa Trust to develop his business, specifically in completing prequalification and Health and Safety requirements for Kāinga Ora contracts.  
Chair of Te Hiringa Trust April Erueti (Ngāti Ruanui, Ngā Ruahine, Te Āti Haunui-a-Pāpārangi) says their role is about promoting Māori business excellence and being able to champion Māori businesses supplying to government.
General Manager of Te Hiringa Trust, Ngaire Wilson (Ngāti Pāoa, Ngāti Whanaunga), adds that Māori need to be able to see themselves within the procurement space.
"We need to make it palatable for them in the sense that they can access it, they're visible and they're able to participate," she says.
Justin has gained Kaingā Ora contracts to build warm, dry and modern homes in Whangārei, crediting the support of Te Hiringa Trust to get him across the line.
"The support lifted us to a real high standard, without that support, I don't think I would've got there myself," he says.
Photo caption: Justin Roberts (Ngāpuhi) owner of Te Putahi Projects, in Northland.