Whāngārei Regional Manager Tui Marsh (Ngāpuhi, Ngāti Porou) will be featured in a promotional video for the Australia New Zealand School of Government after being invited to Canberra last month to film a video about her journey as a student of their Masters programme.
Published: Monday, 10 April 2017 | Rāhina, 10 Paengawhāwhā, 2017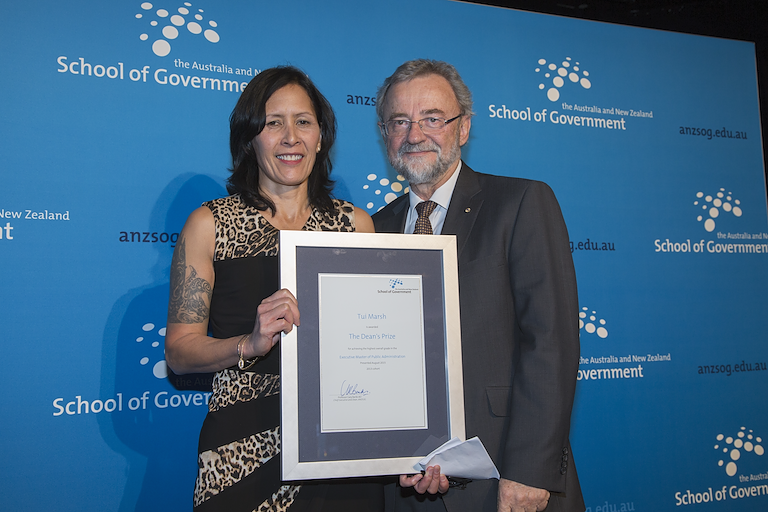 Tui completed ANZSOG's world-class Executive Master of Public Administration in 2015. She gained the highest overall subject grade for Leading Public Sector Change and won the Dean's Prize for Overall Academic Award in her cohort, being the second kiwi to have ever received the prestigious award. Toihautū, Michelle Hippolite, attended the ceremony held in Melbourne and proudly witnessed the handover of the award.
Tui completed the two-year qualification shortly after joining the Whāngārei office of Te Puni Kōkiri as Tumu Whakahaere ā-Rohe (Regional Manager) in 2014. She had previously been working for 13 years at the New Zealand Qualification's Authority (NZQA). "The Executive Master of Public Administration (EMPA) is a residential programme, which meant that I was backwards and forwards to Melbourne and Sydney while I was studying," says Tui. "It was a big commitment and I would never have got through it without the support of my agency, colleagues and most importantly my whānau."
Around 100 people were enrolled in her intake, many of whom held very senior positions in their respective agencies. Her cohort included 11 other Kiwis from a range of public sector organisations, including TPK. The majority of the participants were from the Australian public sector. She describes the course as "challenging" and describes feeling "bucket loads" of frustration and insecurity along the way. "There's lots of discussion forums and group projects. I just marvelled at how articulate the other participants were at first and hoped the lecturer wouldn't ask me for comment! Sometimes I had to give myself little pep talks in the breaks and just try to take things in my stride."
"As Māori public servants we have to be able to walk in all the worlds – not just the one we are comfortable in. By contributing to forum discussions I can influence other's thinking about indigenous peoples. I think one of the most important things I learnt through the programme was the importance of being authentic and having confidence in our own cultural framework."
Another benefit of the programme for Tui has been the networks and relationships that she developed while studying. "Completing the course together means that we share a common understanding about our role and our work in the public sector. The networks help, especially in terms of the cross-sector relationships I have both here and overseas now."
Despite her achievements, it was still a surprise to Tui when she was invited to Canberra to share her story of her EMPA journey to help inspire others. "I am proud to have completed the course but I wasn't expecting to do something like this. What I do know is that I found the programme worthwhile and I would certainly encourage others to do it. Hopefully, that comes across on the video."