Published: Monday, 27 February 2023 | Rāhina, 27 Huitanguru, 2023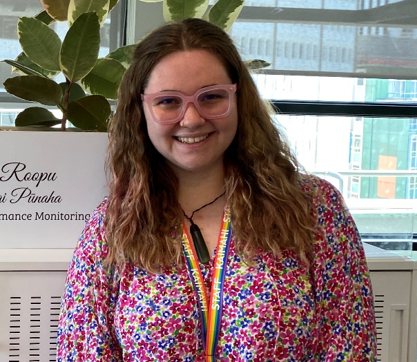 Sam Coutts is building a career improving the wellbeing of wellbeing of rangatahi.
Having recently returned to Aotearoa, she is in the process of finishing up her post-graduate studies in education, specialising in developmental disorders and social and cultural identity formation.
Along with 15 other interns, Sam was part of the latest cohort to gain valuable work experience through the annual three-month Te Puni Kōkiri Summer Internship Programme. She worked with the Strategy, Finance & Performance Puni at our National Office in Wellington during the Summer of 2022.
Sam was passionate about doing an internship where she could spark positive change.
 "It came down to me wanting to do something where their goals aligned with my own," she said.
"Being able to help influence or contribute to positive changes for those unfairly disadvantaged has always been a goal of mine personally and professionally and this internship gave me the opportunity to do so."
Te Puni Kōkiri has run its Summer Internship Programme annually since 2015. It enables interns to get work experience relevant to their studies along with a firm grounding in kaupapa Māori at our national or regional offices.
The internships support our strategic priorities of continuing to grow a skilled Māori workforce and improving equitable and effective public sector performance for Māori.
Throughout her internship, Sam's been in the System Performance Monitoring team working on the Ngā Tohu Waiora Project using data and insights to improve the measurement of wellbeing. She's been able to bring her own skills as well as learning more about data research and analysis.
Sam learnt about her taha Māori later in life, she is an uri o Ngāti Kahungunu and has been avidly learning more about her Māoritanga since. She brings a diversity to the intern programme, having experienced a variety of different cultures, ethnicities, and languages.
"I was born in Auckland but left for Singapore when I was one, then moved to Japan at 13, back to NZ at 19, UK on exchange with uni when I was 20, and then been here since Christmas 2020."
She completed her second year of undergraduate studies on exchange in the UK while gaining her degree in Sociology and education.
She plans to finish her post-graduate studies this year and hopes to build a career working with young people and wellbeing. Her advice to future interns is to just "go for it".
"There was so much room to grow throughout the internship. You are trusted, valued, and seen as a kaimahi with a unique perspective.
"The mahi that we do here is about working together, leading by example, and helping to provide advice to others. Our opinions, perspectives and knowledge are valued, and we are encouraged to take turns leading in different ways."


'Haere taka mua, taka muri; kaua e whai.'
We welcome interns from all backgrounds who have diverse perspectives, innovative ideas and a passion for improving outcomes for Māori to enable thriving whānau. Contact info@tpk.govt.nz for further details.